Into the Mystic
A trip through the decades at Amity winery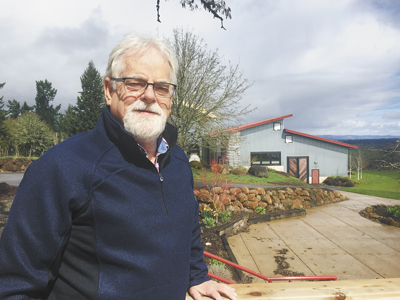 Rick Mafit has that California casualness to his voice, suggesting his formative years spent in that state consisted of trips to the ocean in VWs, strange, fog-packed dawns in Sausalito and chance run-ins with David Crosby in the checkout at Ralphs.
After graduating high school in 1976, Mafit thought he'd study medicine, but it was his uncle, a physician, who helped steered him from the medical path, warning his nephew how being a doctor was not what it once was.
Instead, Mafit entered the wine industry, working a nearby harvest, and studying viticulture and enology in college. He spent the '80s running wineries in Healdsburg, in northern Sonoma County, where he said, "everybody did wine."
In the early '90s, he looked to Oregon for a place to make his own mark. At the time, the notion of Oregon wine was still considered unconventional. Now, standing near a map of France in a quaint tasting room inside his winery on the top of a hill about eight miles east of Amity, Mafit laughs as he mentions his bonded winery number, 222, received in 1992.
"All the pioneers talk about how California is sh*t, but we're all from California," he remarked, reflecting on the days when wine was not a "thing," at all, in Oregon.
When he bought the nine-acre property and farmhouse, there were no vines, only cherry trees. With no fruit of his own, Mafit purchased grapes from other growers. One in particular had century-old vines; The Pines near The Dalles still grows the old-vine Zinfandel, planted in the 1880s by Italian immigrants and rescued by owner Lonnie Wright.
Today, Mafit and his partner, Veronika Lamb, farm five planted acres of Merlot, Zinfandel, Cabernet Sauvignon, Barbera, Syrah and Pinot Noir. They produce between 1,800 and 2,000 cases each year inside their gravity-fed winery.
The couple is not interested in growing "big," even with the immense competition in today's supermarkets and big box stores.
"Costco's gonna kick your [butt] every time," he said. "But when you have a little, tiny wine shop that's trying to be Costco, that's not a good plan."
Relocating from large California wineries, the commitment to remain small is a philosophy that works for Mafit and Lamb.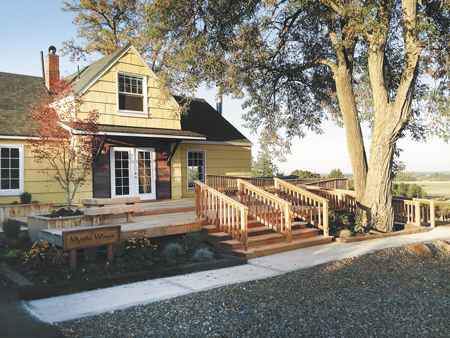 "We have a real cult following," she explained, describing a word-of-mouth marketing strategy to attract customers. At the same time, they both admit frustration with distributors, who they say are more challenging to work with as the market becomes more saturated.
"We've been pulling in our horns a little to sell more direct," he said.
That sales strategy places Mystic in restaurants throughout the state, including Sybaris in Albany, Mangiare in Independence, and 40 other retailers and restaurants. They're also available in Washington and Louisiana, as well as Japan.
Still, Mystic's cult-like attraction entices customers from farther away each year. Not long ago, their tasting room traffic was primarily people from around the state. Now, visitors travel from places such as Scotland, Spain and Chicago. Of course, the growing tourism can be attributed to the allure of Willamette Valley overall.
Thankfully, the industry here remains friendly, according to Mafit.
"People are surprised when we send them down the road to a neighbor's winery," he said.
Inside their own tasting room, completed in 2002, what feels like a chalet is actually a converted 78-year-old farm house. Lamb did all the finish carpentry work on the house, and the rustic siding around the front door is old wood from a 100-year-old hop kiln about six miles away — such craftsmanship is elemental to Mystic.
Mafit, pointing to a stand of trees off in the distance, explains the wood's origin. The house's history was revealed when a woman from Portland showed up one day, explaining that she and her husband built the place in 1939 — the last time she saw it was 1941.
Mafit and Lamb say the woman was tearful as she told them her story, sharing black-and-white photos from those early days. She even tried a few of the wines; a week later, the woman returned to buy a bottle of her favorite. When she offered a $5 bill for the bottle, they simply smiled and sold it to her for that amount. From this second visit, they learned a little more about the property: Apparently, before the vines, and before the cherries, there were prunes.
"I guess whoever sold them the property told them prunes were the wave of the future," Mafit explained. "Actually, they make a really nice torte," added Lamb.
But if farmhouses and prunes once defined the neighborhood, the theme today is clearly vineyards. Mystic stands at the top of a hill, looming monumental. And even in this vast landscape, you do get to know your neighbors. In fact, that's how the couple discovered Albariño.
"We just loved it when our neighbors shared it with us, so we decided to plant some," Lamb said.
Albariño grapes come from the Rías Baixas, a series of inlets located on the southwestern coast of Galicia, Spain. In some circles, it is considered Spain's most superior white. It's probably a good sign that the fruit thrives in the cool, windy and rainy Rias Baixes. For that reason, the vines are right at home. Although, they need to be trained high to dry out, and keep mildew and rot at bay.
Planting in the Albariño vines will be one more addition to a 25-year run as a successful Oregon winery, and the fact the neighbors introduced them to the fruit pairs well with the story of how those same friends came through to help with harvest when Rick was badly injured in a 2014 car wreck that happened down the road from the winery.
The crash totaled his Prius, left a passenger in the other vehicle dead and hospitalized Mafit for most of two years, enduring multiple surgeries and procedures. An investigation revealed the diabetic driver of the other car experienced a black-out resulting from insulin deficiency.
While he describes the event as horrible for everyone involved, he doesn't want to dwell too much on it. In fact, he would have rather not mentioned it, other than to acknowledge the fact and to thank his neighbors for their help.
He is lucky to be here, both he and Lamb agree. Anyway, there are greater things on the horizon, literally.
"On a clear day, you can see Mount Rainier," Mafit said, looking north from the deck of the tasting room.
Considering the horizon, Mafit laughs, remembering his California roots. The name itself, Mystic Wine, seems to carry some kind of California sensibility, and from that, we might expect some greater meaning. But just as the Tao defined is not the Tao, Mafit will not define the name he chose.
"The story I tell depends on what day it is," he remarked, with a vagueness that could have only been cultivated in California.
Neil Zawicki is a freelance writer who, in his spare time, loves to study history, paint and play his guitar. He lives in Albany with his equally creative wife and four children.