Intertwined
Stories from the other side of the vine
I grew up in the '70s on one of the first commercial vineyards in the Red Hills of Dundee. However, the glamour of the industry was lost on me at the time. While my family cleared our vineyard site that first year, I talked on a red, rotary dial phone attached by 50 yards of telephone cable to a garden stake — true story. Intermittently, I helped plant rows of cuttings, using Alpenrose Dairy milk cartons, and grudgingly watered them while we were building our family home, now the site of Torii Mor's tasting room.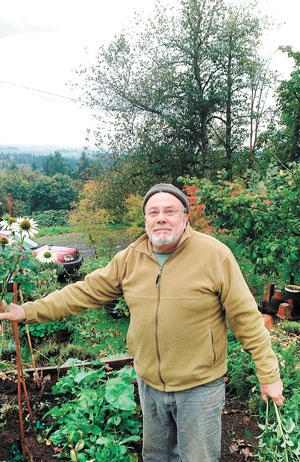 This is the inaugural installment of a regular column dedicated to linking current industry stories and characters with Oregon's not-so-distant past.
The first story I'd like to share is that of John Davidson, a winemaker, winery owner, vineyard manager and horticultural mentor who brought flower power and a 150-year-old family grapegrowing legacy to Oregon.
I recently sat down with Davidson, a "Geezer in waiting," at the Geezers' Club monthly meeting. Also at the table sat Vivian Webber of Webber Vineyards, the lone "Geezerette" in the otherwise male group, Jim Maresh, Gary Fuqua and Dick Erath. Everyone in the club has had a vineyard and all survived almost three generations of evolution in the Oregon wine industry. While sipping wine, Maresh teases Erath about coming full circle — Erath started out in his garage, and now, he's making wine in his current garage.
During our conversation, Davidson smiles and commiserates with early growing stories. He and John Gilpin created St. Joseph Orchard and Walnut City Wineworks in McMinnville in 1999. But that is not when his wine story begins.
Davidson's Bernard-Machado wine, made with fruit from La Cantera — Spanish for quarry — Vineyard in the Chehalem Mountains, is named as an homage to his California roots. His great-grandparents, Juan Bernard and Susana Machado, were pioneers in the California wine industry; they founded the Los Angeles Winegrowers Association in 1873. His great-great-grandfather, Augustin Machado, planted vines in what is now downtown L.A. at the turn of the 19th century.
The Bernard-Machado brand is one of multiple labels produced at Walnut City Wine Works. In addition, winemaker Michael Lundeen produces his own personal label, Lundeen Wines and Genius Loci.
When not crafting wines, Davidson is an enthusiastic horticulturist, growing flowers for his wife, painter Susanne Metcalf. He also may be the only winemaker who lived on an Oregon commune in the 1970s.
"In 1971, my sister and I moved to a commune in Yamhill County. I owe all of my growing up credit to her," Davidson says. "What a way to grow up, here in the epicenter of New World Pinot Noir at a time when we didn't even know how to pronounce the words."
He discovered Oregon wines after leaving the commune, when he started waiting tables and pouring Oregon wines at The Bay House restaurant in Lincoln City. He vividly recalls being inspired with wines from the late '70s, particularly Elk Cove, Eyrie and Erath vintages '76 and '78 Vintage Select.
"Those wines seemed very unusual to me: fresh, complex and sexy, especially when compared with my usual $4 Italian plonk," Davidson recalls. "I had lots of development ahead of me, in many ways."
His first official job in the industry was working for Jack Trenhaile, pruning Hyland Vineyard in 1981. Davidson recalls, "Trenhaile was not discouraged by my skill sets and seemed to appreciate my humor and youthful vigor."
Expanding his focus on Oregon Pinot Noir, Davidson also helped open Tina's Restaurant in Dundee with its original owners, Tina and David Bergen, in 1991.
Davidson learned and grew under the mentors of Oregon's at-first-fledgling industry. He and Gilpin worked with Mark Benoit in one of the earliest management companies before the two friends formed St. Joseph Orchard in the mid-1980s. The successful vineyard management company has farmed vineyards in all the AVAs in the Willamette Valley, including their own, Confluence Vineyard in McMinnville and La Cantera Vineyard on Rex Hill in Newberg.
As phylloxera reared its head in 1989, the pair formed St. Joseph Nursery and produced, in his words, "zillions" of grafted plants from their home farm in McMinnville.
Back to the Geezers' Club.
All members must bring a dish of home-cooked food to each meeting — club rules — and a bottle of wine — more club rules. Davidson mentions his Padrón peppers at the table; I ask him to explain.
John and Susanne were introduced to Padron peppers in Galicia, on the Atlantic coast of Spain, and they returned to Yamhill County with Spanish seeds. They have grown Padróns ever since and prepare them the same way, nearly every summer night, grilled with salt and olive oil.
His current Padrón-growing partner is the grandson of the couple who managed the viticultural program of St. Joseph Orchard for more than two decades. This young man sells a variety of peppers to Yamhill County's upscale restaurants and to Harvest Fresh Market in McMinnville, among others; he is also in the EASA (Engineering & Aerospace Sciences Academy) program at McMinnville High School. Davidson predicts he will grow far beyond pepper production.
As I complete the Davidson interview and the Geezers' Club adjourns, I take note of what to pair with the bottle of Bernard Machado 2008 La Cantera Vineyard Pinot Noir now in my possession. Grilled Padrón peppers? Of course.
Having grown up in the Dundee Hills and in the early Oregon wine industry, Kerry McDaniel Boenisch is passionate about the history of the area. She is the author of "Dirt+Vine=Wine" and is the newly appointed director at the Oregon Wine Education Center, located in the Chehalem Valley Chamber of
Commerce in Newberg.