In the House
Restaurants win with winery collaborations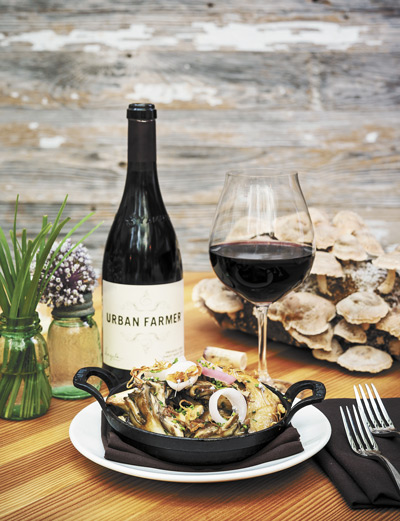 Restaurant wine lists can be as lengthy as a novel, which makes ordering the right bottle a bit overwhelming. But what if the restaurant has teamed up with an area winery to produce a bottle specifically designed to pair with the food? An easy choice for the consumer and an even better decision for the restaurant. Here are few such partnerships that are doing it right.
Urban Farmer & Angela Estate
Located in The Nines Hotel, Urban Farmer takes its name seriously. The restaurant grows its own mushrooms, cultivates its own indoor/outdoor vegetable gardens, raises bees for honey and so much more. In fact, it seems the downtown Portland restaurant is always experimenting with how to take their culture of cultivation to the next level, which includes a house wine with a local winegrower.
"It's really all about relationships," says Jeff Brown, general manager of Urban Farmer and Departure. "We're farmers; actually here we're urban farmers, so we think deeply and passionately about how we partner and collaborate with the local farming communities."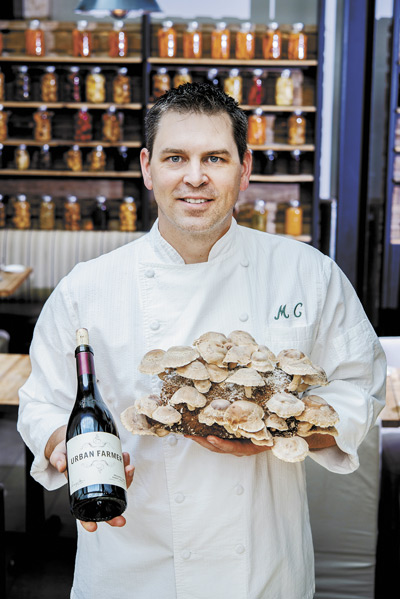 The partnership started from a connection Brown had with Angela Estate general manager Jessica Endsworth — the two had met years before when she was a portfolio manager for Moet. Together, Urban Farmer and Angela Estate started its successful partnership. Under the leadership of winemaker Ken Wright, with fruit from Angela Vineyard in the Yamhill-Carlton AVA, the two companies crafted a private label Pinot Noir.
Initially, 1,000 cases were made and distributed nationally, a tremendous opportunity to expose a number of entities within the Sage Restaurant Group to Oregon Pinot. For Brown, it's like spreading the gospel. He sees bringing Oregon's wine culture to the company's different locations as a unique educational opportunity; Endsworth agrees, organizing training for the staff — both front and back of house — as well as tours out to the vineyard and even a bit of truffle hunting on the property. She sees it as a holistic relationship and says that it takes everybody to keep the engine running. "It's only there that the staff truly gets a sense of place and a deeper connection to the wine."
The 2015 house wine includes three clones; chefs and general managers from every Sage property joined together to participate in the blending trials. The end result is now the signature wine. As for its quality and characteristics, taste for yourself — by the glass ($21) or a bottle ($84) — at Urban Farmer or Departure, located on the rooftop of The Nines.
Cana's Feast & Keg Collaborations
Although not the first in Portland to make wines in partnership with local restaurants, Cana's Feast has certainly been a leader. The winery's model is a bit different than other brands. Instead of bottling and labeling private wines, the Carlton-based producer works with specific restaurants to craft a special blend to be placed in a keg, creating an affordable, approachable and sustainable glass pour.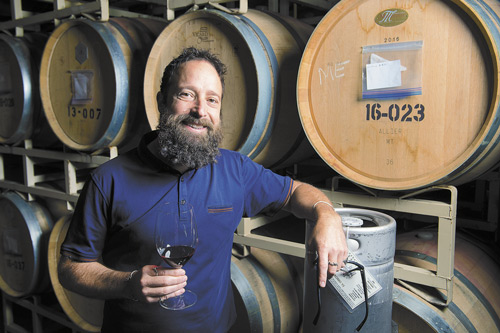 With the advantage of working with a range of varietals, Cana's Feast has successfully cultivated valuable relationships in the city's restaurant and bar industries. Winemaker Patrick Taylor humbly suggests they were simply filling a niche. He attributes the success of his keg program in part to living in Portland and growing connections through his vermouth brand, Hammer & Tongs.
Cana's Feast produces custom blends exclusive to a single restaurant. Not only are these wines not available at the winery, they're not available to any other retailer. Taylor emphatically states, "I go to great lengths to produce blends that are different enough that a restaurant customer might be able to recognize the wine as a product from Cana's Feast, but they wouldn't experience the blend at another restaurant at any given time. Exclusivity and uniqueness are the twin pillars supporting the viability and longevity of our program."
To create that singularity, the program must be truly custom made. To achieve this, the chef, restaurant owner and/or sommelier drive the direction of the signature blend. Taylor says, "I've come to think of my role as being one of guidance and facilitation. I provide the materials and tools, and then let their palates, expertise and knowledge draw out what will eventually become recognizable as their own personal expression, a wine specifically suited for their guests."
He describes how he's had to initially temper his natural tendency to steer the process too firmly. "It's not a stretch to imagine that a creator's instinct is to want to fashion something to their desire. In time, not only did I learn to let go of that instinct, but I began to take great pleasure in seeing the perfection of someone else's creation."
Benefits abound. Not only does the restaurant offer a custom blend ideally suited to its specific palate and menu items, but also a story — of local proprietors joining forces to create a hand-crafted product — to be shared with guests. There's also a green effect: The keg program ultimately means reduced waste, both packaging and product.
Taylor says, "Like in any collaborative effort, if it's not working for both parties, in the long run, it's not going to work for either of them. Being sensitive to their needs is one of my priorities, because in the long run, there is a great deal of uncalculated value (margin) in relationships. It's one of the cooler aspects of the human part of business."
Over the years, Cana's Feast has partnered with a number of marquis spots in Portland to make some memorable wines: Il Cavallo Rosso, a super Tuscan-inspired blend served at Oven & Shaker; La Mastina, an Argentine-inspired Malbec/Cabernet Sauvignon blend offered at Ox; Rookery Red, a southern Rhone-style blend on the list at Raven & Rose; and Arêt'Est, a Left Bank-inspired Bordeaux-style blend at Irving Street Kitchen.
Hi-Lo Hotel & Chehalem Winery
The Hi-Lo Hotel also sees the value of relationships. They've partnered with Chehalem Winery to create both a Pinot Gris and Pinot Noir to serve in the hotel's bar, Lo Bar, and the hotel's restaurant, Alto Bajo. In addition to the wine, the hotel offers 15 Hi-Lo-branded local products, including cider and beer, making it easy for guests to not only enjoy everything Oregon, but also bring Oregon home with them, too.
The Hi-Lo wines utilize each of Chehalem's three vineyards. In fact, these wines not only represent the best of all three locations but also represent the vintage. In the end, it's about balance in creating the final product. Depending on the year, specific sections of the vineyards are used to bring different balances of sugars and acids.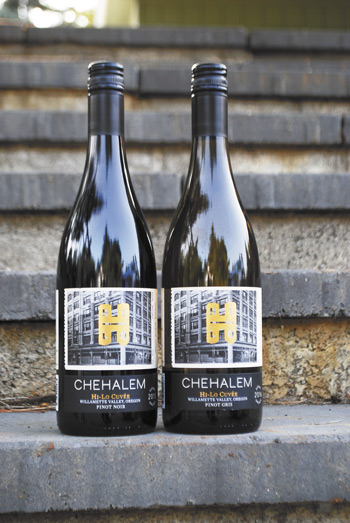 The Hi-Lo Pinot Gris is made in stainless steel, and each vineyard site is fermented separately in order to fine tune and balance accordingly. For the Hi-Lo Pinot Noir, the winery selects a barrel from each site. Hi-Lo staff then tastes the three different wines, choosing what they prefer and think will pair best with the menu.
At Alto Bajo, Chef Bryant Kryck draws inspiration from chefs, cooks, families, parents, co-workers and life experiences that have made a significant impact on his life — and his cooking — while staying true to traditional Mexican-inspired cuisine. His menu always includes touches of seasonality and locality, making the Chehalem Hi-Lo wine a perfect pairing.
Kryck has offered a salmon recipe to pair with the Hi-Lo Pinot Noir, but I'd be willing to bet it goes great with their burger, too. General manager Eric Paul says, "The Pinot Gris is always a hit with our ceviche."
Roasted Mushrooms with Shallots and Garlic Purée
Recipe by Chef Matt Christianson
Urban Farmer, Portland
Wine Pairing:
Urban Farmer Angela Estate Pinot Noir
Servings: 4 to 6
MUSHROOMS
3 pounds cultivated mushrooms (maitake, shitake, king trumpet, abalone) cut in even pieces; wild mushrooms can also be added for
seasonal flavors
4 ounces canola oil
2 tablespoons garlic purée
8 rings pickled shallot
2 tablespoons fried shallots
*salt and freshly ground black pepper
2 tablespoons garlic chives, chopped
*optional garnishes as available in our garden:
thyme blossoms, Benjamin button flowers, leek
scape flowers, house-grown micro-herbs
SHALLOTS
6 shallots, divided
1 cup rice vinegar
1 cup water
1 cup sugar
1 tablespoon salt (plus salt, to taste)
4 cups canola oil
Garlic Purée
3 heads garlic, cut in half
1 pound butter
METHOD
Prepare garlic purée: Simmer garlic in butter until fully soft. Pass through ricer, saving puréed garlic separate from garlic butter. Store both in refrigerator. This recipe only uses the purée.
Prepare pickled shallots: Peel and cut three shallots into thick rings. Boil pickling liquid (1 cup each vinegar, water and sugar, plus 1 tablespoon salt). Pour over shallot rings. Store in refrigerator until needed.
Prepare fried shallots: Peel and slice remaining shallots into thin rings. Fry in canola oil until golden brown. Remove from oil; season with salt. Reserve at room temperature in dry place until needed.
Prepare mushrooms: Choose a pan (or two) with enough surface area so mushrooms can be cooked in one even layer. Add canola oil to pan(s); heat until oil just shows wisps of smoke. Place mushrooms into pan. Do not stir. Allow mushrooms to caramelize on first side. Start to sauté and stir only when browning begins. Continue cooking until mushrooms are cooked through. (You may need to lower the heat on the pan after first browning sear.)
Put it all together: Add garlic purée into mushroom mix and remove from heat. Fold in garlic chives. Place in serving vessel and garnish with the fried and pickled shallots, and any other flower or herbal treasures gathered from your garden.
Grilled Lamb Shoulder Chops with Rosemary Marinade
Recipe by Chefs Greg Denton & Gabrielle Quiñonez | OX, Portland
Wine Pairing: La Mastina by Cana's Feast Winery (Malbec/Cabernet Sauvignon blend)
Servings: 4
INGREDIENTS
4 12-ounce bone-in lamb shoulder chops, 1-inch thick
½ cup extra-virgin olive oil
½ yellow onion, chopped
1 clove garlic
*leaves from 2 sprigs rosemary, plus more sprigs for garnish (optional)
1 teaspoon kosher salt, plus more to taste
1 teaspoon black pepper, plus more to taste
*thinly sliced radishes, for garnish (optional)
*edible flowers, for garnish (optional)
METHOD
In blender, combine oil, onion, garlic, rosemary, salt and pepper; purée until smooth. Generously coat lamb chops with marinade and chill, covered or wrapped tightly, for at least 4 hours and up to 24 hours. Before grilling, let meat rise to room temperature, about 30 minutes.
Meanwhile, prepare a grill to medium heat. Season chops with more salt and pepper, and transfer to grill. Cook, turning once, until both sides are golden brown and meat is cooked to medium or medium-well, about 12 minutes total. Remove. Let rest for 5 minutes before cutting. Serve on bed of rosemary sprigs. Garnish with sliced radish and flowers, if desired.
Salmon with Rhubarb al Pastor
Recipe by Chef Bryant Kryck
Alto Bajo/Hi-Lo Hotel, Portland
Wine Pairing: Hi-Lo Cuvée Pinot Gris by Chehalem
Servings: 4
SALMON
1 salmon fillet
*salt and freshly ground black pepper, to taste
5 banana leaf sheets
8 ounces butter
2 shallots, small dice
1 whole pineapple, peeled, sliced and charred
*rhubarb twirls, for garnish
RHUBARB AL PASTOR
4 ounces achiote
1 cup vinegar
1 cup rhubarb purée (2 stalks rhubarb, 1 cup water, and sugar, to taste)
½ cup agave nectar
2 white onions
½ cup lime juice
18 garlic cloves
1½ tablespoons oregano
2 tablespoons cumin
* salt and freshly ground black pepper, to taste
Method
Make rhubarb al pastor: Dissolve achiote in 1 cup vinegar. Set aside. Make rhubarb purée. Set aside. In food processor, combine achiote, rhubarb purée, agave nectar, onions, lime juice, garlic, oregano, cumin, and salt and pepper to taste. Purée until well-blended; it should not be grainy or gritty. Set aside.
Lay half of banana leaves on sheet pan. Lay salmon on top of banana leaves; add salt and pepper to taste. Cut butter into small cubes and place around and on top of salmon. Scatter diced shallots on top.
Pour rhubarb al pastor over salmon, making sure to get sauce under salmon as well. Wrap more banana leaves over top of salmon and tuck underneath.
Preheat oven to 350°F for 15 to 20 minutes. Bake salmon. I recommend a medium-cooked salmon internal temperature of 120°F.
While salmon is cooking (or before), slice pineapple and char on grill until slight black grill marks appear.
Remove salmon from oven. Cut open banana leaves with scissors; be careful of steam. Place raw banana leaf on serving plate and carefully place salmon. Garnish plate with grilled pineapple and rhubarb twirls (made by slowly peeling rhubarb with peeler into long, thin slices).
Optional: Impress guests by adding edible flowers and micro-greens. Make it a meal and serve with tortillas, rice and charred corn.