In the Garden of Wine Economists
Orto Botanico di Padova provides fertile ground for growing field
For its 11th annual meeting, The American Association of Wine Economists (AAWE) returned to Europe for a second consecutive year, moving from Bordeaux to the ancient university town of Padua — Padova, to the locals — in Northern Italy. Some 200 researchers and spouses from around the globe registered for the conference, June 28 to July 2, 2017. Our host was the Università degli Studi di Padova, a school of law, founded in 1222.
Those arriving early on the first day were treated to a guided tour of the Old University Building. Later in the day, the welcome reception was held in the Paladin Room of the Palazzo Moroni. Two days of presentations and two days of wine tours followed.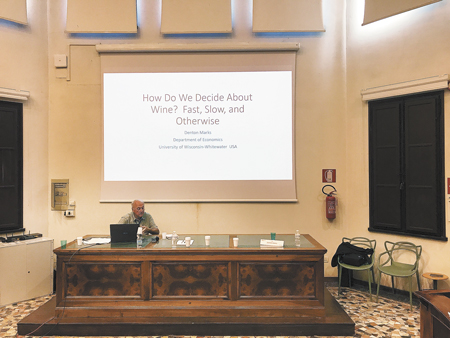 On the second day, we gathered in the Orto Botanico. Dating from the mid-1500s and now home to some 7,000 plant species, it is "the oldest university garden in the world to have retained its original location and layout" according to its website.
The technical meetings began with a plenary session, including presentations by three AAWE scholarship winners. The topics covered consumer reaction to brewery acquisitions, the impact of the European migrant crisis on vineyard productivity in southern Italy, and a new method for assessing and communicating on wine and cheese pairings. Next, a roundtable discussion on the future of "Veneto Quality Wine" featured six members of that region's wine industry. The Veneto region, of which Padua is a part, grows almost 20 percent of Italian wine. Prosecco, a bulk-processed sparkling wine made primarily from the Glera grape, is the most in demand since it has a growing following in North America and Europe, though local consumption is down. The discussion included strategies to increase exports to non-European Union countries, along with efforts to increase quality.
Of the 164 presentations accepted, about 140 were given in 20 sessions — three or four held simultaneously. Topics included: trade and business; profiling consumers; regional wine identity; production; sustainability and consumers; tasting, quality and experiments; wine history; determinants of wine prices; tourism; global warming; quality, value and regulation; among other subjects.
Highlights of the presentations I attended showcased two studies suggesting Italian consumers would pay more for organic or other socially responsibly produced wine. Denton Marks of the University of Wisconsin-Whitewater channeled Daniel Kahneman, a Nobel laureate, pioneer of behavioral economics and author of "Thinking Fast and Slow," in a talk entitled "How Do We Decide About Wine? Fast, Slow and Otherwise."
Christopher Bitter of Vintage Economics delivered a presentation entitled "Wine Competitions: Reevaluating the Gold Standard," which concluded "competitions vary substantially in their level of generosity and most have become more generous in recent years."
Don Cyr, Lester Kwong and Ling Sun of Brock University in Ontario, Canada, offered "An exploration of the relationship between Robert Parker and Neal Martin en primeur wine ratings." I was amused to see an application of a relatively obscure statistical entity called a copula, a multivariate probability distribution to compare scores.
In 2008, Robert Hodgson, professor emeritus from Humboldt State University in Arcata, California, published a frequently cited study debunking the reliability of wine judges in the California State Fair Commercial Wine Competition. In "2008 Revisited," he added the results of the 2009 to 2012 competitions to those from 2005 to 2008, confirming his original conclusion: "Based on … criteria [that he established], less than 6 percent of the wine judges yielded an acceptable rating."
In the session "Signaling Wine Quality," I presented "Toward Valuing Willamette Valley Pinot Noir as a Cultural Good," co-authored with Lynne Stokes of Southern Methodist University. Details can be found online at www.oregonwinepress.com.
Like all practitioners of the dismal science, wine economists are two-handed. But unlike those who frustrated Harry Truman, they are almost always holding a glass in one of them. Meals and tours provided ample opportunity to do so. Buffet lunches served on the terrace of the botanical garden were accompanied by selections of local wines. Most intriguing were the experimental hybrids made by Vivai Cooperativi Rauscedo from Sauvignon Blanc, Tocai Friulano and Pinot Noir crossed with numbered but otherwise unnamed vinifera varieties. After the first day, we were taken to Abbazia di Praglia in Teolo for a tour. The accompanying dinner, at the historic restaurant Pedrocchi in downtown Padua, marked the end of the technical sessions.
The first day of wine tours focused on the Conegliano Valdobbiadene region, the hub of the Prosecco superiore wine industry. We visited its enological college, toured the labs and winery, had lunch at the school, then split up into four groups to visit a pair of wineries. Il Colle, a relatively new and modern producer, and Villa Sandi, a larger winery, were on my itinerary. The bus ride between the two showcased stunning views of the steep — up to 45 degrees — vine-covered hills.
The next day, we went to Venice for a boat tour around the lagoon. The first stop was at San Erasmo Island, home of Orto di Venezia, makers of an unusual white wine that is "an assembly of antique Italian grape varieties with a dominance of the Istrien Malvoisie." We tasted the 2015 and 2008 vintages. The island of Torcello was where we had lunch and a postprandial stroll to an old vineyard. Piazza San Marco was our final stop on the island of Venice.
AAWE, now in late adolescence, continues to blossom with steady and growing worldwide participation in its conferences and journal regularly cited, not only in academic publications but in the popular press. As it evolves its mission, the organization has embraced an impressive range of disciplines making these meetings endlessly stimulating. For this conference, the Orto Botanico di Padova was a particularly appropriate site since it is a successful demonstration of enduring diversity.
For the 12th annual conference, the AAWE returns to American shores for the first time since 2014. Cornell University in Ithaca, New York, will host from June 10–14, 2018. For more information, visit www.wine-economics.org.
Neal Hulkower is a mathematician and an oenophile living in McMinnville, Oregon. His wine writing has appeared in a wide range of academic and popular publications. Occasionally, he can be found pouring quintessential Pinot noir at the top of the Dundee Hills.