In Memoriam
Stephen Cary
Stephen Cary, longtime winemaker at Yamhill Valley Vineyards, died peacefully April 28, 2018 in Portland. He was 71 years old.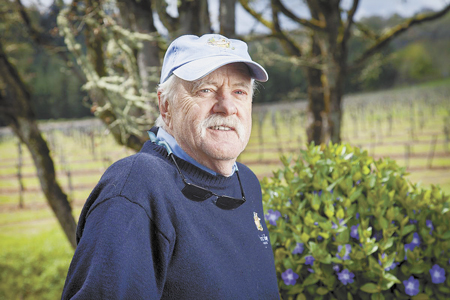 Before wine, Cary served in the U.S. Navy as an aviation officer. Following a tour in Vietnam, he says, in an Oregon Wine History Archive 2015 interview conducted by Rich Schmidt of Linfield College, he "grew disillusioned during that time with the all-consuming aspect of American culture."
Cary continued, "I decided that when I got out of the Navy, I didn't want have a normal nine-to-five American job that was intended simply to accumulate wealth. So, I went looking for something more interesting, and I found wine."
He worked as a wine steward at Sunriver Lodge, followed by similar jobs in California and Colorado before returning to his native state of Oregon, where he worked eight years for distributor Henny-Hinsdale in Salem With advice from his friend, Bill Nelson, Cary started his own business, Cary Oregon Wines, with the goal of marketing Oregon wine outside state lines.
Cary was one of the original coordinators of the Steamboat Pinot Noir Conference. The annual symposium brings together Pinot Noir producers from California and Oregon with the goal of making great Pinot Noir. Now in its 40th year, it has grown to include producers from around the world.
From Cary's Linfield interview, "[The early days were] a remarkable time in our industry, realizing that the giant next door called California was going to eat us alive if we didn't do things like band together and learn how to make Pinot Noir in a hurry, share our knowledge, share our experiences. All of that was critical in the early days of this business."
In 1984, Yamhill Valley Vineyards' presented its 1983 Pinot Noir at Steamboat. The next year, Cary Oregon Wines began representing the winery.
He was particularly passionate about Oregon Pinot Noir and felt frustrated by the perceived disrespect for the wines in the wider market. He suggested a blind comparative tasting between 1983 vintages from Burgundy and Oregon.
The Oregon-Burgundy Challenge, conducted in 1985 at the International Wine Center in New York City, asked judges to identify the origin of each wine and select their three favorites. The panel of 25 could not correctly identify the source of at least half. Oregon wines placed first, second, third and tied for fourth and fifth, with Yamhill Valley Vineyards winning first, followed by Sokol Blosser, Adelsheim, Eyrie and Knudsen Erath. In this event, and a second competition two years later — Oregon, again, placed first, second and tied for third — Oregon wines earned global respect.
Yamhill Valley Vineyards owners Denis Burger and David Hinrichs approached Cary with the winemaker position. He accepted the challenge.
"I had been making wine for eight years at that time as an amateur, but a very serious amateur — three-French-oak-barrels-in-my-basement kind of amateur," he continued in the Linfield interview. "So, I came here in '91 as the winemaker-in-training, and after a couple of weeks, Denis said, 'Well, Stephen, you know how to make wine. You just don't know how to run the press and the pumps and all the big equipment, so here's how you do that,' and he was gone."
Cary led winemaking at Yamhill Valley Vineyards until 2016. During his 33 years as an associate of the winery, he dedicated his time and talent to perfecting his craft while studying the terroir.
Again, from the Linfield interview, "I like the whole idea that the vintages are gonna be different, and it's a chess match to figure out if we can put our experience and intellect to work and come up with the best expression of this place."
During his retirement, assuming the role of winemaker emeritus, Cary continued to assist and advise the winemaking team; in 2017, his last harvest, seated in his regular position on the forklift, he coordinated the arrival of the fruit on the crush pad, clearly energized by being part of another vintage.
A celebration of Cary's life, at Yamhill Valley Vineyards, will be Sunday, Aug. 12 at 5 p.m.
"Stephen's fierce advocacy of Pinot Noir serves to support and sustain us all. We feel privileged to have known him, and to have benefited from his encyclopedic knowledge of winemaking, of history, geography, geology, photography, the art of fly tying and how to tell a dirty joke. He was a true giant in the industry. By standing on the shoulders of this giant, and following our passion for wine, and for life, we can honor the man and his legacy."
—Statement from Yamhill Valley Vineyards
"In 1984, at the instigation of his friend, Bill Nelson, Stephen left Henny-Hinsdale to start Cary Oregon Wines and became the broker for our wines and those of many other early wineries. Those who did not live through that period can never know how difficult it was to sell Pinot Noir before the movie. Stephen, more than anyone else, changed people's minds, one at a time. The years of Cary Oregon Wines were magical years of transition for the Oregon wine industry. And much of the transition can be traced to that one person."
—David Adelsheim
"Although he didn't own a vineyard, Stephen was a true founder of the Oregon wine industry. He helped put Oregon Pinot Noir on wine lists in major cities across the U.S. And his work with the Steamboat conference that brought international winemakers together has been invaluable in raising the quality of Oregon wine and forging international friendships."
—Susan Sokol Blosser