In Memoriam: Patty Green
Winemaker, mentor, friend
Patricia Green, who in 2000 founded Patricia Green Cellars in Newberg with business partner Jim Anderson, was found dead Nov. 5 in her cabin outside Roseburg. She was 62.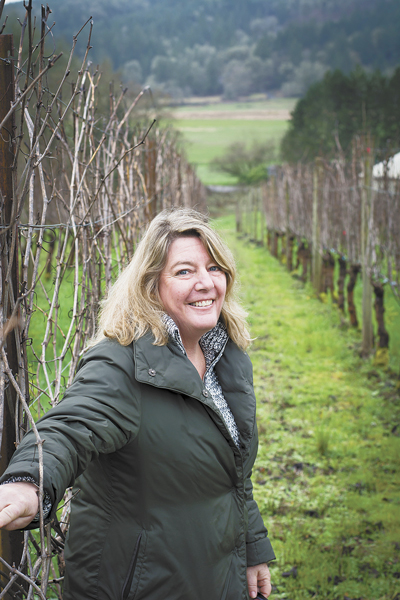 At this time, the actual cause of death is unknown other than it occurred by natural causes.
Green grew up in Aurora, Illinois. After settling in Oregon in 1972, she briefly attended college in Utah and from there started extensive traveling.
Green began making wine at the age of 17.
"I was a home winemaker," she told Wine Press Northwest in 2013. "I started making wine when I was in high school, though my family didn't know it."
In her mid-20s, she began a career in re-forestation, up and down the West Coast, from Northern California to Alaska. Her early résumé also included concrete forming and commercial fishing out of Coos Bay.
In 1986, she began picking grapes for Richard Sommers at HillCrest Vineyard in Roseburg. She started working at the winery the next year.
She worked under winemaker Don Kautzner at Adelsheim Vineyard in 1990 and 1991. In 1993, she launched Torii Mor Winery in Dundee with the owners, serving as lead winemaker in her capacity as the sole employee — all the while still winemaker for La Garza in Roseburg, 1993–1994, and consulting winemaker there in 1995 and '96.
After leaving Torii Mor, both Green and Anderson wanted to establish a winery with grapes they already had contracts with. They looked for a warehouse to convert.
"I had worked for Autumn Wind from 1993–1995 in a part-time capacity," Anderson said. "The owners somehow found out we were looking around for places and asked us if we would be interested in buying them out while keeping it on the down-low. We began working on the purchase process in March of 2000 and actually signed the papers on July 23, 2000."
Together, they founded Patricia Green Cellars. The two had acquired Autumn Wind's cellar, vineyard and equipment in addition to its 22-acre vineyard — the 52-acre property now contains about 30 acres of vines. The earliest vines date back to 1984, making them some of the oldest planted in the Ribbon Ridge AVA.
Today, the winery produces about 12,000 cases of wine a year, mostly Pinot Noir and Sauvignon Blanc, selling to markets in 23 states. In 2016, Patricia Green Cellars bottled 21 different Pinot Noirs from nine different vineyard sites.
"I do not believe that another domestic winery bottles as many individual examples of Pinot Noir as does Patricia Green Cellars," Anderson remarked.
"This winery is her manifestation of living a life that has been free of self-imposed restrictions," he noted. "By having a big picture and unique view of the world, she was able to create a winery where real and diverse wines are made in a rigorous yet creative manner."
Anderson said they enjoyed a remarkable partnership.
"We had ups and downs, like anybody does in any sort of relationship," he said. "But we used to joke that, other than the weird people whose marriages somehow survived owning a winery together, we were the longest-standing winemaking duo in Oregon. There's something to both the factual information about that and the joking sentiment behind it that contributes to the special nature of our relationship."
A celebration of life was hosted at The Allison Inn & Spa on Nov. 20.
Editor's Note: Look for a much broader story in the 2018 edition of Oregon Wine Almanac.