High on the Hog
R&R Culinaire butcher series carves a niche
Chef Red Hauge recalls butchering his first pig when he was 13. There's no telling how many he's done since then, but as he demonstrated breaking down half a hog — like a legionnaire field stripping his rifle — on Nov. 9, in Carlton, it was obvious he knows his way around the beast.
Using the whole animal, Hauge says, is not only the mark of a good chef, but the intention of R&R Culinaire, a commissary-based scratch kitchen dedicated to artisan-quality, locally sourced food for the wine industry and beyond. Slightly more than 30 people turned out for the butcher-themed dinner, enjoying wine, beer, appetizers and a complete menu in a warm setting at De Ponte Cellars' Lonesome Rock Ranch tasting room and event space. The venue will be the chosen spot for Hauge and his partner, Chef Raul Salinas III, any time they host such an affair.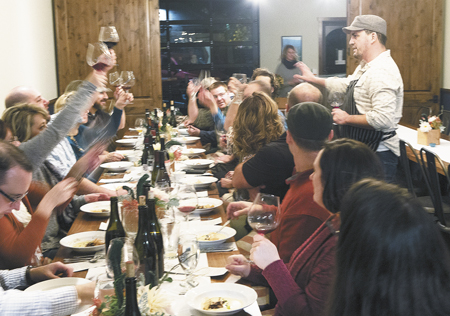 Hauge a big guy with a big red beard, has a ton of experience cooking high-end food, ranging from Minnesota supper clubs, to resorts in the Virgin Islands, to Boston eateries. Salinas has an equally solid résumé, with time spent in the kitchen at fine dining venues in New York, all the way south to the McMurdo Station in Antarctica.
Having met just six months ago — because, as Salinas put it, "Our kiddos play together" — the two decided over pints to launch R&R Culinaire. They realized the need for quality food to feed harvest crews, wine club members and to cater vineyard events. Watching Hauge work, and tasting the food, it's clear the other reason they started the business is their love of what they do.
Back to the pig demonstration.
"Are you sure you can do this without a glass of wine?" shouted a man from the audience. Laughter from the crowd punctuated his remark. "Beer, maybe, in fact, of course," answered Hauge.
Just minutes before, prior to putting on his chef coat for the demo, Red explained how food and cooking have always been a part of his life. His dad was chef instructor in a prison, and his grandmother was a caterer; he'd never even seen macaroni and cheese until he attended college.
"And then I was like, what the hell is this?" he said.
Like most career chefs, Hauge learned the trade as a worker. When he considered culinary school, he said a chef/owner told him, "You can pay the money to go, or I can pay you to learn."
He took the advice, starting as a fry cook at a 24-hour diner. By the time he was 20, Hauge was an executive chef at a supper club called Anton's Fish & Whiskey in St. Cloud, Minnesota, where he'd serve a thousand people on Friday and Saturday nights in the town of 60,000.
He also spent six years cooking on St. John, Virgin Islands, east of Puerto Rico in the Caribbean. From there, he moved to Boston, where he worked with some serious chefs.
"I really call Boston my Ph.D.," Hauge said.
Halfway through the butcher demo, he told a story of how he learned about matambre, a thin cut of beef that is rolled and grilled; he also described roti, flour flatbread stuffed with curries, a popular dish in the islands.
Meanwhile, other people asked him questions.
"Are you gonna make a jamon out of any of it?" asks one, referencing the Spanish cured ham preparation.
"In roughly 36 months," quickly answered Hauge.
While he works, one woman in the audience is particularly excited about the demo. It's Rachel Simms, director of communications and consumer sales for Cristom Vineyards in Salem.
"I'm just super-nerdy about protein," she says later, over a glass of wine prior to the main course. She referenced the "Portlandia" episode in which the characters meet the chicken they are planning to eat. Of course, Carlton is a bit south of Portland, but still, the elements are there. And for Simms, the R&R Culinaire model resonates.
"It's a very highbrow approach to casual dining," she said. "You know, in wine we talk about terroir, and they're sort of doing that with the food."
Simms said she's noticed more people getting into the food element when touring the vineyards.
"I mean, if you could spend $50 a person, plus gratuity to have great food and to learn how it's prepared, that's smart marketing on their part," she said. "And Carlton is a great location."
Certainly for Salinas and Hauge, the game is to make the food as much a star as the wine. If the inaugural series is any indication, they will pull it off. Diners on this night enjoyed farrout salad and chanterelle cream soup, followed by porchetta, braised pork shanks and petite pork sirloin served with roasted spaghetti squash, root vegetable hash with duck egg, braised winter greens and butternut squash risotto. The fare was worthy of the venue.
Rather than desserts, the guests enjoyed cheeses. This makes sense, if chef Anthony Bourdain is to be believed; in a recent interview, he said instead of dessert he'd prefer a hunk of cheese and some Port. Red Hawk from Cowgirl Creamery, Pleasant Ridge Reserve from Uplands Cheese, and some Hannah from Ancient Heritage Dairy in Portland made the cut.
The dinner, first in a series, is part of R&R Culinaire's bid to add an extra layer to the food scene here, with interactive demonstration dinners, wine country catering and a marketplace showcasing fresh, local ingredients. To be sure, the pair is in good company Valley-wide, with the likes of Valley Commissary, Hunt & Gather Catering and others. But Hauge and Salinas are hanging their toques on the show element.
As the saying goes, sell the sizzle, not the steak.
The next butcher dinner, Dec. 15, will showcase a side of beef. On the menu will be Hauge's oyster-stuffed tenderloin, a dish featured in his December column of "Back from the Market" on page 22. For tickets and more scheduled events, visit www.rnrculinaire.com.
Neil Zawicki is a writer who, in his spare time, loves to study history, paint and play his guitar. He lives in Independence with his equally creative wife and four children.