High Desert Endurance
Central Oregon wine region continues establishing roots
Grapegrowers in Central Oregon must be a hardy bunch. Faced with a brief growing season and frost danger in both spring and fall, they continue to plant new vines.
The young region — the oldest commercial vineyards are just 10 years old — has momentum, enthusiastic supporters, local appeal, shared knowledge resources, a collaborative spirit, know-how, a growing infrastructure and a ready market
"We're way ahead of the Valley's wine pioneers," said Kerry Damon, president of the Central Oregon Wine and Grape Growers Association. "Our wine consumers are very sophisticated and eager to support sustainable, farm-to-table and locally grown products."
High Desert Vines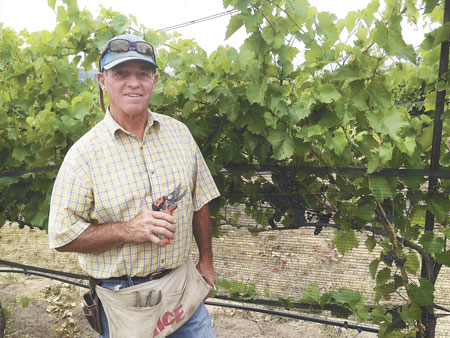 From his arrival in 2005, Damon envisioned a budding wine region when hired to develop a vineyard at the Ranch at the Canyons. Founding partners Mike Humphries and Jim Gardner wanted a working vineyard to complement their 500-acre Tuscan residential community adjacent to Smith Rock State Park.
Damon had worked in vineyard management and development more than 15 years in Mendocino County and Sonoma. After much research, he determined hybrids had the most commercial viability in Central Oregon's challenging climate.
"What really sets us apart is the extended period of potential frost into June and again as early as September," he explained.
Growers monitor nighttime temperatures for frost events during spring and fall. Generally, when the temperature drops to 37°F, they turn on overhead sprinklers causing water on the vines to freeze over the tender growth; it works because as the water freezes, it releases latent heat — chemists refer to the phenomenon as "exothermic." The water runs all night until temperatures rise and the ice begins to melt. So far this winter, the vines appear to be faring well during the record-breaking snowfall.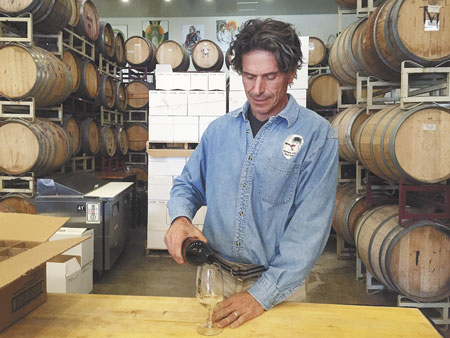 The wine region is also quite unique, compared to others in Oregon, for its growing of hybrids.
Damon says, "The four-acre Monkey Face Vineyard at Ranch at the Canyons was the largest commercial hybrid vineyard west of the Mississippi, with 2,500 vines — three reds and three whites — in one location."
What is a hybrid grape? Vitis vinifera are the original grapes found in Eurasia traditionally used in wine. Hybrids are the result of crossing two different species, for example Vitis vinifera and Vitis labrusca, a native American species of grape.
In the U.S., most hybrids originate in breeding programs from the University of Minnesota or Cornell University and private programs developed by Elmer Swenson and, more recently, Tom Plocher.
Hybrids are bred for cold tolerance to minus 30°F, late bud break and a rapid growing season. In Central Oregon, these grapes usually hit bud break in the first to second week of May, bloom in mid-June, veraison around the end of July and harvest during the third to fourth week of September.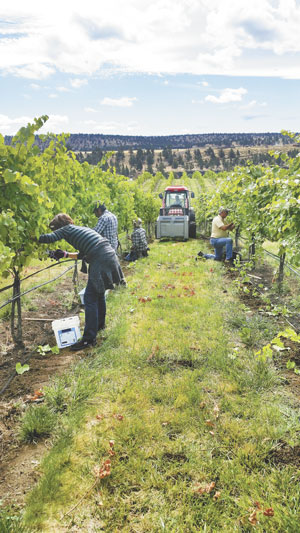 When Damon first planted Monkey Face Vineyard, he intended it to be a research site with goals set to determine viable locations for planting and varietal selections best suited for Central Oregon. He also hoped to establish cultural practices related to successfully growing hybrid grapes in the high desert at a commercial level.
"If the grapes would survive and bloom and set fruit, what kind of wine would they yield? These were the questions we set out to answer."
Doug Maragas of Maragas Winery wanted to plant vinifera on his 40-acre property, also near Smith Rock. In 2006, the same year as Monkey Face Vineyard, he planted Muscat. The next year, he chose 30 different varietals in the three-acre test plot he named Sam's Block after his daughter.
Maragas said the Central to Northern European varietals are ideal for conditions at his location.
"The wine-consuming community prefers vinifera wines. With our volcanic, sandy loam and sunshine, I would have been heartbroken if we couldn't grow vinifera."
The test plot grew well; he learned the optimal spacing between plants and rows. Initially, he head-trained the vines, but has since switched to low trellising. The abundant rock, placed between the vines, serves to retain the daytime heat as well as anchor the agricultural fabric used to slow the weed growth.
"Weeds are a major problem because we're organic," Maragas said.
He admits expanding too quickly once the test plot was established, planting a total of 21 acres. Maragas lost most of the new vines to an extreme cold snap and has been replanting in smaller blocks since then.
Although he has planted some hybrids, he find their taste inferior. He agrees with many wine critics who say they're not "fine wine" grapes.
"We are a craft winery. We're focused on quality," he said.
Another site in Madras, bordering Warm Springs and under contract to Maragas, grows 40 acres of Bordeaux varietals, including Cabernet Sauvignon and Zinfandel. Elevation is about 1,100 feet lower and the weather is warmer.
"Last year would have been our first harvest of Zinfandel, but it was a horrible year because of birds," he explained. "We put netting up this year and had a successful harvest."
In 2009, Doug and Betty Dunn planted four acres of Pinot Noir vines on their ranch off Lower Bridge Road in Terrebonne; they called it Deschutes River Vineyards.
"We planted them down by the Deschutes River, thinking the movement of air and the warmer temperatures at river level would be the perfect spot," said Betty. "But no, that area has proven to be a cold sink, holding the wave of early and late frosts. So our vinifera vines have struggled."
In 2009, the Dunns established hybrid Marquette grapes, about three acres total.
"The Marquette has proven to be well suited to Central Oregon," Betty said. "We picked our largest harvest to date on Oct. 1 (2016)."
High Desert Wine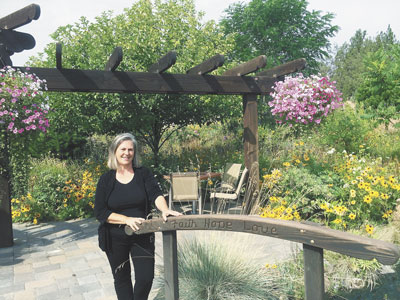 The largest commercial hybrid vineyard and largest wine-centered development is Faith, Hope and Charity Vineyards in Terrebonne, about 25 miles from Sisters. The 15-acre vineyard, planted in 2010, includes six varieties of white and four red. The first estate harvest was 2015.
Owners Cindy and Roger Grossman retired and moved to Central Oregon in 2001 from Chicago.
"Originally, we were looking for a place with 20 acres. Instead, we bought 312," Cindy said. "The site has an exceptional view of Mount Bachelor, Broken Top and the Three Sisters.
They spent several years researching what to do with the property and decided to keep most of it. Currently, the Grossmans are selling several five-acre homesites and a 116-acre parcel.
They've developed their south-facing property into a showpiece event space — complete with waterfall and pond — that can handle up to 500 guests. The open patio area flows into the tasting room on the first floor of their home, designed to resemble a European barn.
"We're a destination winery," Cindy said. "We're unique in that we're active all year long." The tasting room is open daily with live music Friday and Saturday nights. The winery is a stop for several bike tours, a helicopter tour and Wanderlust Tours in Bend. Spring special events include a Memorial Day picnic in the vineyard with a new chef and menu.
The overarching business model is not simply grapes and wine, but agri-tourism.
"We're teaching and diversifying all the time," Cindy explained.
The Grossmans are licensed for a wine production facility and have plans for a gravity-fed processing area with an underground wine cave. They also intend to do custom crushing.
Before the tasting room opened in 2011, the Grossmans contracted to buy grapes from Monkey Face Vineyard.
"We wanted to have a local wine to serve our guests," Cindy said.
They contracted with Pallet Wine Company in Medford to make the wine. Linda Donovan, owner and head winemaker with more than 20 years' experience, discovered some challenges working with hybrids but soon developed techniques to deal with the atypical fruit.
"The wine she produced was single variety because she wanted to see what the grapes did on their own merit," Damon said. "She was excited to take on the project, and winemakers from all over were interested in the process."
So, how did the wine turn out?
Faith Hope and Charity's 2011 La Crescent — sourced from Monkey Face — scored platinum at the 2013 Northwest Food & Wine Festival in Portland, while the 2013 Frontenac won a bronze. The 2013 Vignole earned gold in Sunset Magazine's wine competition.
Unfortunately, the final harvest at Monkey Face was 2014; there's been a change of direction since new people assumed ownership. Faith, Hope and Charity's first Marquette wine from its estate will be available in 2017.
Other wines available for purchase and tasting include a Pinot Noir and five additional reds made with grapes from The Dalles and custom produced in Amity.
At Maragas Winery, winemaking is the owner's passion and it's in his blood, too; Doug Maragas comes from a family of Greek winemakers. In fact, his uncle still owns a family vineyard in Greece. His grandmother brokered grapes and made wine in Lodi, California.
"She taught me that you don't have to be where grapes grow to make wine," Maragas said.
He opened Maragas in 2003, offering wines he made with grapes from the Applegate Valley in Southern Oregon and Horse Heaven Hills in Washington's Columbia Valley. In 2005, he moved the tasting room from Bend to the winery and vineyard, located 10 miles north of Redmond on Highway 97.
Maragas entered the first wine he made with local grapes in the 2011 San Francisco Chronicle competition and won a silver. The grapes for the award-winning 2009 Maragas "Beat Red" were stomped by friends and family, and then pressed with an old-style manual ratchet basket.
That tradition has become the Labor Day Grape Stomp, attracting about 1,000 people to the winery this past year.
"The wine we make from the stomp is called Tootsie," he said.
It's a dessert wine and a blend of the 25 different varietals in small quantities from Sam's Block. Last year, two tons of grapes produced 320 gallons of Tootsie; it was released Thanksgiving weekend. He makes a white blend from Sam's Block, as well.
Maragas consistently enters The San Francisco Chronicle wine competition, the biggest in the world for American producers.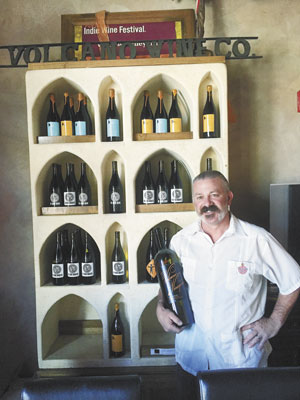 "If we fare well, it confirms I'm doing the right things," he said.
Eventually, he would like to locally source all his grapes, except for the ones from the Applegate Valley.
For Scott Ratcliff, co-owner of Volcano Vineyards with wife Liz, sourcing fruit outside the area has also been essential.
Scott was a hobbyist winemaker in Sonoma when they moved to Bend in 2001. The couple started the business in 2004; a year later, they released their first wines: Merlot and Syrah.
Since they do not have their own vines, they buy grapes from the Rogue Valley and the Milton-Freewater area, but they'd prefer to source more local varieties. The Ratcliffs hope to purchase some fruit from Faith, Hope and Charity this year.
"We'd love to someday plant our own, so that is on our radar," Liz said.
Their most popular offering is sangria, a rosé-based wine flavored with fruit juices and nectars; it's available in 10 different flavors.
"Scott whipped up a five-gallon batch one summer because the red wines we had at the time were too warm for the summer wine festivals," Liz said. "We sold out of it in an hour."
The sangria represents more than 50 percent of their business and a popular purchase at growler stations. Volcano's Bend Red and Bend White are also favorites. Inside the compact winery, Scott does everything by hand, including bottling and labeling; almost 80 percent of their business is wholesale.
The Ratcliffs closed their tasting room last fall yet may open gain this summer, or they may decide to do pop-up locations.
"Retail is very demanding and requires resources we are better off allocating toward scaling the production and making our operations more efficient," Liz offered. "We will still be available for prearranged tastings, organized tours and will probably be open on the long weekends."
New Faces
The Grapeyard
Frank and Carol Brian used nine of their 39 acres on the northern edge of Bend to plant hybrids — four acres Marquette; two Frontenac Gris; and three La Crescent. The couple plans to establish five more acres of Marquette next spring, for a total of 20 planted acres in what they call The Grapeyard.
Continuing the installment of irrigation and overhead sprinklers — for frost protection — Frank is also busy adding a deer fence, almost a mile around the perimeter.
"Birds are another issue," he said.
"We hope to have a marketable harvest next year," Frank said. "The early plan was to get the grapes going."
In regard to building a winery?
"We'll see," Frank said.
Ripplin' Waters Vineyard
In the Golden Triangle area of North Bend, Duane and Dina Barker have established Rippling Waters Vineyard on the couple's five-acre property. In total, they're growing 1.5 acres of hybrids — the first 50 vines planted in 2012 — including reds Marechal Foch and Marquette, and whites Brianna and La Crescent. The Barkers also planted some Vitis vinifera, specifically, Pinot Noir.
"[The Pinot vines] are up against a rock face that keeps them warm," Dina explained.
Although the vines sit at 3,440 feet — easily one of the highest vineyard elevations in Oregon — they're thriving.
"Our grapes are doing well, and we can now propagate off our own plants," she added.
The ultimate goal is to produce their own wines. Dina, a board member of the Central Oregon Wine and Grape Growers Association, believes it vital for Central Oregon fruit to be represented in the area's tasting rooms.
"We're interested in showcasing the terroir of our area," she said.
Johnson Creek Vineyard
East of Prineville on a 7-acre piece, Robert Sowers has carved out a half acre of hybrid vines, which he started planting in 2005. All 400 plants in Johnson Creek Vineyard are managed with special care, including the application of netting when the fruit turns sweet.
"Once the birds come, they bring friends," Sowers said.
His first harvest was in 2009. Last year's totaled 1,800 pounds. Sowers makes his own wine with his own equipment. One of his whites won a people's choice competition a few years ago at Faith, Hope and Charity.
Collaboration
Sowers and another home winemaker from Redmond, Dan Tippy, donated time and equipment to a collaborative Central Oregon winemaking effort last fall.
Kerry Damon explained how three local growers — the Barkers, Dunns and Tippy — contributed Marquette grapes to the collaboration, harvesting about one-quarter ton of fruit. The homegrown winery is in the Barkers' garage.
"We consulted with winemakers from Shelburne Vineyard Winery in Vermont and Parley Lake Winery in Minnesota about their award-winning Marquette wines," Damon said.
"We experimented with tannin additions as the wine went through primary fermentation because most hybrids don't have the natural tannin structure that is found in vinifera varieties," he continued. "Following completion of primary fermentation, we inoculated the wine and took it through malolactic fermentation in oak barrel. We also selected medium toast Hungarian oak for barrel aging the Marquette wine."
From harvest to aging in oak barrels to bottling, the project will take about 18 months.
"This is a first for our association: producing a local wine from locally sourced hybrid grapes," Damon said.
New Growers
Interest in grapegrowing continues. Larry Nurre at Cascade Canyon Ranch, north of Terrebonne, will plant three acres of Marquette grapes this June with the infrastructure already in place. Damon has also met with a family in Prineville hoping to plant a commercial vineyard this year and eventually build a winery.
The Central Oregon Wine and Grape Growers Association meets monthly, educating members on viticulture, enology and the business of wine.
"Our goal is to establish a wine industry here," Damon said.
When Patty Skinkis, a viticulture specialist at Oregon State University, met with local growers several years ago, she encouraged them to manage their own variety trials to determine which worked best and share that information with the group. Their collaborative approach has led to an increased interest in both backyard and commercial vineyards.
For information about the association meetings and seminars, contact Kerry Damon at fishrock.khd@gmail.com or 541-280-6243.