Hello, Hiyu!
Goodbye, Pheasant Valley
By Stuart Watson
Growing up in Napa, with a father who appraised real estate and a mother teaching school, Nate Ready assumed he and his friends would go off into the world and do something other than taste, make and sell wine.
So how has he spent just about every hour of his adult working life in or around the wine and hospitality business? Blame it on the Napa air, or water, or — more appropriately — its terroir.
In early 2015, Ready and his partners, China Tresemer and Geoff Burke, completed purchase of Hood River's Pheasant Valley Winery from founders Scott and Gail Hagee.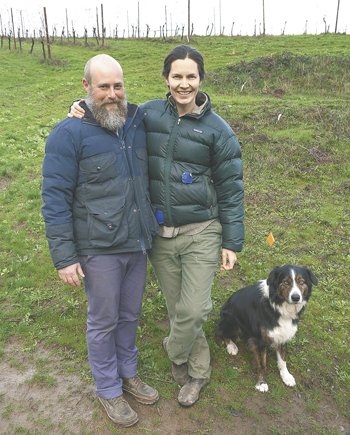 To hear Ready tell it, the deal pretty much cemented the foundation for his and Tresemer's own entry into the Oregon wine scene after years of working for and with other players.
Burke's partnership helped them greatly expand — by 21 acres — the modest investment Ready and Tresemer had made five years earlier in the Hood River Valley vineyard property. Burke also helped them discover "Hiyu" as a name for their enterprise. It derives from the pidgin trade language used by the Chinook people.
"It means 'big party' or 'abundance'," Ready said. "So we're the Hiyu Wine Farm."
After graduating Napa, and moving on to Pepperdine University, Ready realized only a gig in a wine shop offered an extracurricular enhancement to his humanities studies.
"I spent a lot of time in the wine shop," he said. "And we'd get invited by all the reps to dinners at nice restaurants around L.A."
It was exciting, tasty, a doorway into some domino-tipping joie de vivre. After college and looking for work, Ready found himself at a wine tasting in San Francisco, where he met Bobby Stuckey, director of the wine program at The French Laundry, Thomas Keller's famous Yountville restaurant.
Ready went to work and became a sommelier by age 24. When Stuckey and chef Lachlan Mackinnon-Patterson moved to Boulder, Colorado, to start Frasca Food & Wine, Ready packed his bags and poured along.
Boulder was where he met Tresemer. After Ready secured his master sommelier certificate in 2006, he began a bit of back and forth that would move him progressively farther away from the front of the house — and closer to the back 40. During that exploratory time, Ready did some winemaking back in Napa, then flew to Italy to work the 2007 harvest, where he and Tresemer again crossed paths.
An artist (Parsons Paris), gardener, writer and cook, Tresemer was working in Italy with Peggy Markel's Culinary Adventures. After Tresemer and Ready returned to Boulder, they joined some friends and ran a catering bus serving farm dinners.
From that soil emerged the bright green frond of a dream: to explore Biodynamic farming, raise animals, grow grapes and do it all in Oregon.
"While we were living in Portland and looking for a place to live, Hood River was one of the first places we visited," Ready said. "China's sister was living here."
They were enchanted. Ready hooked up with Antica Terra in Dundee, making wine and learning more about the chemistry of the juice and the business. He says a lot of winemakers begin as sommeliers.
"As a somm, you talk with a lot of people, so when you go into winemaking, you've got a huge database of information to work with, to understand the language," he said.
"Once you've made some wine, you understand the context versus winemaking straight out of school."
Contrasting the Willamette Valley with the Hood River Valley, he and Tresemer tilted east.
"Every time we came to Hood River, we loved it," Ready said. "It felt relaxed, a light place to be."
In 2010, they bought a 7-acre parcel from the Hagees. It had mature vines, mostly Pinot Noir and a little Syrah.
"Our intent was to live in the little mobile home, live small and make wine," Ready recalled.
That was then. This is now.
In 2009, before they bought into Hood River, Ready was still working at Antica Terra, where he met Burke. The friendship led to a protracted conversation about a joint venture.
"We talked for three years, and one day, he comes to us and tells us the neighbor's property is for sale," Ready recalled. "We decided to go for it."
They made their first wine at Antica Terra in 2012, and then used facilities at Analemma in Mosier to produce their 2013 and 2014 wines, expected to be released this summer.
Acquisiton of the extra 21 acres added Chardonnay, Pinot Gris and Tempranillo to the estate. The land is also a large palette for a variety of explorations, in animal husbandry, top grafting, food forestry and cooking.
In addition, a tasting room will share the property, after a remodel — gone is the bed and breakfast the Hagees operated — and they're also working with celebrated chef Jason Barwikowski, who made the rounds and left his mark on the Portland dining scene before decamping to "the Hood." A collaboration with John and Brady Jacobson of Mt. Hood Organic Farm to produce a cider is in the works, too.
"I like all kinds of different wines," Ready noted. "It's tough, where in the Willamette Valley, you're just doing Pinot Noir. If you can grow a variety, it's nice to have different expressions, other possibilities you can grow."
And helpful, Ready says, to prepare for possible climate changes that might leave Pinot Noir … well, in the dust.
A veteran Northwest newspaper and magazine reporter and editor, Stu Watson owns Watsonx2 Communications in Hood River.