Have Can, Will Travel
Oregon producers navigate on-the-go market with style
In a youthful game of telephone connecting producers and consumers by string and a pair of cups,
the topic of conversation seems to be one thing: canned wines. The trend has fully arrived, with Nielsen estimating growth at 53 percent within the aluminum-clad field, last year alone.
Tab-crackable wines still account for only a fraction of the overall market, but the surge is significant, riding a wave all the way to the Willamette Valley. Whether out of convenience, environmental awareness or millennial lust for all things low-brow, more and more producers are swapping glass and cork for aluminum. Yet, in an industry like wine, where nuance is prized and glassware marveled over like a roped-off Rembrandt, is anything lost in translation?
Oregon's growing list of canned producers includes everybody from smaller start-ups dabbling in creative damage control to some of the largest labels in the land, going all-in where portable wine is concerned. Those who witnessed draft wine rise up the recent charts aren't surprised by the metallic influx. Others, who can't peruse their local supermarket or wine shop without stumbling onto more and more options, are impressed by the novelty and rewriting their what-to-pack lists for upcoming camping trips.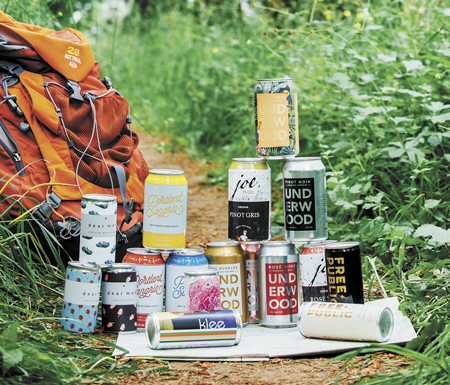 From a utilitarian perspective, the trend reflects little more than wine's urge to be as on-the-go as its tireless and ever-fickle consumer. No more shackles by way of tricky-to-cut capsules and weighty bottles. No more delays as we wait for a wine to decant or achieve ideal temperature. In the ongoing and natural revolt against tradition, canned wine was bound to happen. One can argue its status, five or 10 vintages from now, is mostly unknown.
Robert Karmin's label is as aptly named as any; Dear Mom boasts adorable 187-milliliter cans of rosé, and white and red blends, with a sparkling in the works. His introduction to wine came from his mother, who frequented the Willamette Valley in the 1990s. She would return with fantastic Pinot Noirs from Domaine Drouhin, REX HILL and Eyrie. He visited King Estate in between the rigors of law school at the University of Oregon, helping with his father's restaurants before jumping fully into wine.
Karmin worked the distribution game before a stint as Alexeli Vineyard's brand manager. From there, he partnered in founding Coopers Hall, a robust winery and tap house set on the edge of industrial southeast Portland. The joint made a healthy handful of its own wines and served dozens more by the keg. He watched as scores of customers filled portable vessels with wine or enjoyed a glass straight from the spigot. Meanwhile, a blueprint for Dear Mom was coming together, if only in Karmin's head, with sustainability in mind.
"My experience with Coopers Hall made me quite confident that glass and cork is not the end-all be-all of wine," Karmin says. "While aluminum is by no means a perfect solution — it is energy-intensive to produce — it does seem to be less impactful than glass and cork."
The real kicker, Karmin contends, is in the weight disparity. Four-and-a-half liters of his wine weighs 12 pounds when canned. When bottled, it might weigh anywhere from 18 to 25. The lighter load eases fuel costs for shipping, and because there's a deposit involved, Karmin is convinced of a greater recyclability built into aluminum.
A formidable challenge for Dear Mom resides in the process. His label's unusual cans — clocking in about 6.3 ounces — are harder to procure and require a special canning line. "This means we have to be ready with a longer lead time prior to canning," Karmin says.
An observant member of the industry with plenty of experience, Karmin has learned a few valuable lessons. He leaves no room for residual sugar nor makes any cupric sulfate additions, as the two are known to react unfavorably with the film lining of his cans. He's not sure what the expiration date might be for his work — at least 30 months, he guesses — but he's encouraged by research thus far. "The cans we made last June are still holding up terrific," he says.
Free Public launched last January. The collaboration in a can is a marketer's dream: Union Wine Company brand designer and creative director Michael Etter, Penner-Ash vintner Ron Penner-Ash and longtime Stumptown Coffee executive Matt Lounsbury. As expected, the cans are sleek, the branding fresh and the overall look is pretty close to irresistible. The wine, cleverly hit with the "American AVA" label, allows for plenty of choices as far as what ends up in the can.
"As negotiants, we can take advantage of regional vintages," Penner-Ash says. Free Public sources fruit from Oregon, Washington and California. And while he loves the Willamette Valley juice for its fruit-forward nature and natural acidity, he's operating on a different scale. "For us, it's all about blending components to ensure consistent quality."
Penner-Ash's pursuit of canned wine covers more territory than the fertile grounds of popularity. "Coupled with a flattening of craft beer sales and the fact that Millennials will surpass the Boomers in overall wine consumption this next year," he says, "we're embracing an opportunity to create a new paradigm in wine: quality wine in a can."
In effect, it's the perfect opportunity to show that much of the same hair-pulling, meticulous methods involved in winemaking as we know it also go into the canned winemaking process. Penner-Ash offers as much, equating the regimen to what he would normally do with his reserve wines with his eponymous label.
Penner-Ash is as disappointed as many industry types by the quality of canned wines currently available. He says flaws are common and can't stress microbial stability enough. "In an anaerobic format, what goes in the can stays in the can," he says.
Portland Sangria came about under slightly different circumstances. Ryan Sharp, who, at the time, was leading the vinification efforts for Portland urban winery ENSO, had some spare rosé he simply couldn't toss down the drain. He threw in some fruit and herbs and inadvertently concocted one of his most popular pours of the summer.
"It really was a way to salvage a loss," admits Sharp. "We served it by the glass in our tasting lounge the first summer ENSO opened. When it started to get warm the following year, people started asking for it, so we figured it'd be a good idea to bring it back."
Portland Sangria now produces some 25,000 cases per year, selling primarily in Oregon and a handful of other states. Sharp is the first to admit there's a mentality connected to his newest venture — that cans are for cheap beer. After four years of trying other options, he finally decided to can. Like other winemakers now doing the same, he needs it to resonate.
Wine By Joe is also trying to rewrite canned stereotypes. Travis Proctor, director of winemaking operations, hopes to follow craft beer's lead. Presently, the Dundee outfit makes a Joe to Go line that includes a rosé, Pinot Gris and a forthcoming Pinot Noir. "We don't pull any punches," he says. "Many canned wines are assembled from the bulk market. We're proud to fill cans with wine that we've managed from grape to bottle."
Perhaps more importantly, Proctor points to the outdoorsy niche these wines fill. "The point of canned wine is to take it to places it's never gone before," he continues. "It's fair to say that it's harder to smell a wine from a can, but when you're on a hiking trail, kayak or fishing boat, are you really focusing on the nose of the wine?"
His is fair point that speaks to a large and active population opting to sip something else beside the campfire. It also follows the changing food and beverage landscape among larger gatherings, like concerts and sporting events. People are rightfully tired of awful, overpriced wine poured into plastic cups. The canned wine craze imparts some much-needed quality to stadiums, arenas and festival grounds all over the country.
Proctor says his blends reflect that type of consumer, offering adjectives like "playful," "crowd-pleasing" and "approachable" to describe the end product. The dialogue the wine community had more than a decade ago about whether or not a solid sub-$25 Pinot Noir was possible has shifted to the topic of cans.
Altogether, we discovered six Oregon wineries canning wines. The other two include the most established and the newest on the block. Union Wine Co., the king of cans, claims the longest history and greatest production with its wildly popular Underwood brand founded by mastermind Ryan Harms. Roots Wine Co. is the latest to join the market, with winemaker/owner Chris Berg canning a portion of his second-label Pinot Noir, Klee, and a sparkling rosé.
If the trend continues, as it surely will, there will be many more of them, which translates to more choices for your next adventure. The packability and burgeoning selection offers the tastiest victory. The ability to enjoy a local wine while paddling Suttle Lake, hiking through the Painted Hills or ascending the foothills of Mount Jefferson elevates just about everything.
A traditional Radler consists of a 50:50 mixture of beer and sparkling lemonade. Union Wine Co.'s version under their Underwood label includes wine, hops and, of course, lemon. The origin of the name, which means "cyclist" in German, is lost to time but is presumed to relate to the popularity of cycling and the need for a refreshing, less-alcoholic beverage on the journey.
Originally from Spain, Sangria is a Punch consisting of wine and chopped fruit, often with other ingredients, such as orange juice or brandy. Portland SAngria offers a northwestern version Made with Oregon wine, juice, herbs and spices.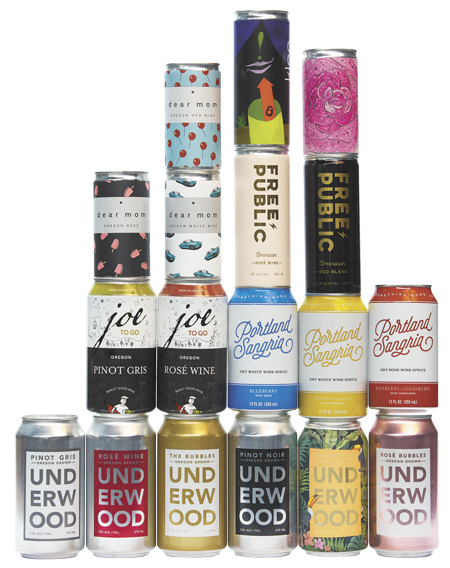 Roots Wine Co. 2017 Klee Pinot Noir, Willamette Valley
On the nose, notes of Dr. Pepper, bacon, campfire, purple fruit and oregano mingle. The taste shows Bing cherry, leather, a sprinkle of black pepper and a drop of orange oil. Texture has grip and acid has kick. $6 (250 ml.)
Roots Wine Co. 2017 Sparkling Pinot Noir Rosé, Willamette Valley
Peach and strawberry blend with saltwater taffy and pink candy coating for a fun aroma. Peach and strawberry repeats on the palate, plus cherry, too. The effervescence is light; the finish is lengthy. $6 (187 ml.)
Free Public Rosé, American
Freshly cut grass figuratively tickles the nose alongside pine needles and peach purée. The palate is peachy with an exhilarating lift of acidity. $12.99 (3-pack/250 ml.)
Free Public Red Blend, American
Aromas of blueberry, strawberry and cherry mix with a sultry, smoky quality. On the palate, the same fruit basket continues with firm tannins and a ripe blueberry finish. $12.99 (3-pack/250 ml.)
Portland Sangria Dry White Wine Spritz Blueberry-Basil
This slightly fizzy refresher is all blueberry and basil on the nose and palate with a hint of sweetness. $20 (4-pack/12 oz.)
Portland Sangria Dry White Wine Spritz Lemon-Ginger
One sniff had the panel craving sushi, thanks to the spicy pickled ginger aroma. On the palate, lemon bursts onto the effervescent scene with more ginger, but freshly grated. $20 (4-pack/12 oz.)
Portland Sangria Dry Rosé Wine Spritz Raspberry-Loganberry with Cardamom
With a Syrah-blend base, this sangria is also as advertised with raspberry, loganberry and cardamom aromas and flavors surrounded by fine bubbles invigorating the berry-liscious concoction. $20 (4-pack/12 oz.)
Underwood Rosé Bubbles, Oregon
Super bubbly, the blushing Pinot Noir/ Chardonnay smells and tastes of wild strawberry, peach, cherry, lilac and a hint of talc. Citrus seals the deal. $28 (4-pack/375-ml.)
Underwood Riesling Radler, Oregon
Made from Riesling, hops and grapefruit, this shandy-style beverage offers aromas of sour ginger, hops, toasted sesame and orange spice. Flavors include lemon, ginger, tea leaves, pine needles and agave. The finish is a flourish of fresh acidity, tasting of ruby red grapefruit. $24 (4-pack/12 oz.)
Underwood Rosé, Oregon
On the nose, this blend of Pinot Gris, Riesling, Muscat and Pinot Noir offers a bouquet of flowers, including lilac, lavender and tea rose. A floral essence repeats on the palate mixed with a light strawberry flavor and a velvety, viscous texture. $28 (4-pack/375-ml.)
Underwood The Bubbles, Oregon
The "pinkies down" sparkler — Pinot Noir and Chardonnay — is serious about its bubbles, practically scrubbing the inside of the glass. Aromas of marzipan, cedar and herbs entice, while the flavors of lemon tart, fresh bread and almond encourage another fizzy sip. $28 (4-pack/375-ml.)
Underwood Pinot Noir, Oregon
The unexpected grippy texture impresses along with aromas of smoky meat, purple fruit and black cherry. More smokiness, plus raspberry, presents on the palate with a splash of bright acidity. $28 (4-pack/375-ml.)
Underwood Pinot Gris, Oregon
If you like peach, this can's for you. Peach on the nose. Peach on the palate — plus a sea salt kiss — and plenty of juicy acidity. So refreshing, it'll make you to sing: "Millions of peaches, peaches for me." $28 (4-pack /375-ml.)
Joe to Go Rosé, Oregon
The rosé of Pinot Noir smells of freshly picked Hood strawberries and tastes of light peach, white flowers and a bit of strawberry, too. Bright acidity makes for a truly refreshing refreshment. $7 (12 oz.)
Joe to Go Pinot Gris, Oregon
On the nose, hints of walnut, sea salt and lemon peel. On the palate, lemon and nuttiness continue with brisk acidity and a grapefruit pith finish. $7 (12 oz.)
Dear Mom 2017 White, Applegate Valley
The blend's (Viognier, Marsanne and Roussanne) aroma showcases lemon, lime and lime blossom notes, while the palate offers a floral essence, tart lemon and stone-fruit flavors. $16 (4-pack/187 ml.)
Dear Mom 2017 Red Wine, Applegate Valley
At first sniff, the red blend (90-percent Syrah/10-percent Viognier) smells of dark cherry, prune, blueberry, cola, warmed baguette and a sprig of mint. The palate invigorates with a kiss of strawberry and cranberry. $16 (4-pack/187 ml.)
Dear Mom 2017 Rosé, Applegate Valley
The scent of dark chocolate cherry brûlée wafts from the glass, and, suddenly, we all crave dessert. Cherry flavors dominate the totally dry blend (Syrah and Malbec) with a crisp, white pepper finish. $16 (4-pack/187 ml.)