Sweet Sixteen
Early vintage delivers condensed crush, great quality, more normal yields
Report by Oregon Wine Board
Similar to the last two vintages, the 2016 growing season continued to push the envelope for defining the new normal in Oregon as one of the earliest on record. An unusually warm spring gave way to moderate summer conditions, which provided even growing conditions through véraison. Though it was an intense growing season due to the early start, the fruit produced throughout the state resulted in wonderful concentration and complexity with characteristic natural acidity.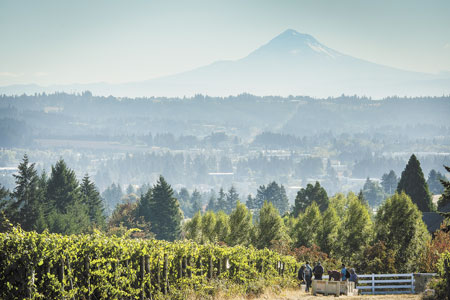 Bud break kicked off the vintage two to four weeks earlier than normal. A short heat spell at bloom condensed the flowering period, resulting in a smaller fruit set for most producers. Summer provided average conditions with fewer heat spikes than the 2014 or 2015 vintages, which led to smaller berry size and a higher concentration of flavors. Warmer than normal conditions in most areas in August shepherded along the early vintage and most vineyards started to harvest early ripening varieties during the last week of the month or early September.
The 2016 vintage saw practically immaculate fruit with few signs of disease, pest or bird effects. Vineyards and wineries in the Willamette Valley were largely finished with harvest by the end of September to early-October, while wineries in other regions carried on through mid-to-late October depending on the varieties planted. Because of the cooler temperatures in September and October, growing degree days (GDD) accumulation in the western valleys ended up between the totals seen in 2013 and 2014. Lower GDD was also seen in Eastern Oregon and Washington, where the coolest conditions in the Pacific Northwest were experienced.
Depending on the region of the state, producers are reporting a mix of higher-than-normal and lower-than-normal yields due to weather conditions through fruit set, which will likely average out and result in total production levels closer to normal for Oregon, unlike the last two large harvests.
Columbia Gorge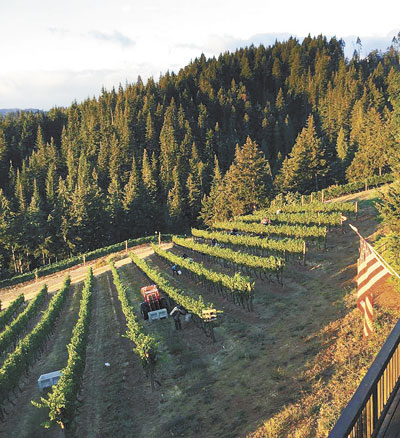 "Our bud break was about a week earlier than what we call normal, but who knows what normal is these days? The bud set was good; crop set was heavy. The growing season was very nice with less hot days in July than last year, which provided more acidity to our grapes than last year. Our quality was very good to excellent, both from the estate grapes and outside sources. We received our first grapes on Sept. 3 and finished harvesting our estate grapes on Oct. 12, so our crush season was nicely spread out. Our yields were a bit heavier than expected. Overall, we are very pleased with the crop."
Steve Bickford, Mt. Hood Winery
"For us, 2016 was an excellent growing season and will go down as a great vintage as we were blessed with wonderful weather. Everything in the vine's growth cycle occurred two to three weeks early (and in some cases, more) from bud break to harvest. The spring and summer were warm with very little rainfall followed by some cooling near end of harvest. The crop looks great, and we are expecting outstanding big reds (e.g. Cabernet), with our other varietals being balanced and of good quality. Our biggest challenge has been the logistics of harvest; every varietal and vineyard site was getting ripe within a narrow time frame, hence, tank space at the winery became critical. Yields this year are consistent with the last several years and met our projections."
Mark Chargin, Naked Winery
Southern Oregon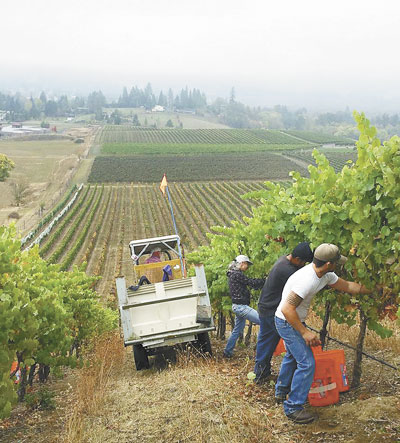 "We started with an earlier-than-normal bud break, but then, we had a cool spell for three to four weeks that put the brakes on the season. With the exception of three short heat spikes, the cooler-to-average conditions provided the opportunity for much longer hang times than in recent years, allowing for richer flavors to develop. It's also important to note that our average start date for irrigation was the third week in July, versus the first week of July during the past three years. We actually harvested some fruit in the Dundee Hills and McMinnville earlier than at the DANCIN Estate located just outside Jacksonville. Our yields were within 5 percent of average, and the quality of the crop has been amazing."
Dan Marca, DANCIN Vineyards
"Every aspect of the 2016 vintage in the Rogue Valley can be consistently characterized in one word: early. Moderate weather through the entire summer provided even growing conditions. Adapting to the third straight year of early and warm vintages, we initiated night harvesting, which allowed us to deliver cold fruit to the winery and wrap up picking by 10:30 a.m. daily, a real saving grace. Overall, quality looks to be quite good to exceptional. The Pinot Noirs are quite forward, with dark fruit and well-ripened tannins yet retaining very good natural acidity. The late ripening reds had the opportunity to develop dark purple/black color, mature tannins and dense, concentrated flavors with great structure. And, 2016 may be an exceptionally vintage for Gewürztraminer. We were close to our projected yields, yet overall most varieties seemed to be shy of normal."
Bryan Wilson, Foris Winery and Vineyards
Walla Walla Valley
"The 2016 vintage is turning out to be one of the most interesting vintages of my 16-year career. Bud break started about two weeks earlier than normal, which carried over to bloom, and from that point on, we continued to lose ground on our early start with véraison and harvest being about seven days ahead of normal, though four days later than last year. Harvest progressed with a nice slow pace, and we were able to pick all of our fruit at the perfect ripeness. At the time of press, the wines were showing really well with what we believe to be exceptional quality. All indications point to a really exceptional vintage."
Jason Magnaghi, Figgins Family Wines
"Thankfully, we did not have any winter damage going into the 2016 growing season. For the fourth year in a row, bud break was two weeks earlier than the historical average, but we were fortunate to not have any nights requiring frost control. Good weather prevailed throughout April, May and June, while July, which is typically hot, was cooler than the norm. The summer heat came back in August, and we were gearing up for an early start to harvest, but on Sept. 1, the temps dropped into the 70s, and we only had seven days over 80 degrees for the month. I think this made a big difference in the overall balance of the wines. We started picking on Sept. 15 with a block of Syrah from the Rocks District. October continued with mild temperatures and more precipitation than we are used to seeing. Overall, the vines were fruitful, producing typical crop loads with excellent quality."
Rich Funk, Saviah Cellars
Willamette Valley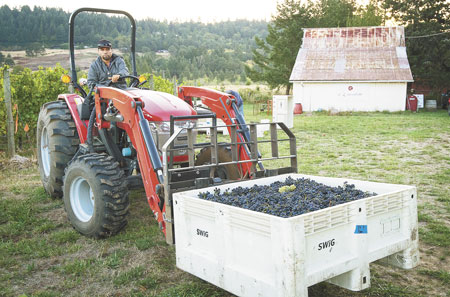 "If 2014 and 2015 made very good wines, the 2016 vintage may be headed toward greatness. The generally warmer temperatures throughout the spring and parts of summer led to one of the earliest seasons on record in the last 25 years at our estate… We began harvesting Pinot Noir on Sept. 3 from our estate, and continued steadily through Sept. 15. The last of our old-vine estate Viognier was harvested on Sept. 28 and our four clones of estate Syrah picked on Oct. 12. Due to the variable weather during flowering, we saw small berries and small clusters in each of our estate vineyards that lead to depth, intensity and concentration in the young wines. The 2014 and 2015 vintages make the 2016 harvest seem small by comparison, though we are extremely pleased with our yields this year, which were much closer to our historical average of 2 tons per acre."
Tom Gerrie, Cristom Vineyards
"For the third straight year, we enjoyed an earlier than usual harvest with picking on Ribbon Ridge starting at the beginning of September and finishing up by the end of the month. With the warm, dry growing season, clusters were ripe and flavors well-developed. Surprisingly though, acidity didn't drop as quickly as expected, leaving us with expressive flavors and great energy in the wines. The wines show aromas of fresh fruits and alluring floral notes, but with more minerality than I typically find at this point. With excellent ripeness in the fruit, structure and color came easily. While plentiful, I find the tannins early on to be more fine-grained and alcohol levels to be in the mid-13s for Pinot noir. As the wines are now all in barrel and beginning what I hope will be a graceful period of aging, the cornerstone of the vintage seems to be balance with fruit, acidity and tannin in fine equilibrium. It's early, but it's hard not to like what 2016 gave us."
James Frey, Trisaetum Winery
"The season started ahead of usual with bud break being one to two weeks earlier than average. Typical (wet, mild) spring weather gave way to a very hot spell right at bloom that pushed the flowering to a very condensed timeframe. Summer was mild with slightly more rain and cooler temperatures than we have seen the last few vintages punctuated by hot periods that pushed things along. It was the shortest and earliest harvest in our more than 40 years of doing this. We love the quality of fruit — lower yields and small berry size led to really intense aromatics and ripe fruit tannins that will show really well in the cellar. Overall, we are below our expected yield, but we are seeing more concentration and complexity due to the lower crop size."
Adam Campbell, Elk Cove Vineyards