Happy Campers
Winemaking co-op, tasting room opens in Dundee
Day Camp
Details:
Address
Address 21080 N. Hwy. 99W, Dundee
Hours
Hours Thurs.–Sun., 11 a.m. to 6 p.m.
Phone
971-832-8590
Website
www.daywines.com
Don't expect to find arts and crafts or archery at Day Camp, though you might be in for a game of tug-of-war as you vie for tastings of limited-production wines crafted by some of Oregon's ascending micro-producers.
Day Camp is actually the Willamette Valley's newest cooperative winery and tasting room in Dundee, founded by winemaker Brianne Day of Day Wines. The winemaking facility, a former vitamin production operation, opened just in time for the 2015 harvest. After an extensive build-out, the tasting room opened its doors March 4, 2017.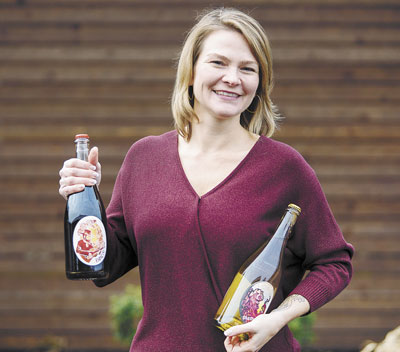 The cedar-covered walls and ceiling, along with a sweeping copper bar, combine for a sleek yet natural ambiance. The interior flows to the outdoors with a wall of floor-to-ceiling windows that completely open to a large patio offering a view of the Dundee Hills and a fire pit — what would camp be without a fire?
Encouraging guests to "camp out," the tasting room will ultimately feature a comfortable lounge spacious enough for 18 people to sit relax and accommodate 38 total. The impressive patio, surrounded by native grass plantings undoubtedly will be a favorite spot for visitors during warmer, sunnier weather.
"The tasting room, designed by Fieldworks Design, was intentionally planned to fit with the landscape and terrain, using colors and materials that blend seamlessly into the environment instead of jarring your senses," Day explained.
Day produces natural wines that are both instinctive and restrained. Dedicated to site-driven expressions, she works with Pinot Noir, Tannat, Malvasia, Côt (Malbec), Viognier, Primitivo and other lesser-known varieties sourced from farmer-owned vineyards in the Willamette and Applegate Valley AVAs.
In addition to Day Wines, 10 small producers — making a wide variety of wines from several AVAs — have been producing wine at Day Camp since the 2015 harvest, including: Jackalope Wine Cellars, Fossil & Fawn, Script Cellars, Adega Northwest, Granville Wines, Burner Wines, Montebruno Wine, William Marie Wines, R. Maloof and Yamtunk Wine Company.
"Day Camp is a cooperative in every sense of the word: It has brought together smaller producers who work side-by-side and collaborate throughout the year," Day said.
The $15 wine flight includes five samples, four from Day and a revolving selection from in-house wineries. Wines are available by the glass and more than 30 wines from all Day Camp producers are available by the bottle. In addition, each weekend will highlight a different resident winery pouring its complete line-up.
"We're all excited to be part of the Dundee wine community and offer another great destination for Willamette Valley visitors," Day said.
Whether your visit is planned or an impulsive escape from traffic, you'll find reasons to return again and again, telling your friends stories that start with "This one time, at Day Camp…"
Tamara Belgard is a freelance writer who explores the Oregon wine scene from her home in S.W. Portland.