Grounded in Burgundy
Inside Oregon's French winemakers' storied family cellars
I never intended to write about the cellars of Oregon's Burgundian vignerons. My initial story focused on sharing fun facts, such as oldest bottle, current production levels and favorite memory. After arriving in Burgundy, however, a different story emerged. Here, among hushed caves flanked by family-crested barrels and fusty stacks of sea-green bottles, I learn a tale of tradition, resilience and reinvention, a narrative fundamentally connected to Oregon.
Tradition
Maison Joseph Drouhin
Domaine Drouhin Oregon/Roserock
Understanding Burgundy's rich tradition begins in the Beaune cellars of Maison Joseph Drouhin. A warren of four contiguous caves beneath the town's heart, these cellars speak to the wine region's noble and religious "superpower" past.
Indeed, some may argue Maison Joseph Drouhin represents Burgundy's modern royalty. The congenial fourth-generation dynasty was helmed by Robert and Françoise Drouhin from 1957–2003, with Robert managing operations and spearheading bold expansions into Chablis and Oregon. Today, their four children, Frédéric, Philippe and Laurent Drouhin, and Véronique Drouhin-Boss, play key roles in running the business, which produces 400,000 cases a year. Drouhin-Boss, head winemaker and arbiter of the Drouhin 'house style,' proves my able cellar guide.
"My brothers and I use to play in these cellars as children," Drouhin-Boss recalls, fondly patting a worn stone threshold as we begin a tour through the labyrinth of caves.
The Winery of the Collégiale Church, a 13th century cuverie with a massive wheel press — or perroquet (parrot) — assembled in 1570, lies above the vaulted Gothic-style Cellars of the Collégiale Church, built by the Canons of Beaune; in this location, Maison Joseph Drouhin ages its most prestigious wine. Inside the 15th century Cellars of the Dukes of Burgundy, under the Hôtel des Ducs de Bourgogne, Maison Joseph Drouhin ages its exclusive Marc de Bourgogne brandy; it is also where Uncle Maurice Drouhin escaped the Nazis during World War II through "The Freedom Door" memorialized in Don and Petie Kladstrup's book "Wine and War." The 13th century Cellars of the Kings of France and the Cave of the Parliament, erected upon a 4th century Roman castrum (fort), completes the tour.
"The Dukes lived in Dijon but ruled in Beaune," Drouhin-Boss explains, "They also came here to check on their wines."
In the former Cave of Parliament, now Maison Joseph Drouhin's tasting room, a hand-carved statue of St. Vincent, Burgundy's patron saint of wine, graces a niche near the entrance — his benevolent presence an assurance of protection during harvest.
"When we built the domaine in Oregon, I bought a statue of St. Vincent from a woodcarver near here, and carried him on the plane with me," Drouhin-Boss lights up at the memory. "He has the sweetest smile. I think he is happy there; he did a good job the past couple years protecting the vines."
Resilience
Domaine Méo-Camuzet
Domaine Nicolas-Jay
Tucked away in the famed Côte-d'Or wine village of Vosne-Romanée, Domaine Méo-Camuzet represents another of Burgundy's grand estates. Founded sometime in the 19th century by the Camuzet family, including Etienne Camuzet, who became mayor of the village, a member of parliament for the region and owner of Château du Clos de Vougeot. Eventually, the empire passed to distant relative Jean Méo in 1959. Méo, an engineer, relied upon métayeurs (tenant farmers), including the legendary Henri Jayer, to operate the domaine while he pursued a brilliant career in government and business. In 1989, Jean Méo's son Jean-Nicolas assumed operation after completing business and oenology studies; Jayer emerged from retirement to mentor the fledgling winemaker.
Today, Jean-Nicolas oversees the cellar and sales, while Christian Faurois, son of one of the métayeurs, manages the vineyards. Under Jean-Nicolas, the domaine farms vineyards sans leaseholders, has expanded into international markets and established a family négoce business, Méo-Camuzet Frère & Soeurs. Production comprises 65,000 to 70,000 bottles annually for the domaine — 55,000 via négoce. Recently Jean-Nicolas joined the Oregon winery fray, founding Domaine Nicolas-Jay with friend and former music entrepreneur Jay Boberg.
While resilient in an ever-changing world market, Domaine Méo-Camuzet remains quintessentially Burgundian. Change occurs when practical. Modern upgrades like a sleek multi-story glass entry and up-to-date efficiencies meld discreetly with time-honored conventions.
"Our cellar remained generally untouched until 1989," says Jean-Nicolas, "when small improvements began, such as replacing gravel with concrete. Prior to 1991, we used a crane to move pallets of wine from the cellar up to the loading area. One day, I was in my office [in] the cellar nearby when I heard a large crash and then dead silence. I came out to discover 80 bottles of Clos de Vougeot lost by an intern operating the crane. Next year, we installed an elevator."
Reinvention
Domaine du Comte Liger-Belair
Chapter 24 Vineyards
Also in Vosne-Romanée sits the regal Domaine du Comte Liger-Belair. Founded in 1815 by Louis Liger-Belair, a Napoleonic general who married a Burgundian woman, the estate once extended more than 60 hectares, including the famous monopole of La Romanée. Unfortunately, inheritance issues forced its sale in 1933.
"In our family, you are in the wine business or in the army," recounts current owner Louis-Michel Liger-Belair. "When you are in the army, you have to be a general. My father was a general. I didn't want to be in the army, I wanted to go on the vineyard side. I especially decided to live here when I was a kid, when I was eight."
After completing his engineering studies in agronomy, enology and wine business, the now 27-year-old returned to Burgundy in 2000 to re-establish Domaine du Comte Liger-Belair. Today, the existing estate encompasses 10.5 hectares in 15 appellations throughout the communes of Vosne-Romanée, Flagey-Echézeaux and Nuits-Saint-Georges. Production fluctuates between 18,000 to 25,000 bottles annually.
A tour of Chateau Vosne-Romanée evidences no hint of past family hardships, including occupation, theft and destruction of family furniture for firewood by German officers during World War II. Instead, patrician ancestors stare serenely down upon the carefully restored surroundings. Descending into the dirt- and gravel-floored cellar, Liger-Belair expounds effortlessly upon the history of classification in Burgundy, nuances among parcels and the differences between making wine in Burgundy and Oregon.
"Here [in Burgundy] we make 15 different wines. Why? Not because I decide that, but because the parcels decide," insists Liger-Belair.
Domaine Gille
Lachini Vineyards
"There's a huge difference in winemaking in Oregon," concurs Matthieu Gille of Domaine Gille in Comblanchien and consulting winemaker for Lachini Vineyards in the Chehalem Mountains.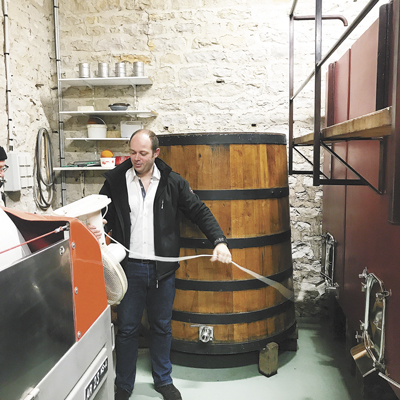 "In Oregon, you can taste at the end and make your blends. Making Pinot in Burgundy, it's every day during fermentation you taste, and then every month or so again you taste your cellar because the thing is lively; it's always moving, changing … If you don't taste and anticipate, you don't find out until the end that blending is not possible."
A pilot by training, Gille's family's has been making wine in Burgundy since 1570; their domaine is the oldest in the village.
"I have not been pushed to winemaking," he admits, "[but] I have seen winemaking and heard of it since the beginning. Now when it comes to winemaking, knowledge has turned into instincts. I focus on the two values I have strongly inherited: first, the taste; then [the] less manipulations, the less additions, the better."
Ultimately, tasting through the wines these domaines in situ reveals a consistent "family resemblance" to their respective Oregon counterparts, a distinctive "voice." Clearly, despite separate continents and terroirs, these Burgundian vignerons-turned-Oregon pioneers have lost nothing in translation.