Green-Spirited
Cooper Mountain Vineyards celebrates four decades of sustainability
Situated on an extinct volcano just outside Beaverton, Cooper Mountain Vineyards marks 40 years this fall. Throughout those decades, the winery has long been a pioneer in sustainability, earning organic certification by Oregon Tilth in 1995 and Biodynamic certification by Demeter in 1999 — the latter the first in the Pacific Northwest.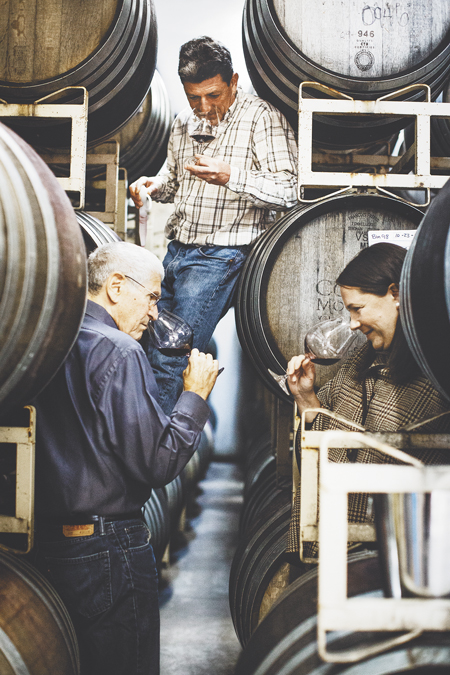 From the beginning, founders Dr. Robert Gross — now in his late 70s — and his wife, Corrine, showed interest in holistic farming. Their daughter, Barbara Gross, Copper Mountain's current director of operations, says "family" remained her parents' greatest influence regarding the choice between conventional and organic methods. Raising three young children, Corrine and Robert, a psychiatrist and advocate for homeopathy-alternative medicine, opposed chemical applications. Medical journals in the early '90s published research on the human body building a resistance to commonly prescribed antibiotics. During this same time, scientific findings revealed similar resistance — in plants — to chemicals being used in vineyards.
Comprised of 15 acres of volcanic-rich soils, the site was familiar before the vines were established, as Corrine had ridden horses on the property when she was young. Little did she know years later, 1978, she'd help turn the well-loved land into rows of vines, alongside her husband, who grew up in New York City.
At first, they were strictly winegrowers, selling Pinot Noir and Chardonnay grapes in what is now called the Old Vines Vineyard. Then, in 1987, Robert and Corrine produced their first wine, an estate-grown Pinot Noir. Now, Cooper Mountain offers seven varietals under three labels — Cooper Mountain, Cooper Hill and Life — with an annual production of 20,000 cases.
Winemaker Gilles de Domingo joined the operation in 2004. Originally from Bordeaux, he's embraced Cooper Mountain with great appreciation and respect. "A winemaker doesn't bring anything to the winery and, if a winemaker does, he's done something wrong," de Domingo observes. "It is for me to understand the soil, the vineyard and the people."
Working alongside vineyard manager Gerry Sanchez, de Domingo knows Cooper Mountain's four vineyards totaling 125 acres under vine. He strives for the purest expression of the "place" that defines Cooper Mountain. But there's more involved, of course. Even though the quality of fruit is the ultimate determinant of a wine's success, de Domingo makes plenty of stylistic decisions in the winery; for example, he ferments the Chardonnay in acacia wood from Senegal instead of Hungarian or French oak barrels.
With her two siblings, Barbara grew up in the wine industry. She readily admits her appreciation for the business was not always so clear. She describes herself, her brother, David, and sister, Anne, as the "weird kids" who spent summers in Burgundy or Alsace while their friends vacationed in Disneyland. "I definitely think it takes being an adult to truly appreciate how magical it is growing up on a vineyard and in a burgeoning industry," Barbara admitted.
In 1995, the closeness of growing up on a farm — away from cul-de-sacs and neighbors, before urban growth boundary expansions — helped the siblings cope with the death of their mother, Corrine; they were all in their early teens. Today, Barbara counts her brother, a business owner in Portland, and sister, a psychiatrist also in Portland, among her best friends, and their mother's legacy continues with them taking the reins and grandchildren playing among the vines, making regular appearances.
As the first generation transitions to the second, Cooper Mountain continues its Biodynamic program. For Barbara, the business's holistic approach touches every facet of her life, from her mother's imprint in the roots of the vines to the winemaker and other team members now a substantial part of the story, a part of the family, which has been the focus from day-one — four decades ago.
Cooper Mountain 40th | Sept. 8
Cooper Mountain will celebrate its ruby anniversary Saturday, Sept. 8, 2 to 5 p.m., with live music, local organic food vendors and grape stomping activities. For more information, please visit coopermountainwine.com.