Greatest of the Grape
On March 3, guests gathered for The Greatest of the Grape at Seven Feathers Casino Resort in Canyonville. The 48th annual event, presented by the Umpqua Valley Winegrowers Association, offered Umpqua wine paired with small plates created by area restaurants. Music, dancing and a crowd favorite, the incredible cheese and fruit centerpiece table, added to the evening's festive atmosphere and overall delight. The Greatest of the Grape is the oldest wine event in the state.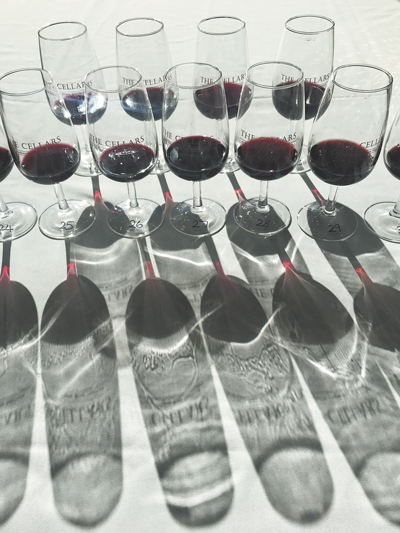 PEOPLES' CHOICE AWARDS
The Greatest of the Grape
Winner: Abacela 2014 Tempranillo-Malbec "Fifty-Fifty"
Reds
Winner: HillCrest Vineyard 2015 Malbec-Tempranillo
Runner-up: Bradley Vineyards 2016 Ruby's Red
Whites
Winner: Cooper Ridge Vineyard 2016 Riesling
Runner-up: Delfino Vineyards 2016 SuBerwein
Wine and Food Pairing
Bradley Vineyards 2016 Ruby's Red with Tomaselli's Pastry Mill & Cafe's cherry and blackberry-braised beef brisket
Favorite Food
Cow Creek Restaurant's oven-braised pork belly, asparagus-corn relish and pimento oil
PROFESSIONAL AWARDS
Gold Medals
Cliff Creek Cellars 2016 MRV
Becker 2016 Cabernet Sauvignon
Chateau Nonchalant 2015 Malbec
Silver Medals
Paul O'Brien 2016 Fumé Blanc
Cooper Ridge 2016 Riesling
Spire Mountain 2014 Tempranillo
Triple Oak 2015 Tempranillo
Spangler 2015 Dolcetto
Bronze Medals
Foris Vineyards 2016 Pinot Blanc
Henry Estate 2015 Pinot Noir
MarshAnne Landing 2015 GSM
Misty Oaks 2015 BN2
FOOD Awards
Winner: True Kitchen & Bar, Spanish-spiced lamb croquette with romesco topped with tri-colored peppers and queso fresco
Runner-up: Fuel Mobile Kitchen, goat cheese tamale with poblano romesco and roasted corn- charred spring onion relish
Professional wine judges: Hilary Berg, of OWP, Mattie John Bamman of Ravenous Traveler, and Erin James of Sip Northwest. Food judges: Nathan Radford, Nancy Rodriguez and Greg Vincent.