Grape Expectorations
Confessions of a novice spitter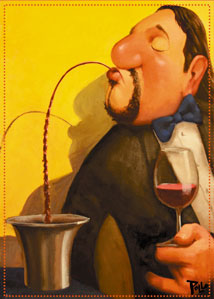 An arc of Beaune Clos des Mouches Premier Cru rouge sails from the lips of Jean-Pierre Cropsal to a narrow opening in a nearby receptacle. Confidently, silently, it disappears without leaving a drop. If there was a Wine Spitters' Hall of Fame, Cropsal would be among the charter inductees.
I had heard about his uncommon aim prior to my visit to Burgundy in June 2013; Cropsal guided us through the cellars of Joseph Drouhin. Beneath the streets of Beaune, as we sampled six bottles, I witnessed his mastery of expectoration with a combination of awe and envy.
Until recently, I had never spit wine. I never really had to nor really ever wanted to. In most cases, I was drinking with meals or, at least, with some food. Given the rarity of many of the wines, it seemed like a terrible waste not to swallow, or cracher a l'intérieur — to spit on the inside — as I learned it is called in France.
My attitude changed as I started to cover wine events and work in a tasting room. Early on, during tasting events, when I needed to record impressions for articles, I would swallow a bit, fearing I would lose too much of the aftertaste. It wasn't until I started working at the winery, where it is forbidden to drink while on duty, that I needed to spit after sampling a newly opened bottle. This was problematic. If, as it was noted during World War II that loose lips sink ships, I quickly discovered that they could also result in wine-stained white shirts.
Like the Earth before creation, what I emitted was without form. Now, I just lean over the sink and spray into it. Inelegant, a bit noisy, but effective. At seated staff tastings, however, my approach is different. I prefer to spit into a glass rather than the personal wine spittoon favored by my employer — the latter contains a raised center presumably intended to prevent backsplash but which I invariably hit straight on, thus defeating its purpose. To avoid problems, I apply no pressure, letting the liquid drop. Happily, my concerns about lost or diminished aftertaste never materialized, and now I spit, rather than swallow, when performing my journalist role.
Oh, the wines I have spit! At blind tastings of Pinot Noirs held for the winery staff between 2012 and 2014, the stars of the spit bucket list included 1999 Cristom Marjorie Vineyard, 2000 Ken Wright Canary Vineyard, 1999 and 2001 estate Beaux Frères, 2009 DuMOL Finn from California, and Burgundy notables 2009 Gevrey-Chambertin from Méo-Camuzet, 2009 Chambertin Clos de Beze Grand Cru from Bouchard Père et Fils and 2001 Richebourg Domaine de la Romanee-Conti. The average price of the final wine at this writing was $1,648, or $65 an ounce. Had I failed to hit the spittoon, the stain would have been worth more than the shirt.
In June 2013, I joined Scott Wright on a six-day tour of Burgundy producers in his import portfolio. Over that period, we tasted almost 100 different wines — more than 30 on one of the days — from barrels and bottles. Usually, I swallowed only at meals, while spitting in cellars and tasting rooms in order to remain vertical. In the cellar of Domaine Comte Georges de Vogüé in Chambolle-Musigny, winemaker François Millet extracted barrel samples from some truly remarkable premier and grand crus from the tiny 2012 vintage. Only three barrels of the Musigny Vieilles Vignes were made, yet we did have a small taste of which I could not make myself spit.
In 2013 and 2014, I was invited to cover Passport to Pinot, the condensed version of the International Pinot Noir Celebration (IPNC) and the full affair in 2015. Both took place in McMinnville at Linfield College, about a mile from my house. Failure to spit would have necessitated my corralling a designated walker to lead me home. For the full IPNC tastings conducted indoors, I made good use of the plastic cups provided.
Becoming a believer, if not a skilled practitioner, in spitting during tastings puts me in good company. In "The Taste of Wine," Émile Peynaud observes, "When at work professionally, tasters generally spit out as much wine as possible. Not because this improves the act of tasting, the reverse if anything; but during the course of tasting anything from 10 to 30 wines … it would clearly be impossible to swallow several mouthfuls of each…without some ill effects."
Spitting, "an essential practice at professional tastings," merits its own entry in "The Oxford Companion to Wine." Perhaps tongue in cheek, Jancis Robinson notes, "Members of the wine trade and wine writers rapidly lose any inhibitions about spitting in public."
I do wish more folks who visit tasting rooms serially would learn from the professionals. Especially toward the end of the day, I have faced many of the pre-moistened who really ought to expect to expectorate so as not to become over-saturated.
My prowess at spitting is closer to that of my grandchildren, Lewis and Julianna, than to Cropsal. And while they will someday outgrow dribbling, I'm not so sure I ever will. For me, world-class spitting will forever remain an expectator sport.
Neal Hulkower is a mathematician and an oenophile living in McMinnville. His wine writing has appeared in a wide range of academic and popular publications, and he can occasionally be found pouring quintessential Pinot Noir at the top of the Dundee Hills.