Graciously Grochau
How to Rise with your feet firmly on the ground
Grochau Cellars/GC Wines
Details:
Adress:
9360 S.E. Eola Hills Rd., Amity, OR 97101
Phone:
503-835-0208
Hours:
Friday–Sunday, noon to 5 p.m. (March–November)
Website:
www.grochaucellars.com
John Grochau had been busy for 10 hours when this writer caught up with him Feb. 8, at Björnson Vineyard, where he and some workers had just finished a 12,000-run bottling day. A couple guys in mossy oak patterned ball caps sprayed the mobile bottling truck while a group of seasonal winery workers, looking more like vacationers than laborers, stood and sipped beer as music filled the bright late winter air. One glanced over with an affable smile.
"How's it going?" he asks.
"Hey there, we're looking for John Grochau."
"He's over there," he replied, gesturing with his beer.
Grochau emerged near the forklift, looking as relaxed and worked as the rest. In fact, he's almost as much of a dilettante as the seasonal staff here in the valley; he lives in North Portland and makes his wine in leased facilities near Amity.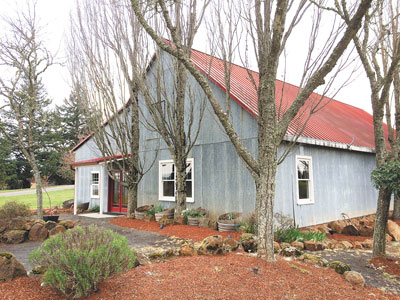 He's possibly the ideal representation of the Oregon wine industry: Grochau spent more than a decade in the front of the house at Higgins in Portland, competed in cycling races in France, and along the way, managed to learn winemaking at Erath and Brick House wineries. Over the past 14 years, he's turned his love of wine into a business selling in 24 states and three countries. He keeps it simple, focusing mainly on Pinots, with some iterations of French wines.
In his newly minted, albeit leased tasting room on the old Brooks Winery property, the Portland native speaks with a casual fondness for his chosen profession.
"Unlike a lot of people, I don't come from a lot of money," he says.
Grochau also buys all his fruit, about 120 tons each year.
"Vineyards are expensive," he says.
The tasting room, completed in May 2015, he says, is important in that it stakes out a location for his wines, and serves as a tangible representation, generating brand awareness. He would love to be able to buy the location, but as it is, he has all he needs to make and sell his wines. His wife, Kerri, has supported him from the beginning, but maintains her career as a school counselor.
"She's my health insurance," he jokes. "She has her own job, this is my passion."
Still, he says his wife gave the green light for the initial investment, making Grochau a self-funded business. He said the initial idea "took a little selling" with Kerri.
Grochau worked two jobs when he started the winery in 2002, remaining at Higgins until finally going full time with the wine in 2008. He shrugs at the idea that his years as waiter and bartender at a high-end Portland eatery has helped him brand and sell his product. He says buyers have changed in recent years. Now, he says, the new attitude toward wine is more about education and less about the austere pedigree that used to sell bottles.
"I hate pretension," he says, "and the wine industry is kind of built around it. We're not saving lives; we're making wine, for crying out loud."
Grochau mentions his upcoming trip to Tennessee, where he'll be promoting his wines for a week. He called it a great opportunity to teach people about wines and winemaking in a region somewhat removed from it all.
"In fact, the annual Oregon Pinot Camp is a great place for wineries to teach people, but it's a little too expensive for a winery like mine to participate," he says with a laugh.
When describing about why he enjoys winemaking, Grochau mentions a mix of art, chemistry, history and food as the main drivers for his passion. On a business level, he speaks in equally casual terms. Asked about the importance of branding, he answers, "That's a great question, and one that I'm still trying to figure out."
What he says next approaches a formula for success: "You have to have quality product to get on the shelves, but to get it off the shelves, you need a good brand."
Other elements presented challenges for Grochau Cellars in the early years. He alludes to the recession of 2007, and his decision to grow as a strategy.
"Between 2004 and 2007, it was easy," he says. "You just made the wine and people bought it. Once the recession hit, we had to make some decisions, and we decided to grow through it."
Grochau produced more bottles after 2007, applying economies of scale to remain competitive.
Obviously, it worked: Grochau Cellars offers Pinot Noir, Pinot Blanc, Tinto, Syrah, Mourvèdre, Gamay Noir, Melon de Bourgogne and a couple blends, including Commuter Cuvée, with a nod to the cycling world on the label. This wine is different from his others as it spends less time in the barrels; intended as an everyday wine.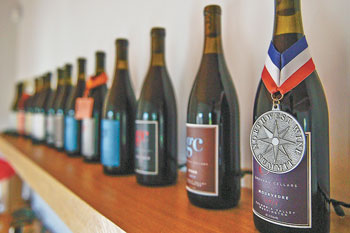 Talking about his wines, Grochau comes off less like a winemaker and more like an enthusiast. Maybe that's part of his undefined branding strategy: He genuinely loves making the wine and remains excited about the entire enterprise. Locally, his wines are on the shelves at New Seasons and other stores, but also at his alma mater: Higgins. Asked if he enjoys having his product there, he lets loose with an excited, "Well, of course!"
The restaurant is a special place for John. Higgins is where he met his wife; it's where he learned the industry and gained his love for wines.
"It's really where I found my vocation," he says.
Of course, the numbers are legion for waiters and bartenders who decide they'd like to become makers of the products they serve. That's likely because the quality servers are the ones who love the party that is food and wine. An elite few elect to give it a go, and fewer still make it work.
Gazing from the patio of his tasting room, across wide vistas of Willamette farmland, the air is crisp, but energized by rare sunshine. Grochau elaborates on the relaxed nature of the upcoming season.
"It's a nice spot up here," he muses. "It's always nice to have people out, and we don't do any of those tasting programs or schedules. It's more like, hey, what would you like?"
As we marvel at the pleasant weather, we realize, as locals, that one more bit of winter is around the corner.
"It's that duper," says Grochau. "And then there will be one more blast before it's over."
In the years before Neil Zawicki landed in the Willamette Valley, he spent his time as a reporter in Alaska, and a sailor with an address in a California marina. In his spare time, he's a student of history, a painter and a guitar player.