Gorge Wine Guides
Hood River restaurant promotes region and beyond
Riverside at Best Western Plus Hood River Inn
Details:
ADDRESS
1108 E. Marina Drive, Hood River
BREAKFAST
Mon.–Fri.: 6 a.m. to 11 a.m.; Sat.–Sun.: 6 a.m. to noon
LUNCH
Mon.–Fri.: 11 a.m. to 4 p.m.; Sat.–Sun.: noon to 4 p.m.
DINNER
Daily: 6 to 9 p.m.
PHONE
541-386-4410
WEB
www.riversidehoodriver.com
To paraphrase the familiar childhood "Kissing" song, first came love, then came marriage, then came an … award-winning wine list.
By his own admission, Carl McNew didn't know a lot about wine when he met Kathleen O'Connor McNew in the early 1990s. She was working as food and beverage director for the Best Western Hood River Inn, and Carl was helping Paul Berty, the hotel's director of sales to buy a home.
He asked Berty about Kathleen, and Berty told him she wasn't actively looking.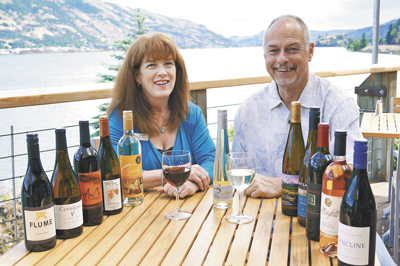 "So Carl started coming in to the bar, and we started talking, and over time, we found we had a mutual love of skiing," Kathleen recalled.
Carl says his wine knowledge had progressed a bit, from the days of Annie Green Springs and Mateus to a place where "I had a couple bottles of good wine."
"But I began tasting a lot more after we married in the early 1990s," he said.
A quarter-century later, they have teamed up to help the hotel's wine list earn the Oregon Wine A-List Regional Spotlight Award from the Oregon Wine Press and Oregon Wine Board.
Early in their relationship, as Kathleen attended trade shows and other events where tasting opportunities abounded, Carl would tag along, taste and compare notes. As often happens with personal wine journeys, Carl's palate expanded and grew more discerning.
"I became passionate about Washington wines," he said.
More than a decade later, after Kathleen had moved on to sales and Carl's real estate career was flourishing, he received a surprising invitation: to become the wine director for the Best Western.
"It was December of 2015, and Chuck Hinman (the hotel's manager) thought I would be a good fit," Carl recalled. "He knew we had an interest in wine and had a collection. We had dined together.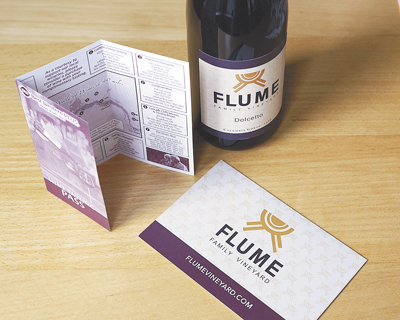 "I didn't need another job, but I thought I would give it a shot."
The position entails working with wineries and their sales reps to select wine for use in the hotel's Cebu Lounge, banquet service and waterfront Riverside restaurant.
More important to Carl and Kathleen both, it lets them continue their mutual wine discovery.
Three to five hours a week — when he isn't showing or closing deals in the area's "off the hook" real estate sector — Carl samples new offerings, and then shares his thoughts with Kathleen before adding anything to the list.
"I make most of the decisions on red wine," Carl explained. "But I want Kathleen's opinion in every instance and definitely on white wines. I wouldn't do this if I couldn't collaborate with Kathleen."
Her interest in wine dates to the 1970s when she was working as a server at restaurants in Portland.
"That's where I got exposed to Pinot Noir in the Willamette Valley," Kathleen said.
As her career took her into restaurant and bar management with several West Coast properties of Restaurants Unlimited, she took on ever greater involvement with wines and wine lists.
"At Cutters, in L.A., we'd go through 35 to 40 cases of wine in a week," Kathleen recalled. "I had responsibility for buying all our wine. So I had a lot of opportunities to taste wine and really got into it."
She says Carl's arrival as wine director was an opportunity to focus the wine list.
"When Carl took over, we decided we wanted to focus on local wines," Kathleen explained. "I think that's one of the reasons we won the award."
Of 124 wines on its main wine list, 48 are either made by Columbia Gorge wineries or feature fruit grown the region. The reserve list also features a Gorge winery among its 75 bottles.
"Our goal is to keep our wines reasonably priced," Kathleen noted.
Reserve offerings, for example, range from $59 to $295. And with such an extensive offering, it's no wonder the Riverside's cellar includes more than 2,400 bottles.
Kathleen notes that their emphasis on "local" includes a "Wine of the Month" profile showcasing a local producer, which slips into the wine list. It provides background on the winery and detailed tasting notes on the featured wine.
To cross-promote the region's wine industry, the hotel gives every guest a "Wine Tasting Pass," good for complimentary tastings and a 25-percent discount on local wines purchased with dinner at the Riverside.
The list of Gorge selections includes such emergent labels as Syncline, COR, Marchesi, Wy'East, Viento, The Pines and others newer to the scene but already producing competitive juice.
In fact, the wine label Flume belongs to the Stevenson family, who also own the Hood River property, Heathman Lodge in Vancouver and Southpark Seafood restaurant in Portland.
"We'll continue to add more," Carl said. "We'd love to have at least one bottle from every winery in the Gorge on our list."
To help staff represent wines tableside, Carl and Kathleen encourage off-site group visits to wineries, samples of any new wines and quarterly in-house tastings with a focus on specific varietals.
"We did a blind tasting on Pinot Noir in March," Kathleen said. The 12 bottles included some from the Gorge, but a majority from the Willamette Valley.
"The No. 1 wine [in that group]? The Wy'East Blue Chip Pinot Noir," she said.
A veteran Northwest newspaper and magazine reporter and editor, Stu Watson owns Watsonx2 Communications in Hood River.