Grand in the Gorge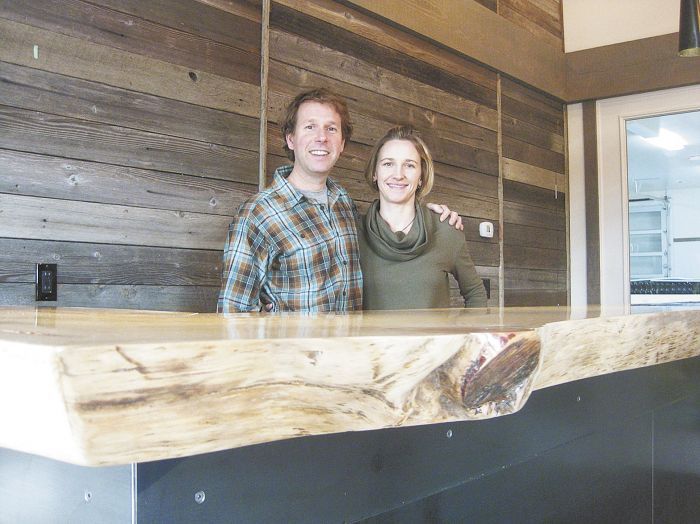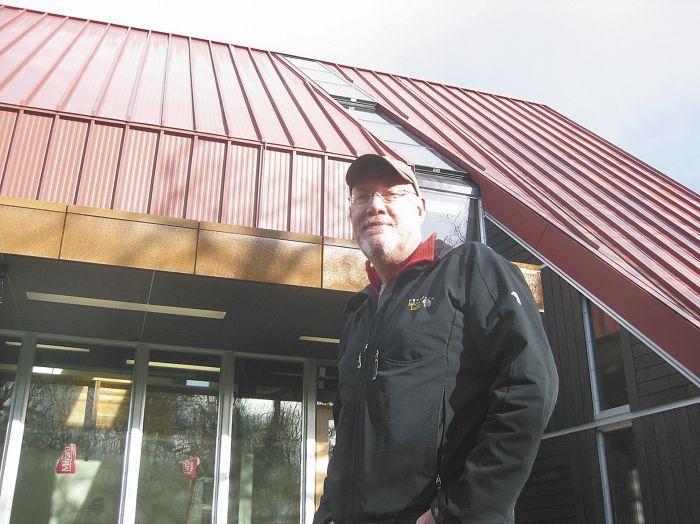 By Stuart Watson
Analemma Wines, Mosier
After a successful launch of their Analemma label in 2012 and introduction of their wines through restaurant wine lists and specialty retailers, Steven Thompson and Kris Fade have completed the next milestone: a tasting room and winery on their Saddle View estate just east of Mosier.
When they bought the property in 2011, it was stocked with Columbia River Gorge legacy cherry orchards. From 42 acres in fruit trees at acquisition, the property now sports 25 acres of cherry trees and seven acres of vineyards. Thompson says they'll plant five more to grapes by 2015.
The property included a big unfinished pole barn, the perfect template for conversion to winemaking operations, and a tasting room in the southeast 10 percent, facing the sun and views of the Mosier Valley.
Thompson says Green Home Construction of Hood River brought in recycled and salvaged wood to layer on warmth and utility to the concrete floor, roof trusses and exterior supports.
The tasting bar, for example, is a thick slab of Ponderosa pine, milled from a century-old tree that had blown down near their home.
"And the wood wall came from an old barn that they took apart and put on a trailer and brought here from Parkdale," says Fade.
Pendant light fixtures were custom-built by Laurel Marie Hagner of Glassometry Studios in Odell. By the time the tasting room opened on April 5, it also saw addition of wall art and translucent plastic "terroir tubes" to allow comparison of soils from the estate.
To conserve energy, the winery was tucked into the slope to the west. A heat-exchange system circulates water through 600 linear feet of buried pipe. The water captures heat from the constant 55-degree soil temperature and uses it to reduce heating and cooling costs in the winery building.
Thompson says the building is adequate to absorb projected production of up to 3,000 cases in five to seven years.
In keeping with their goal of thinking small, Thompson and Fade plan to open the tasting room on weekends only. One or the other — or both — will staff the room and meet customers.
"We enjoy meeting buyers, and think it's important to build relationships," Thompson says. "We'd rather have 1,500 relationships with great people than sell to the masses."
Visitors also can expect educational vineyard tours and cellar tastings to hit the Analemma agenda, but no wine club.
Analemma Wines
1120 State Road, Mosier
Hours: Sat.–Sun, 10 a.m.–5 p.m. (April 5–Oct. 5)
drinkwell@analemmawines.com
www.analemmawines.com
Viento Wines, Hood River
Human childbirth happens faster than the gestation and imminent arrival of the first stand-alone Viento Wines tasting room.
Envisioned and conceived two years ago, the facility overlooking the oldest Riesling vineyard in the Columbia River Gorge became the focus of an oft-asked question: When is that thing going to be done?
Winemaker Rich Cushman says the project became more expensive than he first thought, and the family wanted to adhere to its pay-as-you-go approach. "We wanted to keep it a family business, without angel investors, so we've been doing it as we can," he says.
Recent resumption of construction has the facility scheduled for an (optimistic) April opening, but (more likely) May launch.
"We want to be open for Oregon Wine Month in May," Cushman says.
The facility will welcome guests on the main level, with sweeping views of the vineyard to its west.
The main level also includes a barrel room. Cushman says the barrel room will support wine club gatherings and small-group events. Viento will continue to produce its wines at a facility off Oregon 35 south of Hood River.
A kitchen and office space for tasting room manager Glen Pearce sit behind the tasting bar.
Cushman, who grew up in Hood River before launching his career in the Willamette Valley, has been hauling around two 44-year-old slabs of walnut he received as payment for a house-sitting gig. Now they'll become countertops for the tasting bar.
Upstairs, a mezzanine level will house offices for Cushman and his sons, Joseph and Peter.
Cushman is optimistic that once the tasting room opens, it will help Viento return to the business model for sale of its wines: 80 percent from the tasting room, the rest through a small Portland distributor and local restaurants.
For several years, Viento ran a tasting room out the Gorge White House property south of Hood River along Oregon 35. Sale of that property left them without a tasting room in the summer of 2013.
"We're expecting to double our sales numbers compared to what we did before at the White House," Cushman says, noting the visibility of the new space to travelers approaching Hood River on I-84 and its easy access from Exit 62.
Outside the tasting room, visitors will find 12 parking spaces, an ADA-access ramp and patio seating for sunny days when the summer west winds aren't at peak velocity. Anyone forced to retreat inside shouldn't have a problem, however: that's where the wines are.
Viento Wines
301 Country Club Rd., Hood River
Hours: Daily, 11 a.m. to 5 p.m. (March–Oct.); Fri.–Sun., (Nov.–Feb.)
Phone: 541-386-3026
www.vientowines.com
A veteran Northwest newspaper and magazine reporter and editor, Stu Watson owns Watsonx2 Communications in Hood River.