Good Mead, Indeed
Honey-tongued and sweet-talking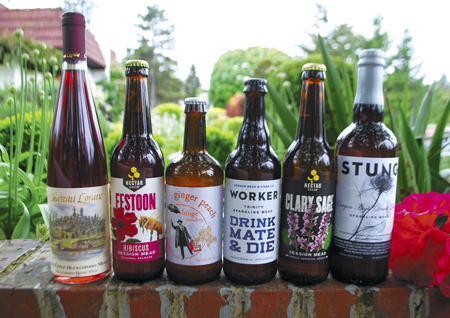 The word "honeymoon" in English supposedly refers to the practice of a bride's father dowering her with enough mead for a month-long celebration in honor of the marriage. But, why mead?
"Mead is perhaps the original aphrodisiac, credited with fertility, seduction, and arousal powers…"
When Chrissie Manion Zaerpoor, Kookoolan Farms owner, meadmaker and author, writes these provocative words in her new book, "The Art of Mead Tasting and Food Pairing," she's not only referencing the enchantment of the beverage, but also the reason mead has persisted throughout the ages, and why it endures today.
In its ancient form, mead invokes visons of men in togas with laurel wreath crowns or Vikings dressed in armor, loudly toasting each other while guzzling sloppily from horns filled with nectar of the gods. These images make sense since mead's history dates to at least 7500 B.C. with hard archeological evidence from pottery residues in Jiahu, China.
According to Zaerpoor's book, "The reality is that mead's origins are so ancient, they will likely never be excavated from mystery." She goes on to say, however, "No matter what your ethnic background, most likely your ancestors made mead."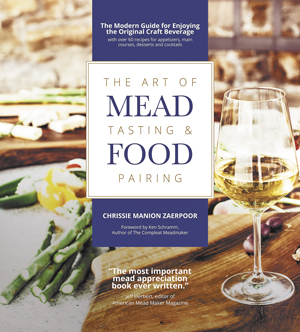 The fermented honey wine has been made on every continent — except Antarctica — and consumed by nearly all cultures. This may also be in part what makes mead so compatible to pair with food.
Zaerpoor writes that mead is incredibly versatile. "Like white wines, traditional meads pair most obviously with fish, seafood, chicken, salads, mild cheeses and vegetarian dishes." And like wine, pairing mead from one region with the foods from that same region, often results in a winning combination.
Zaerpoor offers a litany of clever mead and food pairings with thoughtful recipes, including desserts and cocktails, in her book, but she also goes to great lengths to demystify this lesser understood brew.
She's clearly done her research and her love of mead shows as she eloquently describes the expansive history, the variations in style around the globe, production techniques, cellaring, serving and every category of mead that exists. The book is also dappled with rich stories and quotes of how mead has been integrated into the fabric of legend, literature and poetry, amusing and seducing the mind, as well as the palate.
Traditional mead is made from a base of fermented honey and water, and though it sounds rather simple, it's actually quite complex. Meads can be still, carbonated or naturally sparkling. Some are bone dry — think brut Champagne — while others retain a measure of the honey's sweetness; still several are compared to dessert wines.
Mead offers a wide range of flavors, too, depending on the source of the honey, or the plant from which pollen is collected. Flavors range from delicate, mild or neutral, to earthy, strong, biting or bittersweet. Other elements influencing a mead's ultimate flavor is the use of additives, such as fruit and spices, the type of fermentation yeast and the aging procedure. In the end, just as wine should taste like grapes, mead should taste of honey — beware faux mead, which is really just cheap wine with large amounts of honey added to produce a cloyingly sweet liqueur.
Mead may be one of the world's best-kept secrets, as it's one of those beverages you don't often see praised in publication. But with the advent of the artisan movement, commercial mead production is no longer flying under the radar. Currently, there are more than 500 meaderies in the U.S. — 16 in Oregon and 21 in Washington — with a new one opening nearly every week. And with businesses such as Mainbrew in Hillsboro and Belmont Station in Southeast Portland, connoisseurs and those eager to explore don't have to travel the globe to find some of the best meads in the world.
Zaerpoor's Kookoolan World Meadery, located in Yamhill, unfortunately has sold out of their mead. Their next release will be the third release of Zaerpoor's award-winning "Elegance" mead, made with raw honey, beeswax, bee pollen, propolis and royal jelly.
Melomels, Braggots, Pyments
When describing various methods of production, Zaerpoor acknowledges, "The techniques for beermaking, the techniques for winemaking and the techniques for cidermaking are all available to the meadmaker."
Kookoolan harvested its first Pinot Noir last September from its own one-acre vineyard — planted in 2013 and 2014 — for blending with mead to create a "pyment," a hybrid beverage made from either co-fermenting honey and grapes or combining a finished wine with mead. Kookoolan's Pinot pyment will be available in July.
Whereas pyments are made from combining mead and wine, another style of mead called "melomel" is made from combining mead and fruit — both the honey and fruit contribute sugars to the fermentation.
In addition, "braggots" are not beers sweetened with honey, but rather a cross between beer and mead, with both grain and honey as the fermentable sugars. Braggots can include hops, fruit, and/or spice, and since they taste of both beer and mead, they are often considered the gateway drink into mead for many brew consumers.
As the honeymoon with mead continues, a toast to its continued success with a glass — or drinking horn — is definitely in order. But first, pick your mead.
A small sampling of Oregon meads representing some of the variations in style:
Chateau Lorane Life Force Huckleberry Mead
This unconventional still mead tastes of sweet clover honey and tart berries. With juicy fruit and spice, it's a bit reminiscent of Oregon summer pies. The touch of bitterness, in a positive way, is a surprising balance. Enjoy this wine with luscious lemon meringue pie.
Nectar Creek Festoon Hibiscus Session Mead
Enjoy distinctive aromas of honey, hibiscus flowers and ripe blue plums, and you'll understand how this mead makes its own party. Not too sweet, not too floral, yet complex, perfectly balanced and bubbly. Zaerpoor recommends hibiscus meads with Latin and Mexican foods.
Fringe Meadery Ginger Peach
A sting of ginger dominates the subtle stone fruit, while bubbles refresh, making it a perfect cooler for long summer days. Serve with braised greens or crème brulée, or blend in a Mead Stinger: three parts mead, one part bourbon.
Oregon Mead & Cider Co. Drink Mate & Die Trinity Sparkling Mead
Hazy and golden with a medium frothy head, it's like smelling pure honey with fresh oregano and a slight bitter edge. Pair this lightly creamy Champagne-style mead would pair perfectly with pan-seared scallops. See the recipe in Zaerpoor's book.
Nectar Creek Clary Sage Session* Mead
Featuring raw honey sourced from local beekeepers, the mead is a golden blond hue and tastes clean, crisp and lightly sweet, with bright floral honey on the nose. Easy-drinking and well-balanced, it's lively, lithe, with just the right amount of bubbles.
Oregon Mead & Cider Co. Stung** High Desert Queen Sparkling Mead
With a strong taste of dark honey and all the sugar fermented out, this baby's a little tart, a little funky and a whole lot interesting. Enjoy with cheese.
*Session indicates less than 10% alcohol by volume; **Oregon Mead & Cider Co. is formerly Stung Fermented.
Tamara Belgard is a freelance writer who explores the Oregon wine scene from her home in S.W. Portland.