Golden Opportunity
HillCrest Vineyard celebrates winery's 1967 Pinot Noir
History abounds at HillCrest Vineyard near Roseburg — in the vineyard, in the winery, in the tasting room. Founder Richard Sommer first planted Pinot Noir here in 1961, gaining national recognition for his wines at a time when there were few vineyards or wineries in the state.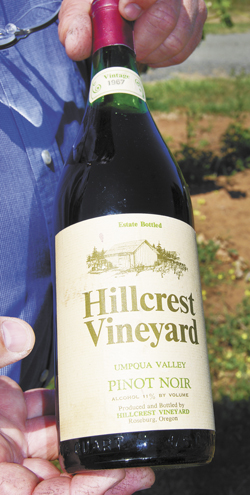 This year marks the 50th anniversary of Sommer's first commercial Pinot Noir bottling in 1967. HillCrest owners Dyson and Susan DeMara are celebrating the pioneer's many contributions to Oregon wine with a revival of SommerFest, Aug. 12, the popular wine and music festival Sommer started years ago, and a special bottling of the 2017 vintage — a private dinner commemorating the 50th vintage will be held during harvest time.
The DeMaras acquired HillCrest Vineyards in 2003, working with Sommer during the transition. Old head-trained vines still line the walkways, the building where Sommer first pressed grapes still stands — sort of — and the winery office is filled with Sommer's used glassware, notebooks and artifacts. A collector of Sommer-lore, Dyson knows Sommer's importance to Oregon wine history.
Bonded in 1963, HillCrest is Oregon's oldest continuously operating estate winery, and Sommer was the first Oregon winemaker to plant Pinot Noir.
"There's a saying that history begins the day you're born for most people," Dyson said. "We take for granted that people did all these things that were monumental, and that happened here in the Umpqua Valley with Richard Sommer."
Sommer's spirit still fills the place. Pictures show his lithe, wiry body in coveralls with pockets for pens and notebooks, and a beret on his head.
On discharge from the military in 1954, Sommer studied agriculture at UC Davis, worked for the Forest Service and dreamed of wine. He moved to the Rogue Valley in 1957 where he tended the vineyards at Valley View Orchard, his uncle's place in Ashland. All the while, Sommer drove the back roads of Oregon, California and Washington, scouting possible vineyard locations and dreaming of winegrapes.
With the help of brothers Adam and Joseph Doerner, whose family first homesteaded the Umpqua Valley in 1888 and had a long tradition of growing vinifera and making wine, Sommer discovered the property that would be called HillCrest.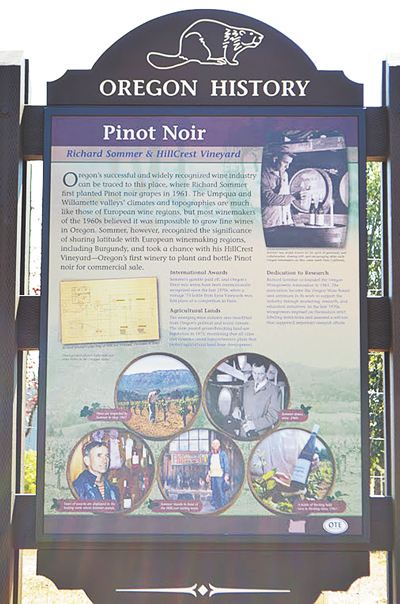 But before the 1961 purchase, Sommer made wine from the Doerners' grapes and had brought cuttings of Pinot Noir from California in 1959 from Louis Martini's Stanley Ranch; the vines were started on a nearby site and then transplanted to HillCrest once the land was ready for planting.
Sommer had moved north to grow winegrapes in Oregon, against all conventional wisdom of California's wine experts.
"He was so far ahead that people thought he was crazy," Dyson commented. "But Richard's brain was mapped that way; he always thought scientifically."
Compulsive about tracking weather, calculating degree days and rainfall, Sommer filled dozens of notebooks during his career. Dyson says Sommer had the data to understand the effect of latitude on temperature in the month of harvest and its relationship to the retention of aromatics. Sommer knew he could grow winegrapes in the Umpqua.
At first, a mere 10 acres and eventually growing to 50, Sommer's original plantings comprised of 35 varieties — 34 cultivated at Stanley Ranch and Zinfandel from the old Doerner vineyard. The largest acreage was planted to Riesling, with about 340 vines of Pinot Noir, and 100 each of Chardonnay, Cabernet Sauvignon, Sauvignon Blanc and Gewürztraminer.
Dyson says it wasn't only the varietals that were unusual in Oregon, but, with no formal training, Sommer developed new processes and technologies, tinkering around and experimenting with almost every aspect of growing grapes and making wine.
"You walk into a winery and take what you see for granted," Dyson said. "But the first documented use of stainless steel anywhere in the world was Chateau Latour in Bordeaux — in 1963 they had a stainless steel tank made for winemaking research. That same year, Richard brought two stainless steel tanks from Los Angeles that were built as dairy tanks in 1945 and used them for fermentation."
DeMara points to the tanks, still in use at HillCrest, "That's a very powerful thing, how you take dairy technology and use it in a winery. He had no experience," he said. "It's a mind-blowing thing to me how someone can be that far advanced with no hands-on [experience]."
Sommer's earliest commercial wines were released in 1963, a Riesling and, later, a red blend sweetened with sugar he called Mellow Red. Records show Sommer made experimental lots of Pinot Noir between 1963 and 1966.
HillCrest's wines were regionally distributed, and with the 1967 bottling, Sommer's Pinot Noir was in demand — before 1967, he had made smaller, non-commercial small lots beginning in 1963. There are still a couple bottles of '67 Pinot Noir stored safely at HillCrest and Dyson plans to open one at harvest for a private dinner honoring the winery's founder.
"We'll share that wine, christen the 50th vintage and celebrate," Dyson said. "We'll share that moment, when Richard was with us and will honor what he did that's led to what you see in Oregon today."
Maureen Flanagan Battistella has been documenting the wine industry of Southern Oregon for the last 15 years. She is on the faculty of Southern Oregon University.