Going Rogue
New tasting rooms reflect Valley's range
As the Rogue Valley's wine scene expands, options for tourists and locals also grow. The following new tasting rooms offer a peek of the Valley's many personalities in this most-southern of Oregon AVAs.
Long Walk Vineyard, Ashland
Kathy and Tim O'Leary have farmed at the historic Valley View Orchard since 2000. On the old farm packed with cherries, apples, peaches, nectarines, apricots and pears, plus an orchard store and buckets for U-pick, Long Walk Vineyard flourishes, and now a tasting room stands with spectacular views of the Rogue Valley and equally special wines.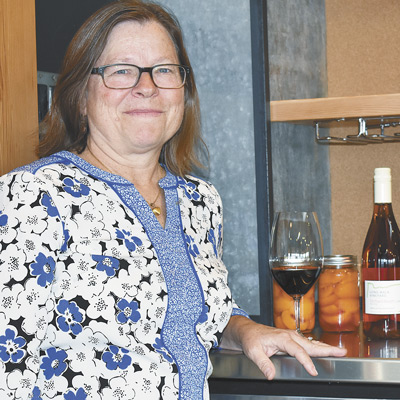 In 2002, the O'Learys found room among the fruit trees to plant 11 acres of the Châteauneuf-du-Pape grapes they loved: Mourvèdre, Syrah, Grenache, Cinsaut and Carignane, and Zinfandel, too. For many years, the crop was sold to a winery in the Willamette Valley.
In 2010, the O'Learys were ready for change. Linda Donovan of Pallet Wine Company in Medford began making Long Walk wines — Mourvèdre (both red and rosé), Zinfandel, Syrah and two blends: Orchard Red and a rosé named Orchard Bloom — from estate fruit. Since then, they've added Grenache and Carignane as additional single-varietal offerings. The grapes are certified organic by Oregon Tilth — as is the orchard — but the wines are not labeled as such because Pallet is not a certified organic producer.
Then, a couple years ago, they spent time figuring out next steps. "We were trying to figure out what we wanted to be. Did we want to sell wine on site? Did we want to be big? Did we want to be small? We've always had customers come to our orchard store to taste and buy our wine, but it's not an optimal wine tasting environment — no heat, no air conditioning, concrete floor, a utilitarian bathroom," Kathy says.
The O'Leary's enlisted the help of Laurence Ferar and Associates, a Portland architecture firm specializing in winery design, to help with a long-term site plan, including a tasting house.
Kathy and Tim settled on an old wood shop they used for farm equipment and storage toward the top of the site. Just steps away from the orchard store, the spot had an incredible view, but the shallow, rocky soil in which the vines thrived made for a construction nightmare — they went through a dozen bits just trenching utilities.
Retrofitting a 150-year-old orchard and buildings that spanned a century to construct the tasting house wasn't easy, especially when it all had to be accomplished on a working farm. Kathy says she lost sleep worrying about plans, designs, financing and permits. "We had to do a complicated dance where a new equipment shed was being built at the same time an old wood shop was becoming the new tasting house. A couple of old barns needed to be de-constructed and their materials reused in both the new buildings. Timing was key."
The Long Walk Tasting House uses the same footprint as the original building. The O'Learys reused as much of the material as possible in the new construction. "The barns we deconstructed were all Doug fir. The interior wood became the floors, tables, the bar top, the door, as well, all Doug fir," Kathy explains, running her hand across the fine-grained surface of the table in front of her. "The metal sides of one old barn here became the bar back. We took the roofs off another old barn building and that became the sides of our new equipment shed down the hill. We used everything that was salvageable."
The O'Learys are faithful caretakers of their land and conscious of their responsibility. In cooperation with the USDA Natural Resources Conservation Service, they're planting 20-foot buffers on each side of the lane leading into the farm, about 2 acres in all that will serve as habitat for wildlife, beneficial insects and pollinators. They're also re-purposing the cupola from the old barn to make one of three large bat houses. "We'd love to attract more bats," Kathy notes. "They're good for controlling the insects that are orchard pests."
The O'Learys are working their land with a long-term commitment to sustainability, conservation and preservation. She holds dear the heritage of the orchard and Long Walk Vineyard, that lengthy trek from the old orchard store, down through the trees.
Trium Wine, Talent
Talent's Trium Wine has a new owner, but he's not really new to the brand. An Ashland native, longtime member of the Trium wine club and friends with former owner Laura Lotspeich, Tony Corallo has been in the institutional money management business in the San Francisco Bay Area for 27 years. He describes himself as an oenophile who's always had a passion for wine.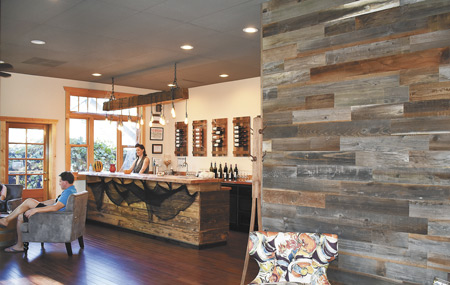 "I've spent quite a lot of time in Napa. Over the last few years, I've tried to think about how I'm going to parlay my retirement from my current job and move into a second career in the wine business. When Laura decided she wanted to exit the winemaking business while remaining in the grapegrowing business, the opportunity presented itself for me to purchase the brand, the website and everything that went with Trium."
Corallo is continuing the brand with fruit from Lotspeich's Pheasant Hill Vineyard, where Laura's son, Dustin, continues managing the site first planted in 1990, as well as other local vineyards. Chris Graves at Naumes Crush & Fermentation is winemaker.
In addition, Corallo recently opened Trium's new tasting room. With comfortable seating inside and out, guests can taste the menu of wines and relax in the downtown Talent setting. Corallo will continue making Trium's flagship wine, the Growers' Cuvée, a blend Merlot, Cabernet Sauvignon and Cabernet Franc.
Simple Machine, Talent
Clea Arthur and Brian Denner opened Simple Machine's tasting room in November 2017. Located on Old Highway 99 in Talent, the Simple Machine tasting room is a 2,700-square-foot commercial building of shiny new aluminum with an expansive atrium and glass-paned retractable doors, inviting the outside in — especially on this glorious fall day. Barrels line the walls surrounding the comfortable seating, which is available outdoors, too.
"For a while, we thought about a retail space for a tasting room in Ashland, Jacksonville or Talent," Arthur remarks, "but when we found this space, we loved it because we could do retail and some production here as well."
In true garagiste fashion, Denner crafts limited-production wines — Viognier, Sauvignon Blanc, Grenache and blends — in his own way, to satisfy his own palate and those who follow his winemaking path. He's been making Simple Machine wines in Southern Oregon since 2010, and the brand reflects his natural, low-technology winemaking style.
"He uses syphons and gravity to move wine around instead of pumps; it's gentle winemaking," explains Arthur. "Everything is on lees, so it's all in the barrel; he doesn't rack anything." Rubber boots on, Denner even stomps his grapes, releasing only enough juice to cover the berries during fermentation.
Denner's winemaking and now tasting room/facility reflects the winery's name, Simple Machine. "The brand has been a binding principle for advertising, marketing, wine club, the way we do things," Arthur says. "It helps us keep focused as we do business."
Arthur breaks away at this point to greet a helmeted and sprocket-shoed couple wheeling their bicycles into the tasting room. Simple machines seeking Simple Machine, what could be more appropriate?