Gluten-Free and Fabulous
BRIDGEwater Bistro prepares dinner with no "reservations"
When I discovered I was gluten-intolerant about five years ago, gluten-free cooking was just in its infancy. We decided at the time that we should see if we could rework some of our most popular recipes to be gluten-free, without sacrificing quality and taste. Sure enough, we found that our chowder, our fish 'n' chips were just as good made with other starches and flours. We were able to bake tasty, moist gluten-free dinner bread and light dinner rolls. We don't try to be completely gluten-free, but our guests will find almost 90 percent of our menu is just naturally wheat-gluten free."
—BRIDGEwater Bistro co-owner Ann Kischner
Columbia River Coho Salmon Tartare with Avocado and Gluten-Free Fennel Crackers
Wine Pairing: Elk Cove Pinot Blanc
Salmon Tartare
ounces fresh Columbia River Coho salmon, chopped very fine
1 medium shallot, minced
1½ tablespoons EVOO
* kosher salt, to taste
DIRECTIONS
Mix ingredients; season to taste.
Avocado Salad
2 ripe avocados, diced
1 medium shallot, minced
1 lime, juiced and zested
2 tablespoons avocado oil
DIRECTIONS
Mix ingredients; season to taste.
Crackers
3 cups gluten-free flour mix
2 tablespoons kosher salt
1 cup warm water
1/3 cup EVOO, plus extra for brushing
* fennel pollen
* Jacobsen flake sea salt
DIRECTIONS
Combine flours and kosher salt in mixing bowl. Using a dough hook at medium speed, slowly add water and olive oil; mix 5 minutes.
Roll dough into ball, cover in plastic wrap and let sit 45 minutes.
Divide dough into 6 balls, rolling each as flat as possible (between two sheets of plastic or parchment will work well). Brush paper-thin layers with EVOO and sprinkle with salt and fennel pollen.
Bake at 350°F until golden, about 30 minutes. Cool and break into large pieces.
ASSEMBLY
Place tartare on top of the avocado salad on platter with crackers on side or break crackers into small pieces and top with spoonful of avocado salad and then spoonful of tartare on top.
Sweet Corn-Shrimp Fritters with Tarragon Salt
Serves 8
Wine Pairing: Brooks Winery Riesling
Fritters
6 ears sweet corn
10 ounces pink shrimp, well drained
1 egg yolk
1½ teaspoons baking powder
¾ cup rice flour
* kosher salt, to taste
1½ quarts canola oil
2 tablespoons flake sea salt
2 tablespoons tarragon leaves
DIRECTIONS
Cut kernels off 3 ears of corn; grate kernels from remaining 3 ears using box grater.
Purée shrimp and yolks in food processor until smooth. Add corn, baking powder, rice flour and salt; combine thoroughly.
Heat oil in Dutch oven to 350°F. Spoon 1-ounce dollops of batter into oil; fry to golden brown. Drain on paper towels.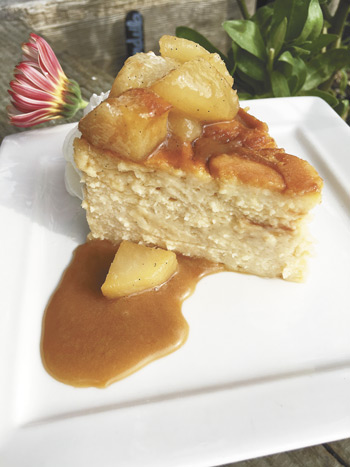 Braised Painted Hills Short Ribs with Millet "Risotto"
Serves 8
Wine Pairing: Coeur de Terre Pinot Noir
Braised Short Ribs
3 pounds boneless short ribs, cut into 8 pieces
1 yellow onion, peeled and quartered
3 carrots, peeled and large-diced
1 quart chicken stock
1 quart veal stock
* kosher salt, to taste
* sachet of fresh thyme, Oregon myrtle, black peppercorn
DIRECTIONS
In 375°F oven, roast short ribs until brown. Remove and set aside. Sweat onions and carrots in same roasting pan, until soft. Deglaze onion pan with chicken stock. To the pan, add veal stock, sachet and bring to a boil on stove. Place ribs back in pan with in 325°F oven and cook for 3 hours or until fork tender.
Remove short ribs to platter; skim rendered fat from braising jus. Strain through sieve and reserve. Pour jus over short ribs when serving.
Millet "Risotto"
1 cup hulled millet
½ cup minced white onion
5–7 cups hot water
½ cup mascarpone cheese
¼ cup Parmigiano Reggiano
* kosher salt, to taste
3 tablespoons salted butter
DIRECTIONS
In heavy-bottomed sauce pan over medium-high heat, sweat onion in 3 tablespoons butter and pinch of salt until translucent. Add millet, stirring until millet is coated and begins to toast.
Add 1 cup water and stir until water is almost gone. Continue adding water 1 cup at a time until millet is tender, about 40 minutes.
Fold in mascarpone and Parmigiano Reggiano; check seasoning.
ASSEMBLY
Spoon "risotto" in bowls, topping with portion of ribs and seasonal vegetables. Pour jus over dish.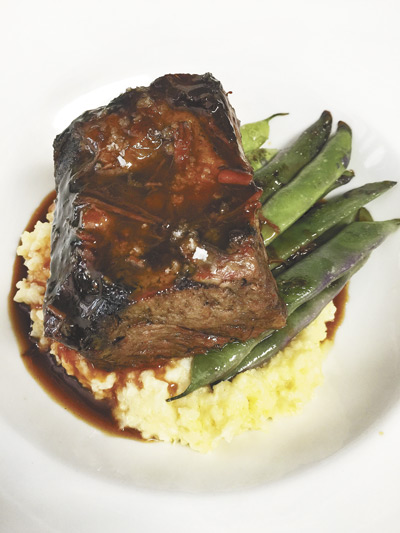 Caramel Cheesecake with Caramelized Pear Compote and Caramel Sauce
Makes 8-inch cheesecake or two 6-inch cheesecakes
Wine Pairing: Clear Creak Pear Brandy
Cheesecake
2 pounds cream cheese, softened
4 whole eggs, room temperature
1¾ cups sugar
½ cup caramel sauce (see recipe below), plus 4 tablespoons for swirling pattern
DIRECTIONS
In mixer, beat cream cheese and sugar until smooth, scraping bowl often. Add eggs, one at a time, scraping after each addition. Add ½ cup caramel sauce.
Pour into greased and parchment-lined cheesecake pan. Drizzle remaining 4 tablespoons caramel onto top of cheesecake, swirling with toothpick into pretty pattern.
Place cheesecake pan into water bath. Bake 350°F until browned on top, slightly domed and firm to the touch (1½ to 1¾ hours).
Refrigerate 2 hours or overnight. To remove from pan, heat pan in warm oven briefly or dip pan into hot water to loosen sides. Invert onto plate, remove parchment from bottom and invert again onto serving platter.
Caramel Sauce
½ cup water
2 cups sugar
1½ cups heavy cream
6 tablespoons unsalted butter, cut into tablespoon-sized pieces
2 teaspoons vanilla
1 tablespoon quality sea salt (we use Jacobsen's)
DIRECTIONS
In heavy-bottomed pan, heat water and sugar over medium heat until amber-colored, about 5 minutes.
Remove from heat. Heat cream in microwave 1 minute. Slowly whisk in cream; then mix in butter; then vanilla; then salt.
Bosc Pear Compote
6 Bosc pears, peeled and diced into ½-inch chunks
½ cup brown sugar
1 teaspoon vanilla
1½ teaspoons powdered ginger
DIRECTIONS
Mix. Place on greased sheet pan. Bake at 350°F until amber-colored, turning every 15 minutes.
Cheesecake was a collaboration of Ann Kischner and bakery staff.