Get Your Blue Goat
Amity restaurant revives with new chef
When Dave and Cassie VanDomelen closed The Blue Goat in Amity last November — after a six-year run — the problem wasn't that enough diners hadn't discovered the small town jewel; the couple simply couldn't find staff qualified to realize their farm-to-fork vision.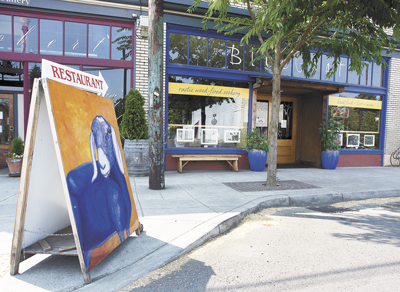 "Most people are aware of the crazy hours, slim profit margins and endless strings of crises that is the restaurant business," Cassie explained. "But what might escape attention is the extreme challenge of recruiting and retaining skilled labor, especially in a rural town like Amity."
Squeezed by the shrinking labor pool, the VanDomelens closed shop but felt quickly overwhelmed by customers imploring them to reopen. Over the winter, the couple explored leasing the space in the century-old Cronk Building but couldn't find a good fit, particularly given the presence of a large, wood-fired oven built by Kiko Denzer, who literally wrote the book — several books, actually — on how to build them.
Ultimately, the decision to refresh was the coup of hiring veteran chef Jason Elder, whose culinary stomping grounds include Napa's Azzurro Pizzeria, Ethan Stowell restaurants in Seattle and Mr. G's Bistro in Newport Beach, California.
Elder became interested in food and wine pairings during his three years in Napa Valley, where he worked on winery dinners coinciding with vintage releases. With family in Portland, he moved to the Willamette Valley, where he developed a taste for cool-climate Pinot Noir and Chardonnay.
A 2010 graduate of the culinary arts program at the Art Institute of Houston, Elder's influences also include quality time spent in his Italian grandmother's kitchen. In fact, he's brought his affinity for handmade pasta to The Blue Goat, resulting in an unexpected synergy with Cassie's South American flavors from the original menu.
So, take your pick: wood-fired goat tacos served with handmade tortillas, seasonal slaw, hibiscus sauce and garden salsa, or pasta carbonara featuring house-made pasta, crispy pork belly, sweet onions, summer squash, a farm egg and Parmesan. When my family and I recently made the seven-mile trek from McMinnville to taste the new menu, I would have thought the latter too exotic for my 8-year-old son's tastes. But he loved it. On another note, the Carlton Farms pork belly served with roasted green tomatoes, chipotle mayo and greens, is possibly the best single appetizer I've had in years at any local restaurant.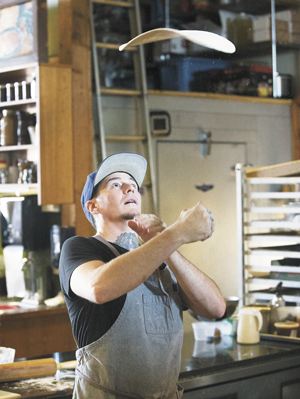 A few years ago, Elder launched a pasta program at Bistro Don Giovanni's in California, where he and his crew specialized in extruded, sheeted and stuffed pasta, as well as gnocchi and gnudi, gnocchi made with ricotta.
"I've worked with fresh pasta my whole life," he said. "So that was something I was really excited to bring."
"Fresh" is what The Blue Goat has always celebrated. In fact, the Van Domelens operate their own farm less than three miles from the restaurant. The farm supplies all the eggs, grass-fed beef and pastured goat meat, which emerges from Dave's own whole-animal butchery program. They're also expanding their produce production to complement fruits and vegetables supplied by Oakhill Organics, Super Natural Farm, Even Pull Farm, Redford-Wettle Farms, Baird Family Orchards, Denison Farm, Draper Farm, Twin Feathers and other trusted growers.
"I just really like working with the bounty of the Willamette Valley," Elder said. "It's incredible working with fresh local ingredients and working with the farmers.
"When you are working with local ingredients, you are experiencing the region through taste and nutrition," Elder commented. "To me, the foods that grow in the same places the wine is grown, drink the same water and live in the same soil, so they're already naturally paired. I just take these ingredients and put my own spin on their preparation. This is a true food and wine experience."
Before the restaurant's re-opening, Cassie was not only co-owner but also executive chef; she drew her inspiration from her culinary adventures in South America.
"I learned to make empanadas the old way with an Argentine grandmother's pastry recipe, goat sausage and a wood-fired oven." Cassie adored that oven, which she recalls as a "really humble affair," and continued to explore the alchemy of clay, fire and food at home, building a cob oven in her backyard. "It convinced me that if we would have a restaurant," she recalled, "we would have one with an enormous earthen oven at its heart."
Unlike some wood-fired ovens tucked away inside a restaurant's kitchen, The Blue Goat's is practically a centerpiece — visible from most of the space — and made with local materials. Candidly, it was early August's record-breaking heat that nudged us out of our own kitchen and south to Amity. Opting to sit next to the oven may seem counterproductive on such a day, but not so; the cob oven does a remarkable job of holding the heat inside.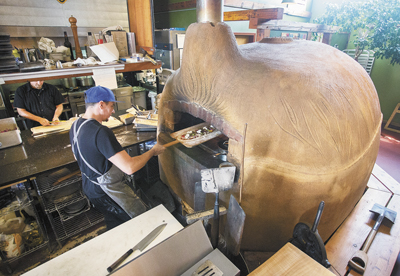 With Elder's crew working in the open kitchen, The Blue Goat's dynamism is palatable; that goes for the farm fresh food, too.
"The menu is a living work in progress," Elder said. "I have to work with what is available that week or even sometimes that day."
The Blue Goat's presence for the last six years has helped spearhead something of a renaissance in Amity. Recent investments and remodels in the downtown blocks have included the Bramble Tasting Room, which serves Silas Wines, Maria's Mexican Grill and Amity Flats in the two-story Masonic Lodge building.
Co-owner Dave Van Domelen says it's been a challenge running a restaurant in such a small town without much foot traffic.
But, expect the traffic — foot and otherwise — to pick up as word spreads of The Blue Goat's revival.
David Bates is a McMinnville-based freelance writer and lover of Scotch and American whiskey.