"Get Weird, Suck Less"
Fossil & Fawn frolics on fringe
Do you feverishly seek out what's new and novel? Ever hop on an airplane after binge-watching the Travel Channel? Are mysterious trails impossible to resist? If so, you may have DRD4-7R, better known as the "wanderlust" gene. Some scientists believe this gene predisposes people to boldly go where none have gone before. If true, I strongly suspect Jim Fischer and Jenny Mosbacher of Fossil &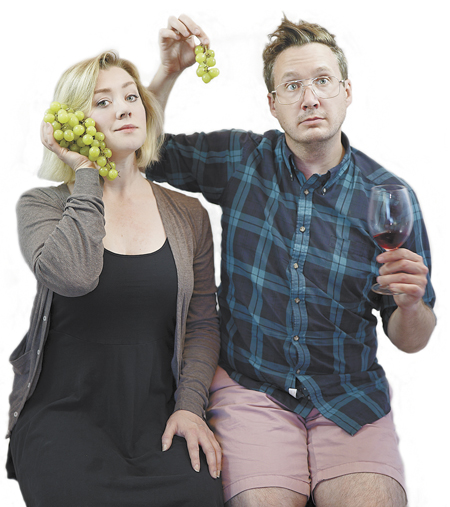 Fawn pack some serious DRD4-7R.
Last month's "The Changeup" column reviewed "Godforsaken Grapes," a book chronicling one man's pursuit of obscure grapes in remote places like the Canary Islands and Georgia. Fortunately, you don't have to travel great distances to satisfy your vinous wanderlust. Just head to your nearest bottle shop and track down Fossil & Fawn's two newest wines: "Do Nothing" and "Oregon White."
Since 2011, Fossil & Fawn has showcased Pinot Noir and Pinot Gris grapes grown by Fischer's father in the family's Silvershot Vineyard in the Eola-Amity Hills. The vineyard's marine sedimentary soil and oak savanna terroir developed an immediate following. Then weather and wanderlust triggered a slight change in course.
In 2016, Silvershot Vineyard produced less fruit, which posed a problem. "My dad sells his grapes to winemakers besides us, so we thought it best to short ourselves," Fischer explains. To compensate for this shortfall, Fischer and Mosbacher began seeking grapes from other vineyards.
Mosbacher says they were also concerned that "peak Pinot" had been achieved, and interest in Pinot Noir was plateauing. "When we visited other cities on sales trips, we also noticed people were increasingly interested in wines made with less conventional Oregon grapes."
Fischer and Mosbacher decided to branch out. "We will always make Pinot Noir and Pinot Gris from Silvershot Vineyard," says Fischer. "At the same time, we're really interested in working with grapes we don't know much about."
After trying these two new Fossil & Fawn wines, a 100-percent Mondeuse and a quixotic white field blend, I'm happy they scratched their itch to explore.
Fossil & Fawn 2017 "Do Nothing" Oregon Red Wine ($20)
Mondeuse is native to the Savoie region of France, where approximately a thousand acres grow today. Small pockets exist in Switzerland, Australia and Italy, and there are fewer than 50 acres planted in the entire U.S. Mondeuse is a close relative of Syrah; in Savoie, it makes dark red wines with spicy aromatics, dark fruit flavors and ample tannins.
The grapes used in "Do Nothing" (11.2 percent alcohol) come from Omero Vineyard in the Ribbon Ridge AVA, which has different soil types and is drier and warmer than Savoie. Fischer had no idea what to expect. "We just wanted to have fun with it and not worry too much about typicity."
"Do Nothing" is made with native yeasts, carbonic maceration, neutral French and Oregon oak barrels and just a tiny bit of sulfur, which is added before bottling. This minimalist approach, including no fining or filtration, produced a lively treat that is as interesting as it is refreshing. The wine has a light garnet hue and a crazy label featuring roses, black-eyed Susans and a skeletal foot inked in black by local artist Brian Crabaugh. "Oddly enough," Mosbacher quips, "it's the one wine we don't tread by foot." The label reminded me of a Grateful Dead concert poster, and the puffs of smoke and lilacs that filled my nose after a deep sniff from the glass put me next to the soundboard. Nectarine, cilantro, wet grass and black cherry Dum-Dums sucker aromas followed, leaving me wondering where this wild ride was headed.
This Oregon Mondeuse hit all the right buttons, with its flavors of smoky red raspberries, leather, seared pork fat and unsweetened cocoa powder. The tannins were gritty but tempered by the juicy mouthfeel of carbonic maceration and a modest amount of acidity. Lightly chilled and served on a hot summer evening, it would be dangerously easy to open a second bottle.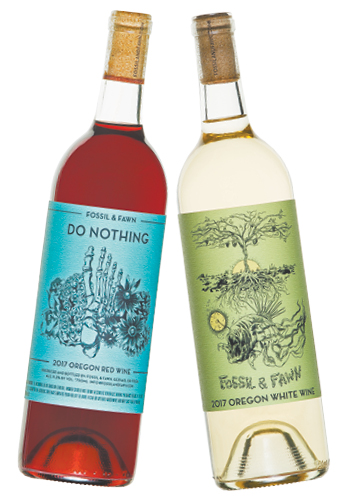 Fossil & Fawn 2017 Oregon White Wine ($20)
"Get weird, suck less" is Fossil & Fawn's official motto. Their Oregon White — street name: GEWURVIGTOCLONINGER — is a multi-grape blend similar to what Vienna winemakers call Gemischter Satz, or "mixed set." It remains the perfect example of getting weird, and it definitely does not suck.
The Oregon White (13.1 percent alcohol) is made from 50 percent Riesling from Hanson Vineyards, 15 percent Gewürztraminer from BeckenRidge Vineyard, and 20 percent Savagnin Rose, 6 percent Friulano, 6 percent Melon de Bourgogne and 3 percent Kerner from Omero Vineyard. All the grapes are grown in the Willamette Valley.
According to the winery tech sheet, the Riesling grapes were immediately pressed into an "egg-shaped vessel," actually made of breathable polyethylene — but Fischer confesses that doesn't sound very sexy. The remaining grapes were allowed to remain in contact with their skins for a few days while waiting for carbonic maceration to commence. As always at Fossil & Fawn, native yeasts were used for fermentation. Finally, the wine rested in a combination of neutral French oak and acacia barrels for approximately five months.
The resulting wine is as compelling as the creepy anglerfish Crabaugh has swimming on the label. The juice is hazy and golden in color, with an aromatic set exploding with tart pineapple, lemongrass, wet gravel and a savory element that triggered a sudden craving for pot stickers. The flavors were equally exotic, beginning with white grapefruit and cedar flavors crashing in on a wave of acidity. This was followed by notes of hard lemon candy, grilled apricots and a smoky white tea quality that guaranteed I was heading out in search of pot stickers.
Surrender to your wanderlust gene and go find these two Fossil & Fawn gems. Better hurry though, only 329 cases of these two wines combined are out there waiting to be discovered by the adventurous.