Gearing Up for Cyclists
Niche tourism market looks for inroads into wine country
About 200 cyclists gather in rural Rickreall each Sunday morning during August. Dressed in a rainbow of colorful Lycra jerseys and sitting on top of expensive bicycles, they step on the pedals and begin their rides of 30-plus miles to wineries across Polk or southern Yamhill counties.
Eola Hills Wine Cellars created the Bike Oregon Wine Country event in 1998 when principal owner Tom Huggins sought a way to ride with friends. Now in its 21st year, the event continues attracting crowds of cyclists to wine country for the scenic tour, followed by a wine and salmon barbecue at the end of the day.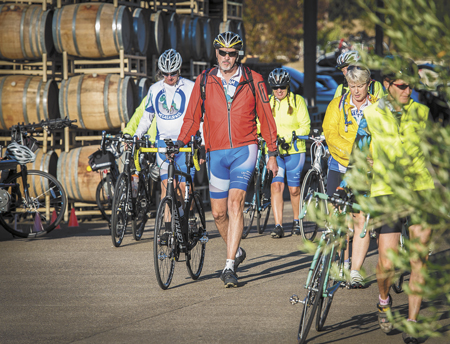 But as successful as the Eola Hills rides are year after year, cycle tourism in Oregon wine country remains under-developed. Few wineries — and fewer wine regions — around the state have successfully connected wine tourism with cycle tourism. Winery owners and tourism marketers agree.
"A young couple walks in and asks if we have cycling maps," says Jeff Knapp, executive director at Visit McMinnville. "They're down from Olympia, and they say this place is beautiful, but they can't find any information on where to ride their bikes. People want this. They want to experience wine country, but there's no infrastructure to support them."
Infrastructure — signage, bike lanes, maps — is one need. Promotion helps enormously; to accomplish that, the wine industry turns to the destination marketing professionals at the local, regional and state levels. If they don't, they miss potential wine sales.
More than MAMLs
Some cyclists are jokingly called "MAMLs," middle-aged men in Lycra, but there is no single demographic. Research commissioned by Travel Oregon, the state tourism marketing organization, says 97 percent of those taking cycling trips range in age from 25 to 74; more than 58 percent earn $75,000 or more annually. And, of most interest to winery owners, about half also visited a winery during the past year.
Travelers who participated in bicycle-related activities while visiting Oregon spent nearly $400 million in 2012, according to Travel Oregon's most recent cycling study, prepared by Dean Runyan Associates, Inc. And while the available research dates a few years, anecdotal evidence indicates riders still travel to Oregon and spend money.
"I think the cycling demographic falls into the target any winery seeks out," says Ross Allen, co-owner of 2 Hawk Vineyard & Winery in Medford. "Most of those people who spend $5,000 on a carbon fiber bike also have an interest in wine, and they have the disposable income to enjoy it. So, it's important to reach out to them."
Success Stories
Cycling tours are common in Oregon wine country. Regional companies arrange day trips and national tour groups arrive throughout the summer with riders who pay as much as $2,400 for a multi-day tour. There are winery efforts, as well. Travel Oregon lists 22 wineries and tasting rooms registered as "bike-friendly businesses;" for example, St. Josef's Winery in Canby hosts its "Bike Ride with the Winemaker" every Memorial Day weekend.
Eola Hills Winery may attract the largest wine-and-cycling crowds, with more than 200 participants daily. Using alternating northern and southern routes every other week, cyclists paying $79 each loop, pass designated wineries where they can rest, enjoy small tastings and buy wine. Winery employees follow to collect purchases. At the end of the ride, cyclists enjoy a barbecue with Eola Hills wines and pick up their bottles. "When we first did this 20 years ago, 20 or 30 cyclists showed up and everybody had a good time," Huggins says. Within four years, Bike Oregon Wine Country expanded from one day to an every-Sunday event.
Participating wineries along the route benefit as well. "Several of the wineries have really loved this," Huggins says, citing Hauer of the Dauen, Stangeland and Emerson as "really supportive." Hauer of the Dauen, he says, offers bottled water and Power Bars; that hospitality is rewarded with increased wine sales.
Spreading the Word
Bringing riders to wineries' front doors requires initiative from regional and local destination marketing organizations, often called DMOs. Visit McMinnville, for example, is trying to lay the groundwork. "We are prioritizing cycling this year," Knapp says. The DMO is working with RideWithGPS.com, an international digital route mapping platform based in Portland, to incorporate cycle-centric data into its website, "and we're working with (RideWithGPS) cycling ambassadors to direct people to routes that are safe."
Knapp recently applied for a grant to obtain and install cycling safety signage on essential Yamhill County roads, pavement known to area cyclists for its scenic appeal but limited shoulders. "I think wineries see there is an opportunity here, but the infrastructure is not there," he says. "Wineries are in the business of getting people to their front doors whatever way they can. If we can give (visitors) one more day of things to do, then they can spend one more night here."
In Southern Oregon, a newly formed Rogue Valley Vintners organization is initiating efforts to work with area DMOs to promote the region's many tourism assets, including cycling. "Any winery that has a brick-and-mortar tasting room wants to attract any and all potential customers," says Allen of 2 Hawk and president of the new group. "Cycling in this area is pretty prevalent. I don't know of any of us who target cyclists directly, but we work with Travel Southern Oregon and the local DMOs in Medford, Ashland and Grants Pass to produce as large an attraction as we can to the Rogue Valley. Be it cycling, motorcycling, river activities or general tourism, at the end of the day the goal will be to try and encompass all those people and make them aware of what is available."
Progress in Polk County
For several years, Travel Oregon has led in promoting cycle tourism. It launched the Bike Friendly Business program to help merchants welcome riders, and it worked with the state's Parks and Recreation Department to promote an Oregon Scenic Bikeways program, the only system of its kind in the nation. It also organizes Bicycle Tourism Studios to guide communities as they develop their local cycle tourism products. "We have all the tools to help any community that wants to host bicycle travel," says Harry Dalgaard, manager of a Travel Oregon Regional Cooperative Tourism program, "but we don't want to force it on any local community. That group of constituents has to come forward to show local interest."
Dalgaard points to efforts in Polk County where local officials and volunteers put to work their Bicycle Tourism Studio education. "We really see cycle tourism as an opportunity for the whole county," says Shawn Irvine, economic development director for the city of Independence. "Polk County is centrally located and flat. We have low traffic, wineries and farmstands. It's really made for cycle tourism, so we've been working with RideWithGPS to develop some routes."
The Polk County Tourism Alliance, which Irvine says spun out of a Travel Oregon workshop, has been bringing together private businesses, hotels, chambers of commerce and the local wine industry — including Left Coast Cellars, Emerson Vineyards and the Eola-Amity Hills AVA — "to identify opportunities and go after them."
"Nobody has ever done any economic impact study (here) but we are seeing increasing numbers of cyclists throughout the summer," Irvine says. "If the sun is out and it's halfway warm, there will be people on bikes in downtown Independence."
Meanwhile, a 75-room boutique hotel in Independence — to be called The Independence, a Trace Hotel — is under construction along the Willamette River with a May 2019 target opening date. Facilities for cycle tourists are being included. "The developer met with businesses in the area and asked what they would want to see (in the hotel)," Irvine says. "They put a (bike) repair station and a wash-down room into the design. They are taking calculated measures in the design and management of the hotel to appeal to bikes."