Fullerton on Pettygrove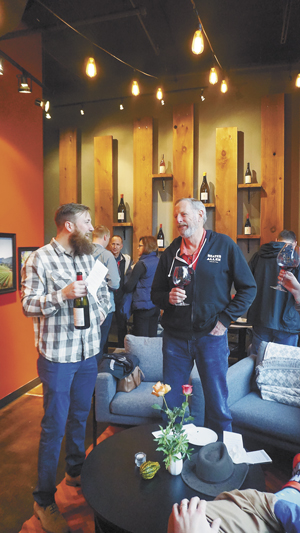 Once part of the SE Wine Collective, Fullerton Wines now has its own Portland tasting room. And if the October grand opening is any indication, Fullerton is bound to become a neighborhood hotspot.
Family-owned, with parents Eric and Susanne Fullerton managing day-to-day operations, and their son, Alex, the winemaker, the brand's new location on N.W. Pettygrove opened on a blustery day; inside, it was standing room only.
Private seated tastings will occasionally continue at the Fullerton residence in Beaverton but guests can now enjoy the convivial vibe in what has been designed as an approachable place to linger. There are also plans to incorporate more wine education courses led by Alex in the new space.
"As a winery that started in urban Portland, we are excited to continue building our relationships in the Portland area," Alex said. "It is a great city with an abundance of wine lovers and wine tourists. We're very proud to make Portland the home of our tasting room."
At the grand opening, small bites courtesy of Susanne greeted guests. In addition to charcuterie and cheeses, homemade items will be offered to pair with the wines.
Started in 2012, Fullerton has grown from its Five Faces and Three Otters labels to vineyard-designates featuring respected growers such as Croft, Momtazi and Fir Crest. The attention Alex has paid to honing his craft is evidenced in the heightened complexity of the winery's Chardonnay and Pinot Noir.