Fruits of Labor
Inherited orchard transforms into vineyard venture
An old saying cautions us to "never look a gift horse in the mouth." Jill House's grandmother didn't give her a horse but, instead, a 50-acre fruit orchard in Hood River.
Well, House "looked" and 14 years later, the transformed land is the source of grape juice, fermented and filling bottles sporting her label, Stave & Stone Wine Estates.
It wasn't part of the plan when she inherited the orchard in 2001. True to her family's deep agricultural roots in the upper Hood River Valley, House gave the orchard a go.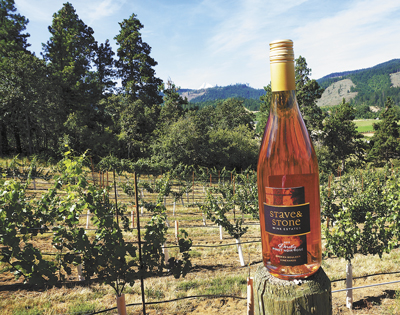 Even while holding down a job as a court clerk, she and her then-husband regularly hauled fruit, jam and other products to Portland farmers markets, growing her market in the city.
All along, in the back of her mind, she carried the dream of growing grapes and making wine. All she needed was a catalyst. When her first marriage ended, she tore out all the fruit trees and planted hay.
"It was bittersweet," House recalls. "My daughter, Hannah, and I were sitting around a bonfire of old fruit trees, eating hot dogs and marshmallows, thinking about what to do next. It felt like an era had changed."
After she married "a wonderful guy" in 2009, she says her husband, dentist Kyle House, strongly supported her dream of running a vineyard. To feed her soul, she took a part-time job in the tasting room at Lonnie Wright's Hood River tasting room for The Pines 1852 label.
"In 2012, Lonnie came out to look at my property," House recalls.
He confirmed her hopes: It would be great for growing grapes. The land slopes southerly, from about 1,000 feet elevation to 700, with 35 acres plantable.
She speaks in amazement to recall the spindly Pinot Noir cuttings she put in the ground that year.
"Ninety-two percent of them took, if you can believe that," she says.
Pinot Noir is not her favorite grape — she likes big reds, Cabs, blends – but it's what the land demands; 15 acres are planted, plus 2.5 acres each of Pinot Gris and Chardonnay.
As the business plan took shape, House nurtured relationships with other growers to source grapes for her Riesling and Chardonnay. Further afield, she found Cabernet Sauvignon at the Echo West Vineyard south of Hermiston.
To pull it all together, she negotiated a custom crush arrangement with Steve Bickford, a grower and one of the owners of Mt. Hood Winery.
"I blame it all on Steve Bickford," House says, joking.
To complete the package, Rich Cushman, a veteran of the Willamette Valley and Gorge wine scenes, came on board as consulting winemaker. Stave & Stone released its first five wines in late 2015. They're planning a blend of Zinfandel, Syrah and Merlot. She will call it Quiver.
She credits Cushman with convincing her to add a Riesling to her red-heavy lineup. Hers is semi-dry, with about 1.9 percent residual sugar.
For now, House sells direct from a Hood River tasting room at 210 Oak Street, and online. "I'm hoping to keep it a boutique-style winery," she says. "We won't pursue wide distribution."
Her initial production run came to about 1,000 cases. She's hoping to double that this fall.
Hers is the eighth tasting room in downtown Hood River, and about the bazillionth entry into the burgeoning Northwest market. Was she intimidated by all that?
Nope.
"People like to try wine," she says. "Where there's many, there's more."
A veteran Northwest newspaper and magazine reporter and editor, Stu Watson owns Watsonx2 Communications in Hood River.