From Vines to Lines
C.J. David talks new novel, winegrowing past
Author C.J. "Suzi" David describes her new book: "Through a series of questionable men, motives and disappearances, 'Bad Girl, Bad Girl: A Wine Industry Intrigue' is a thrilling and unexpected ride into the dark side of the wine industry. Protagonist Bethany brings a level of wildness and unpredictability to the rather serious wine world."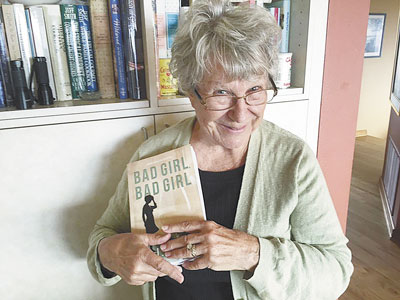 For 25 years, David has produced award-winning wines from Oregon vineyards, including her own, Siskiyou Vineyard, located in Southern Oregon. Her decades in the wine industry as a grower, marketer and winemaker became the backdrop for both of David's novels, "Cellar Rats," released in 2006, and now "Bad Girl, Bad Girl" published in 2016.
Alongside her husband, Oregon wine legend Dick Erath, she lives on a vineyard high on a hilltop in the Red Hills of Dundee, the perfect setting to write a novel — or two.
We chatted at nearby Red Hills Market recently about her newest work and musings on life led on the forefront of the burgeoning Oregon viticultural industry.
How did your background influence your grapegrowing dream?
CJD: As a person who comes from the beach town of Pacific Palisades near Los Angeles and graduated from UCLA, I had never set foot on a farm or a ranch before and neither had my husband (Chuck David, who passed away in 1983). We were city people coming to live off the land. It was kind of like the show "Green Acres" with Zsa Zsa Gabor where the city slickers moved to the country. We thought, "Oh, wouldn't that be fun!" And it was! But it was also a lot of hard work.
What compelled you to plant a vineyard in remote Cave Junction in 1972? Is the "level of wildness and unpredictability your protagonist Bethany exhibits" a reflection of your early experiences in the unpredictable world of grapegrowing?
CJD: Yes, it was wild and unpredictable but very beautiful. We were very remote yet ideally situated with the Siskiyou range to the south and the Klamath Mountains to the east. The Illinois Valley's high elevation and marine air micro-climate produced classic Burgundian varietals, and we planted them all — Cabernet Sauvignon, Merlot, Pinot Noir, Riesling and Pinot Blanc — in a big leap of faith. We gathered all of our knowledge of learning how to do things out of books and talking to people… There is definitely a parallel to the courage the protagonist in the book exhibits. You have to be brave to be in this industry.
What were the other wineries and vineyards in Southern Oregon in your neighborhood?
CJD: We went to work planting the vineyard, which had not been done before in Josephine County with the exception of the Wisnovskys at Valley View Winery. We started about the same time. They were in Jackson County; we were in Josephine. Later, in the early 1980s, when Anne Wisnovsky and I both lost our husbands, we jokingly called ourselves the 'bordellos' because we were two women running wineries on our own near the California border. At that time I hired a woman winemaker and our winery was run by a woman, to my knowledge this was the first of its kind in Oregon.
Other wineries in the area that started in the 1970s were Weisinger, Foris, Bridgeview and Troon. We were pioneers; nobody knew if this was really going to work, but we all had a dream that it could.
What's your favorite description of planting and maintaining your vineyard?
CJD: We were farmers and loving every minute of it. In 1974, I had my son followed by my daughter in 1975. So, I had one on the front of me and one on the back of me, and I'd be out there, up and down, up and down, pruning, watering, suckering, tending to vines as many people — even the people in the northern part of the state — did. Everyone was working in their own vineyards.
By 1978, you became the 72nd bonded Oregon winery. What were your early experiences selling wine like?
CJD: Lots of time spent in the tasting room 24/7! We also had distribution through Lemma out of Portland and Gold River out of Medford, plus other distributors in Oregon, Washington and California. Our wine, and other Southern Oregon wineries I mentioned, was found in restaurants and grocery store chains, including Safeway and Fred Meyer, alongside other northern Oregon wines from the 1980s: Elk Cove, Ponzi, Adelsheim, Willamette Valley Vineyards, Rex Hill and, of course, Knudsen-Erath!
What were some of your favorite wines? Did you enter any competitions?
CJD: I loved our white Bordeaux blend, La Cave Blanc, named appropriately for the Oregon Caves near our vineyard. We did enter several competitions, including the Oenological Society of Seattle, International Eastern Wine Competition, American Wine Society Competition and, of course, the Oregon State Fair. We were lucky enough to win several medals at many of them.
What made you decide to write novels about the industry?
CJD: I had never considered writing a book before until a friend was listening to my stories from the early days and said, "Oh, you should write a book; these are great stories." So, I decided to share them in fiction form to make it a little more interesting. Putting things together in my mind it became a fiction story and a way to use my imagination. The characters had a life of their own; I followed them rather than them following me.
Kerry McDaniel Boenisch
Having grown up in the Dundee Hills and the Oregon wine industry, Kerry is passionate about the area's history. She is the author of "Dirt + Vine = Wine" and director of the Oregon Wine Education Center in Newberg.