From Ox, with Love
Portland duo affirms passion for fire in first book, second restaurant
With the publication of their first cookbook and recently opened an additional restaurant, sparks are flying for Greg Denton and Gabi Quiñónez Denton, the husband-and-wife chef tandem behind Ox Restaurant in Portland.
Signature dishes such as "Clam Chowder with Smoked Beef Marrow Bones" and modern takes on other steakhouse classics are included in "Around the Fire: Recipes for Inspired Grilling and Seasonal Feasting from Ox Restaurant" ($35, Ten Speed Press, 2016).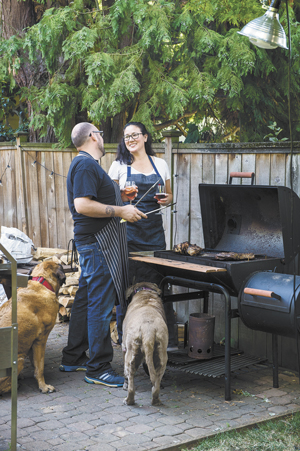 The centerpiece of Ox is its custom-built, wood-fired grill — an Argentinian-inspired parrilla — and the mixed platters of savory vegetables, primal cuts of meat and seafood that are seared, charred and roasted over open flames.
Turning the heat up another notch, this spring, the couple opened their second restaurant: SuperBite, a showpiece for the high-intensity flavors they've developed a palate for during their culinary adventures in wine regions around the world, from Gabi's native South America to Europe, California and Oregon.
Your story starts in Napa Valley wine country, where the two of you met and fell in love. How has your cooking and relationship "aged" over that time?
Gabi: Ah, Napa in 1999. I had just finished culinary school and Greg had already been cooking for a while at Bouchon in Yountville and Domaine Chandon. We started within a couple weeks of each other at Terra restaurant in St. Helena. We worked in the pantry together and quickly became friends — and then more.
Greg: I was actually the one who trained Gabi on the wood-fired grill. It was something we both enjoyed, the flavors that were produced with the wood-fired cooking.
Gabi: When we'd get days off together, we'd go wine tasting. That was the beginning of the cultivation of our appreciation for fine wine. … We started traveling to Europe together, and that opened our eyes to Italian, French and Spanish wines. That was a shift in our appreciation.
Greg: When we were staying at a winery in Provence, we had a little fireplace inside our cottage. They had vines for wood, so we went to the farmers market one day and bought garlic, basil, olive oil, baby leeks. … There's just something about the simplicity and the flavor that comes from cooking with wood, charring something and concentrating those flavors.
Not many couples grill together. Usually it's one or the other who assumes the role of "grill master." How do you two make it work as a grilling duo?
Gabi: There's definitely division of labor. We might be inspired by certain aspects of the meal we're preparing together. Each of us takes the lead on different components and sees them through. We each get our time at the grill or stove, and come together to put something tasty on the table.
Greg: You're sitting in front of the fire, drinking wine. I think people get a little too nervous about grilling. The simplicity is there; don't complicate things.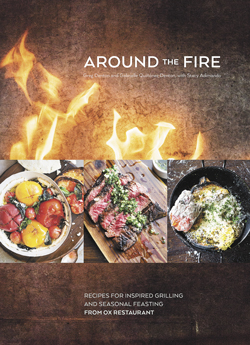 What do you look for when you're composing a dish or pairing food with wine? Does the wine or food come first? Who picks the wine?
Greg: We like to start with cocktails or bubbles. Sparkling wine has nice acidity. I try to mirror that style when it comes to structuring a menu.
Gabi: We each have our preferences for what we like to drink with a meal. Progression is one way — bubbles, then white, red with an entrée. Some of my best meals have been sparkling wine all the way through — it's bright and crisp, just does a nice job with big, strong, smoky flavors. It balances out the meal.
What's the concept behind SuperBite, your new restaurant?
Greg: We like hors d'oeuvres and amuse-bouches. There's a section of the menu dedicated to some of those over-the-top flavors, but the balance is the quantity of it — it's a smaller portion, so people can handle richer, more seasoned things.
Gabi: We think it's a great way to start a meal — to have these little bites … and taste a lot of different things before getting into the main section of the meal.
Peter Szymczak has written about food, beverages and culinary travel for a number of Northwest publications.
Grilled Cantaloupe with Mozzarella and Prosciutto
Here is a spirited variation on the classic pairing of raw melon and prosciutto — the following version of this dish can be found in the recipe's introduction in "Around the Fire."
SERVES 4
Ingredients
1 small, firm cantaloupe (4 pounds)
½ cup extra-virgin olive oil
* kosher salt and freshly ground black pepper
8 ounces thinly sliced fresh mozzarella
4 ounces thinly sliced prosciutto
1 tablespoon chopped fresh flat-leaf parsley leaves
Method
Prepare a grill to high heat.
Peel and remove the seeds from the cantaloupe; then slice it into 2-inch-thick wedges.
Brush the wedges with oil, season with salt and pepper, and grill them on both sides until lightly charred (about 4 minutes total).
Place them on a plate and top with the mozzarella and prosciutto. Drizzle with olive oil and garnish with parsley. Serve.
What to Pair?
RMS 2013 Sparkling Wine
"Here's something else brand new and worth celebrating: the soon-to-be-released signature bubbly by Rollin (Michael) Soles, longtime winemaker at Argyle. A marriage of Pinot Noir and Chardonnay, this wine looks to deliver on the Willamette Valley's potential for producing Champagne-caliber bubbles." Peter Szymczak