Forging a Path
Winemaker and welder fire up Vinum Ferus
Vinum FeRus
Details:
Address
806 S.E. First St., McMinnville
Hours
Thurs.–Sun., noon to 5 p.m.
Phone
303-887-1813
Website
www.vinumferus.com
Directly east of the train tracks, set back from First Street, the hidden gem of Vinum FeRus is started to get noticed. Led by the unique, stylish and ever-evolving vision of Natalie Bowman, the winery is cutting its own path in the Willamette Valley; meanwhile, her husband's shaping the metal for its blades.
The Southern belle fell in love with wine while working at a wine shop in Watkinsville, Georgia, as she studied genetics at the University of Georgia. Her focus on genes and the nuances of the human make-up paralleled the layered elements that jumped from the glass and beckoned her into the world of wine.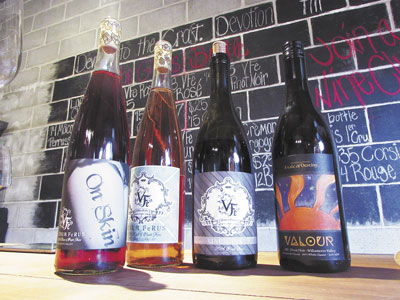 On a Bohemian journey through California and Colorado, Bowman earned the rank of certified sommelier along the way and landed a life-changing job at Sanford Winery in the Santa Rita Hills.
Eventually, Bowman's circuitous path led to Oregon during the 2013 harvest; here she met the love of her life, husband Mark Lee, and found a home in Oregon wine. With Lee and an undeterred determination, this self-proclaimed "International Woman of Mystery" has brought to life a stunningly unique spot to indulge in wine and art.
"I became a winemaker because of the lifestyle — being close to nature, following the cycles of the earth, producing something that is healthful, tastes delicious and brings people together," Bowman explained. "And it gives me flexibility to have a family, take a yoga class whenever I want and drink wine at work."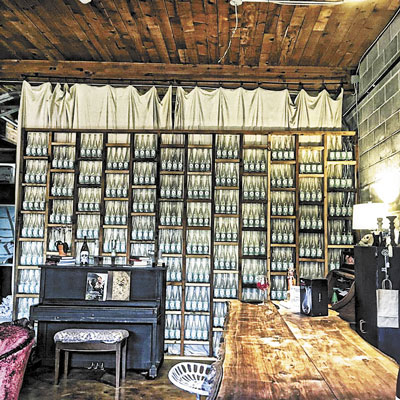 Sharing space with Lee's ironworks shop, the tasting room is an eclectic blend of reclaimed art, comfy retro seating, custom iron sculpture — forged on site — and, of course, wine. Bowman's focus on creating small-batch wine — 600 cases or less — allows the genetics major to experiment with confidence.
After tasting through the wines, it's apparent Bowman's distinct style infuses each sip. The 2015 "On Skin" Rosé of Pinot Noir particularly stood out and not just because of its risqué label. Unfined, the rosé is not to be taken lightly; fermenting skins helped create layers of plum, lemon and rich wood flavors.
In a way, "On Skin" is a microcosm of the Vinum FeRus attitude: The opulent ruby color is wrapped in a suggestive bottle promising a unique take on the often rote world of wine.
Translating to "Wild Wine," Vinum FeRus is a testament to Bowman's sense of adventure, career risks and faith-filled leaps, revealing an evolving story with great potential.
Go ahead, cross the McMinnville tracks, leave your expectations at the door. You'll be treated to a saber-wielding, iron-welding marriage of flavor and style with every visit.
As a contributor for Busted Wallet and Ask Men, Ryan Stevens has found his niche showcasing the nuances behind the vices that make life a celebration.
Wine Philosophy
"For wine is the queen of oxymorons. Wine is the integration of seemingly disparate elements that compromise my world. On one hand, wine is hard grunt labor and the raw and sometimes brutal Mother Nature. On the other hand, it is frivolity and luxury. The art of making wine itself is a combination of trying to control a wild and unpredictable reaction of nature."
(As stated on Vinum Ferus website.)