For the Love of Pete
Tourism sparks in rural West Linn
Together, three wineries are pioneering a new pocket of wine country in the lush hills of rural West Linn. Named Pete's Mountain — after Peter Weiss, a Frenchman who moved west in the Oregon Trail's second wave, settling 327 acres through the Donation Land Claim Act of 1850 — the area overlooks the Willamette River and Mount Hood, and is ripe for grapegrowing. Campbell Lane Winery, Tumwater Vineyard and Pete's Mountain Vineyard & Winery proudly call the ridge home.
Campbell Lane Winery
Campbell Lane maintains the longest history; many of its vines are more than 30 years old. Leigh Campbell and his wife, Ceille, purchased the 100-acre property at the end of a country road fortuitously named Campbell Lane in 1966. A doctor first, farmer second, Leigh experimented with a test plot. He planted his first Pinot Gris grapes in 1986.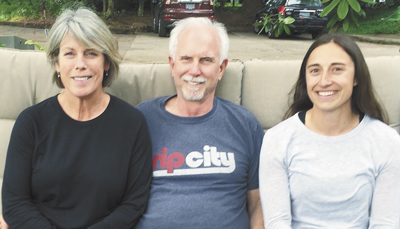 Family and friends helped clear — by hand — several acres of fruit trees. Initially, Leigh wanted to plant Pinot Noir but had a difficult time finding vines. During a party, he was introduced to Paul Hart, founder of REX HILL, who suggested Gris as an alternative. Hart even volunteered his vineyard manager and winemaker to survey Campbell's property. In turn, some 4,000 Pinot Gris vines were planted and initially hand-watered to establish the root system. The 2.65-acre plot was thought to be the largest Pinot Gris planting in the U.S. at the time.
Over the years, the Campbells expanded the LIVE-certified vineyard, named Stoneridge, selling fruit to well-known winemakers throughout Oregon. In 2010, Leigh and Ceille moved to Charbonneau. Their daughter, Tracy Campbell Parks, and her husband, Andy, moved in the fall of 2013.
Adelsheim had contracted for their Pinot Gris grapes, "but, they wanted more than we had," Andy explained. That's when they started working with Results Partners who recommended Scott Henry trellising, which trains the vines onto two parallel wires, opening up the fruit to the sun and reducing leaf canopy. Andy added, "Before the Scott Henry method, our production was 2 to 2.5 tons an acre. After the change in 2014, it was 6.5 tons."
Although they sold most of the grapes, the Parks kept some to start their own winery. "We had our own Pinot Gris made and put into bottles without labels until we could come up with a name," Andy said. It was a long process, involving an extensive list, but they finally settled on Campbell Lane, a name tied to the place, not the people.
The harvest in 2015 was even better with an improved 10 tons an acre. Again, they sold much of the fruit but kept enough to make more than 1,000 cases. In addition to Gris, the Parks planted six acres of Pinot Noir and will get their first viable harvest from it this fall.
"Our elevation at the top of the vineyard is 750 feet, one of the highest points on the mountain. Our grapes are all planted downhill, south-facing, with the lowest elevation at 350," he explained.
The demand for Pinot Gris grapes has declined, so the couple is considering grafting Pinot Noir and Chardonnay on some and expanding the vineyard to 30-plus acres.
Campbell Lane's production has been exclusively Pinot Gris and Pinot Noir, the latter with Pete's Mountain grapes, but for 2018, they plan to make a sparkling wine and rosé. Some of the Gris harvested in 2016 was kegged for restaurant distribution. This will be the first season the tasting room is open on a regular basis.
Pete's Mountain Vineyard & Winery
Pete's Mountain Vineyard & Winery, owned by Mike and Kris Thayer, sits practically next door to Campbell Lane. The Thayers' property includes their dream home built in 2008 and measures 33 acres, with 18 acres of dry-farmed Pinot Noir — three different clones. This fall, six acres of Chardonnay and two additional clones of Pinot will be added.
Overlooking the river and the Cascade foothills, the property is not only picturesque but also prime for Pinot with its rocky Nekia soil, south-facing slope and elevations of 450 to 600 feet. The vines are also LIVE-certified.
"We chose the highest standard of care for our property," Mike explained. "We're lucky to be stewards of this land and be able to plant this and make a great finished product. Kris and I are always amazed at how great our wine is."
The Thayers grow a majority of the grapes for their wines, but they do source some fruit, such as Chardonnay; the Pinot Gris comes from Campbell Lane, and the Cabernet Sauvignon and Syrah come from a vineyard they lease in Prosser, Washington. With the exception of rosé, all wines are single-vineyard bottlings.
The Thayers originally developed a different property on Pete's Mountain, a 20-acre piece next to the Oregon Golf Club, where they planted 17 acres of Pinot Noir in 2001. Although their last vintage from this vineyard was 2010, they continue the relationship with NW Wine Company and Laurent Montalieu, started in 2005.
Pete's Mountain Winery was the first in the area to open a tasting room, in 2013. "We started small and have added to our tasting space every year," Kris said. In 2015, they added an outdoor patio boasting an unforgettable view.
"We're a full-circle business," Mike said. "We grow the product, make the wine, usually from a single vineyard, and distribute it.
Total production last year was 2,500 cases, making them the largest producer on the mountain.
Tumwater Vineyard
The newest in the neighborhood is Tumwater, located across the way from the Oregon Golf Club. The vineyard is actually an extension of the 2016 Street of Dreams. Developers Gordon Root and Rick Waible originally planned to build 45 houses on the acreage, but encountered land-use restrictions. Instead, they settled on six luxury homes overlooking a 45-acre vineyard.
"They call themselves accidental vintners," said Pascale King, Tumwater's tasting room manager and event coordinator.
The site was planted in 2015 with three acres of Chardonnay and 14 acres Pinot Noir. An additional five acres of Pinot were planted this spring, bringing the total to 23.
The attractive lodge-style tasting room, originally the showroom for the Street of Dreams, opened in 2016. With its floor-to-ceiling fireplace and windows looking out on the pond and gardens, it's an inviting room, comfortable for a small group or a larger party. "We're busy on Sunday for tastings, and it's available for special events," said King. They can accommodate a maximum of 130 people overflowing to the outside patio area.
Right now, they are purchasing grapes to make wine and will probably continue that practice once their own grapes start producing. Last year they had their first small harvest and made a rosé. "We hope to have a full harvest this year and will be making our first estate Pinot Noir this coming vintage with our release being 2020," said King.
Like its neighbors, Tumwater works with NW Wine Company. "Laurent Montalieu makes a very restrained, classical style wine," King said. "Their company has been very helpful to Tumwater in setting up the business and advising on best practices."
Tumwater's summer menu of nine wines includes six local Pinot Noirs, a Chardonnay and a rosé. Several of the Pinots are award winners from Willamette Valley vineyards, including Hirshy, Highland and Prince Hill.
King is no stranger to wine. Her mother ran a wine import business in Belgium, and she's worked for vineyards in Eugene and several wineries in the Willamette Valley, including Sylvan Ridge, Beaux Frères and Bergström. Before taking on the management position at Tumwater, King was the wine buyer for Whole Foods.
All three of these wineries are on the Mt. Hood Territory Wine Trail. To participate, download the passport at omht.uswinetrail and redeem special offers at the 16 participating wineries.