For Cheese's Saké
East-meets-West pairing proves saké fromage-friendly
When considering beverage pairings for fine cheese, saké might not be the first to spring to mind. I was actually hesitant to check it out myself as my experience with saké was limited to the mainstream sushi restaurant variety, mediocre and hot. After a few polite sips, I'd always refrain from any more.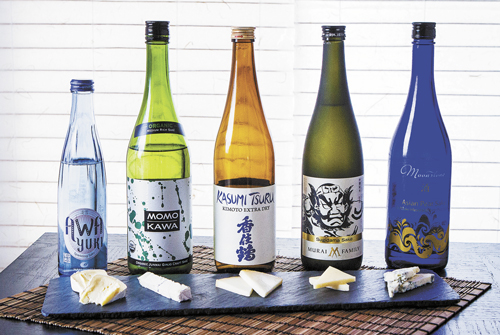 However, after helping fill a few work shifts at Chizu, downtown Portland's cheese bar that serves its menu much like sushi, I gave saké another shot. True to its Japanese theme, Chizu's drink list includes a great selection. After seeing how often patrons opted for saké with their cheese plates, I decided a little research — ahem, tasting — might be in order.
It turns out, saké is quite a good match. I set out to learn why.
Luckily for me, SakéOne, one of about a dozen U.S. kuras — or saké breweries — is just down the highway in Forest Grove. Both a domestic producer and importer of high quality saké, the company was the first American saké brewery. Forest Grove was chosen for its quality of water, a major component of the brewing process.
Saké is an ancient beverage, dating back to the 700s. Though commonly referred to as rice wine, the production process has more in common with beer.
Quality rice is polished to remove the husk, or bran, leaving behind the starches. Next, the rice is steamed and koji-kin mold (Aspergillus oryzae) is sprinkled on top and allowed to incubate for a few days. Interestingly, koji-kin is the only Aspergillus not toxic to humans; it is also used in the production of soy sauce, miso, mirin and rice vinegar.
After a few days, the mold breaks down the starches into sugars. Water and yeast are added. The rice sugar feeds the yeast during the three- to four-week fermentation process. Subsequently, the solids are separated and the saké is bottled. Saké can be sold fresh or aged a few months before release.
One reason saké pairs well with foods, in general, and cheese, specifically, is the roundness and smoothness of the brew, a result of the natural low acidity. Saké contains about one-third of the acid found in wine — acidity can overpower or interfere with an otherwise good cheese pairing.
Flavors vary widely, from floral to herbal and spicy, to grassy and savory. There is also a distinct creaminess in many varieties reflecting the character of creamy cheese.
While visiting SakéOne, I tasted seven different cheeses along with seven sakés. Here are some of my favorite parings:
Sparkling with triple crème works for both wine and saké. One of my favorite combinations was AWA Yuki Sparkling Saké, offering a crisp, light fizz that was perfection paired with Cowgirl Creamery's Mt Tam, a buttery ripened cheese from California. This saké debuted at Saké Fest PDX on June 22 and might just be the perfect summer drink.
Kasumi Tsuru Tanrei, a high quality, crisp and dry saké, paired well with P'tit Basque, a rich, salty, savory sheep's milk cheese from the Pyrenees. The salt in the cheese enhances elements of citrus in the saké.
Fruity and sweeter sakés pair well with blue cheese, as the sweetness balances the bold flavors in the blue. In this case, the Oregon duo of Moonstone Asian Pear Saké and Crater Lake Blue from Rogue Creamery was a winner.
After the tasting, where there were many more hits than misses, my attitude toward the East-meets-West saké and cheese combination dramatically shifted. With a small but growing interest in cheesemaking in Japan and saké brewing in the U.S., it will be interesting to witness how these two fermented partners interact in the future.
A Saké-Fueled Perfect Bite
At the 2014 Winter Cheesemonger Invitational, "Best Bite" winner Liza Kaplansky created a delicious sake-poached pear served on a salted shortbread and finished with a bold blue cheese.
"The saké-infused poaching liquid provided the perfect vehicle to introduce new flavors and give the pairing more complexity," Kaplansky said. "The shortbread gave the bite a nice texture and an additional hit of saltiness. Even though I knew cheese and saké can create a truly perfect pairing, it was very reassuring to know industry experts agreed."
Saké-Poached Pear
with Crater Lake Blue and Sea-Salted Shortbread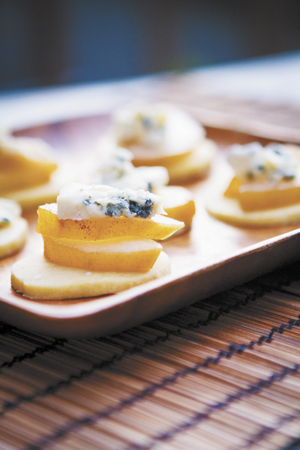 INGREDIENTS
4 peeled, cored and halved pears (Bartlett or Bosc)
2 cups saké (Yoshinogawa Winter Warrior preferred)

¾ cup granulated brown sugar

1 star anise pod

2 tablespoons lemon juice

1 inch piece vanilla bean, split

1 inch piece cinnamon stick

1 tube store-bought shortbread
* sea salt

* Rogue Oregon Blue or Crater Lake Blue
METHOD
Combine first seven ingredients, except pears, and bring to boil. Once saké mixture is boiling, turn heat down to simmer and add pear halves in a single layer to pot. Cover with round of parchment paper (this helps pears cook more evenly; if you don't have parchment, just cover the pan with a lid). Simmer 10 minutes. Flip them onto the other side and simmer for another 15 minutes. Remove pears and let them cool.
Slice small rounds of shortbread; sprinkle with sea salt and bake according to package.
Slice a small piece of poached pear and place it on top of the shortbread. Top the pear slice with a piece of cheese.