Fool's Gold
Gorge winegrower experiments, wins at Idiot's Grace
At a recent dinner celebrating the new tasting room of Idiot's Grace Winery in Mosier, Brian McCormick — with his physician wife, Maria, by his side — hosted guests with charm and grace. As the meal wound its way through the courses, the winemaker's intelligence and talent were evident with every sip.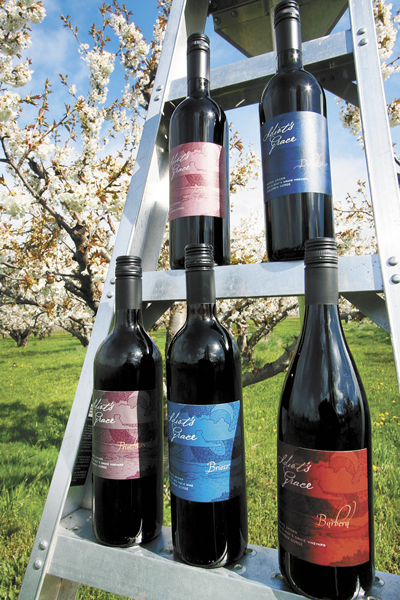 Like a parent describing his children, Brian loves all his wines but clearly holds special affection for the "zany" character of Barbera. Generally, though, he finds "reds are simpler. The white thing is more interesting to me. I love Chenin."
These varieties represent just two of 22 — not to mention pears, cherries and quince — growing on 52 acres. Through time and trial, Brian hopes to whittle his estate family fruit to six or seven grapes exhibiting true affinity for the site.
Midway through his second decade in the Gorge, Brian, with a monk's calm and centered demeanor, views his presence as a grand experiment, to attend the marriage of grape, soil and climate.
"We didn't have any specific objective," he says of the move from Sonoma County in 2002. "There was no desire to make Pomerol or Alsatians. We wanted more vintage variation and lower alcohol. I was sick of 15-degree wines. And I wanted out of the rain, but not a desert."
With Maria in medical residency, and inspired by his parents and their desire to escape Silicon Valley and explore new ventures, Brian benefited from grad school connections to Patrick Reuter and Leigh Bartholomew of Dominio IV. They helped him aim toward what he calls "this magical little secret garden of Hood River."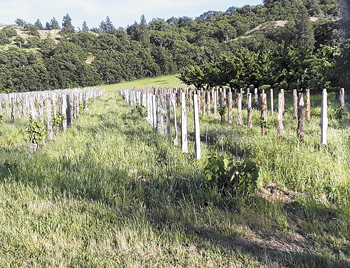 Before Brian's parents bought 105 acres within sight of Idiot's Grace, across the Columbia River and above the tiny town of Lyle, Washington, the couple was already entrenched in the culinary world. Tracing links to the McCormick & Company spice empire, Brian's father, Rob, consulted with vegetable growers, and his mother, Barbara, graduated culinary school and ran a restaurant in Carmel, California. "She never cooked the same dinner twice," he says. "We kids learned to eat really well."
His upbringing helps explain the path Brian followed after concluding studies in world religions at Dartmouth College. He worked in a bakery and sold cookware, eventually leading to a tasting room gig at the Chaddsford Winery in Pennsylvania. After earning a master's in horticulture from the University of California, Davis, Brian joined a vineyard management company working sites in Dry Creek and Russian River valleys.
Three years of growing and selling Zinfandel and Cabernet Sauvignon to Clos du Bois and Gallo led him and Maria — now with sons Jango and Theo in the blend — to thoughts of "what next?"
The four of them and his parents shared the same moving truck for their relocation to the Gorge. Brian first helped his mom and dad plant Grenache, Viognier, Sangiovese, Cabernet Franc and Cabernet Sauvignon. Harvests from those vines launched the Memaloose label.
A year after helping cultivate his parents' land, Brian planted his first vines at Idiot's Grace. He brought an empirical approach to the task. "To get a feeling for the areas with the better soil," he measured the trunk diameters of the pear trees soon to be replaced with vines, specifically Gamay, Muscat and Chenin Blanc. Downslope, where the ground was sandy and cobbled with old river rock, they chose Dolcetto, Primitivo, Cab Franc, Barbera and Sauvignon Blanc — varieties with aggressive rooting tendencies. The goal? Organic, dry farming.
The variety and mix, including Italian whites like Fiano and Falanghina, reflect an intentional desire to emulate the European respect for the land and find what fits. "We could've planted Cab or Syrah," Brian says, "but why do what everyone else is doing? Instead, we planted what is interesting.
"As the first folks to farm it, we're obliged to see what the land wants to grow," he adds. Brian calls it "casting about for failures." So far, they're moving away from Viognier as "persistently troublesome" and Primitivo as unsuited for the winters.
He cites his Cab Franc as an example of what's possible. "For me, the highest good is not just that it tastes good, but that it shows typicity — the traits common to that grape. Cab franc does that well — it's familiar, delicious, but also unique. It's Gorge-y."
With 2,000 cases and 14 wines released in 2017, Brian hopes to double production in 10 years. The tasting room, under direction of club manager Anne Riedl, is a key component in boosting direct sales.
Trevor Hertrich, the winery's sales and marketing director, says the primary goal is to "reach people who are predisposed to like what we do," which would also benefit from passionate, informed retailers. Giving them something to rave about is Brian's job.
Brian realizes an inherent folly in his chosen trade, hence the winery name, borrowed from lyrics in a Kevin Salem song.
"It's self-deprecating," Brian says. "It's about the recklessness of buying a farm in this day and age. That's idiotic. And partnering with plants and microbes to create this mystical thing?"
He smiles and shakes his head. "We're watching — and waiting."