Spring's Spread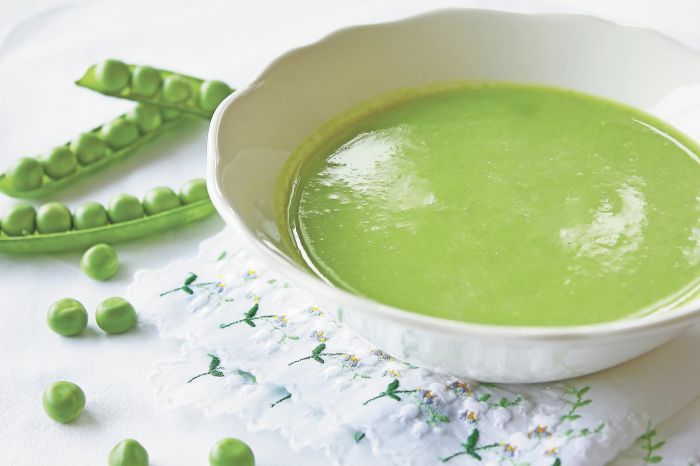 Recipes by Wendy Bennett
Signs of spring capture the senses: the sight of bright daffodils around every corner; the feel of breezes wafting through open windows; the sweet sound of swallows flittering among the vines; the smell of freshly turned earth waiting for its seasonal sowing; and the taste of the following recipes celebrating the arrival of spring.
Spring Pea Soup with Mint and Pea Tendrils
Yield: 6–8 servings
Wine Pairing: Earthiness from the leeks and peas combined with the subtle spice from the mint pair well with the crispness of a Pinot Gris.
Ingredients:
48 ounces vegetable broth
2 cups russet potatoes, peeled and diced
¼ cup olive oil
¾ cup carrots, diced
½ cup celery, diced
1 cup leek, white and some green, sliced
2 cloves of garlic, crushed
* olive oil
4 cups petite peas, fresh (use frozen if fresh are unavailable)
½ cup fresh mint leaves
* sea salt and freshly ground black pepper, to taste
* peas tendrils for garnish
Method:
1. Heat vegetable stock with addition of potatoes in a Dutch oven over medium heat. 2. In a separate large pot or Dutch oven, heat 2 tablespoons of olive oil over medium heat; then add carrot, celery, leeks and garlic. Cook until soft and slightly brown, about 10 minutes. 3. Add diced potatoes and broth to vegetables. Bring to a boil; then reduce to a simmer and continue cooking until potatoes are tender. 4. Add peas; return to a simmer and cook for 5 minutes. Remove pan from heat and stir in mint. 5. Carefully purée soup with an immersion blender or strain solid pieces and purée in a countertop blender with a bit of the broth until smooth. Season well with salt and freshly ground pepper. 6. Serve with a sprig of pea tendril and a drizzle of olive oil. Can be served cold with a squeeze of lemon during the summer.
Roast Leg of Lamb with Pancetta-Sage Stuffing
Yield: 10–12 servings
Wine Pairing: The mild flavor of spring lamb, along with the garlic and sage in this dish are enhanced by a later vintage Merlot.
Ingredients:
7–9 pound boneless leg of lamb
1 medium onion, diced
5 cloves fresh garlic, minced
6–8 cloves fresh garlic, whole
6 fresh sage leaves, minced
6–8 fresh sage leaves, whole
½ pound pancetta, diced
1 cup bread crumbs, Panko
2 tablespoons Dijon mustard
1 egg
¼ cup olive oil
* salt and pepper, to taste
* Optional: 1–2 pounds small potatoes, such as fingerlings
Method:
1. Preheat oven to 400°F. Heat a sauté pan over medium heat; add pancetta, rendering (cook and melt fat) until slightly crisp. Remove pancetta pieces from the pan, leaving fat behind. 2. Add diced onion and minced garlic to the pan and cook until slightly brown and tender, about 5 minutes. Add sage and continue cooking one minute. 3. Remove pan from heat and let cool slightly. Add Dijon, breadcrumbs and egg, stirring well to combine. Season breadcrumb (stuffing) mixture with salt and pepper. Set aside. 4. Open deboned lamb leg on a cutting board with the deboned side facing up; season well with salt and pepper. Spread deboned area with an even layer of stuffing and roll the lamb around the stuffing. Tie leg closed securely using kitchen twine. 5. Using a paring knife, pierce exterior of lamb 6 to 8 times; insert a clove of garlic and a sage leaf deep into each hole. Season exterior with salt and pepper and rub with olive oil. 6. Place lamb on a roasting rack or on top of the small potatoes on a roasting rack; place in the pre-heated 400°F oven and roast for 15 minutes, or until the exterior is golden brown. Reduce temperature to 325°F and continue roasting (15 to 20 minutes per pound) until internal temperature reads 125°F. 7. Remove from oven, tent lightly with foil and allow the roast to rest 30 to 45 minutes. (Do not skip this step or the juices will run out.). Remove twine, slice and serve.
Foraged Mushroom Risotto with Trio of Herbs
Yield: 4 servings
Wine Pairing: A heartier Pinot Noir is the perfect choice for the earthiness of this risotto.
Ingredients:
¼ cup olive oil
4 cups assorted mushrooms, sliced
2 tablespoons butter
½ cup yellow onion, diced
½ cup Arborio rice
½ cup white wine
4 cups vegetable stock, hot (approximate)
1 tablespoon fresh Italian parsley, chopped
1 teaspoon fresh thyme leaves, minced
½ teaspoon fresh rosemary leaves, minced
* salt and pepper, to taste
Finish:
2 tablespoons butter
½ cup Parmigiano-Reggiano cheese, grated
Method:
1. Preheat the oven to 375°F. Mix sliced mushrooms with 3 tablespoons of olive oil; season with salt and pepper. Place mushrooms in a single layer on a baking pan, and roast until brown and fragrant, about 15 minutes. 2. Heat butter and remaining olive oil in a large, heavy sauté pan. Add onion and cook until clear (do not brown). Add rice and cook until it browns slightly and has absorbed the oil, about 3 to 5 minutes. 3. Add wine and stir until absorbed; begin adding the hot stock 1 cup at a time, stirring constantly until absorbed before adding additional stock to the rice. This process will take about 20 minutes. Use as much stock as needed to reach the proper consistency. 4. When rice is al dente (to the tooth – tender with a firm center), add roasted mushrooms and stir until heated through. 5. Remove pan from heat; add butter, cheese, parsley, thyme and rosemary. Season with salt and pepper; serve immediately.
Rhubarb and Ginger Crisp
Yield: 8 servings
Wine Pairing: This not-so-sweet dessert is an unforgettable combination of tart rhubarb and warm ginger which pairs nicely with a sparkling wine a bit on the drier side.
Fruit Mixture:
1 cup sugar
3 tablespoons flour
½ teaspoon salt
2 eggs
* zest of 1 orange
2 tablespoons grated fresh ginger root
8 cups fresh rhubarb, sliced
Topping:
½ cup flour
2 cups brown sugar
½ cup butter
2 teaspoons cinnamon, ground
2 cups rolled oats
¼ cup crystalized ginger, diced small
Method:
1. Place an oven rack to center of oven; preheat to 350°F. Butter inside of eight 4-ounce soufflé dishes. 2. Mix white sugar, flour, salt, eggs, orange zest and ginger together in a bowl until well combined; stir in rhubarb. Pour rhubarb mixture into bottom of prepared soufflé dishes. 3. Thoroughly combine crisp topping ingredients, using your hands until well combined; crumble oatmeal mixture over rhubarb mixture in each soufflé dish. 4. Place dishes on a sheet pan or cookie tray to catch any drips as they cook. Place tray of crisps to bake on the center rack of the preheated oven; cook until topping is lightly golden and juices are very thick and bubbling, 30 to 35 minutes. 5. Serve with freshly whipped cream or vanilla bean ice cream.