Flying Right
Finishing touches complete winery's restoration journey
Elizabeth Chambers Cellar boasts the gravitas of a long-established winery with a list of 90-plus point wines, a tasting room filled with history and three generations of strong, talented women at the core of its story, and yet, the brand is only five years old.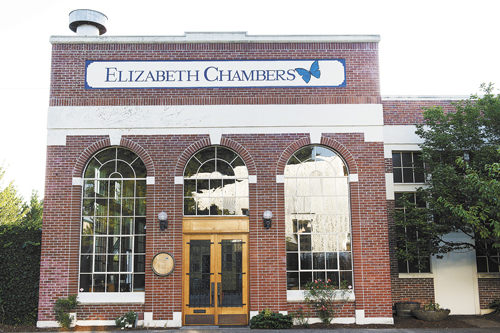 When developing the visual identity, owner Liz Chambers' designer advised how the brand should portray a sense of place, a person or be whimsical. Well, the label features all three: a black and white pointillism depiction of its iconic building behind a vivid blue butterfly — not a person, per se, but a representation.
"The butterfly represents my mother, who collected blue morpho butterflies and got me into the wine business in 1993," Liz said. "I feel that mom is smiling and is with me on this journey. My daughter now works for the winery, and I hope that, someday, her daughters will as well."
The imagery also fits the style Chambers strives for in her Pinot Noir: elegant, balanced and with a strong sense of place.
In 2014, when the tasting room opened in McMinnville's 1926 power plant — previously home to Panther Creek Cellars — the dark interior featured burnt orange walls and covered windows, but the place had impressive bones with soaring 20-foot ceilings and serious charm.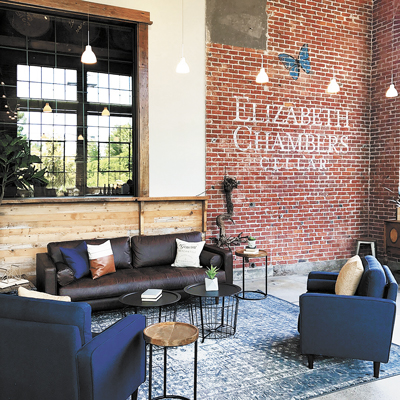 With great effort from Cellar Ridge Construction in 2016, the space transformed. Original brick walls were liberated from paint, the signature 15-foot arched windows came to light and a garden with mature trees, seating and installation of a water feature. The rear half of the building was demolished, allowing for a new concrete pad adding 5,212 feet for production. The fermentation area and warehouse were now separated with a wall of windows and rolling glass doors.
The final touches came in 2017. Like a butterfly emerging from its chrysalis, the inside renovation by Pedal Home Interiors came to life.
"When I first laid eyes on the space at Elizabeth Chambers Cellar, I just knew it would be amazing," said designer Anne Nash. "The history, textures, the feeling, is unlike any other tasting room in the area. It was really fun to bring the space to life with furniture and elements to create a space that feels warm and inviting. The look really came together when we added rugs, leather sofas and dark wood tables to make this space shine."
Wine club member Craig Pyle from West Linn delights in the transformation.
"The ambiance is incredible. It's part of the overall experience, along with the wine and people who are friendly and knowledgeable. The venue is so cool. It's historic and urban, a neat place to go. I often bring friends and we sit in the garden and enjoy wine before heading out to dinner on Third Street."
The new design has created a versatile area for small to large events.
"I hosted a group of 20 friends, and we sat at the big table in the tasting room," Pyle said. "The staff at the winery guided me through every detail—from flowers on the table to a charcuterie board for every two guests. We enjoyed a variety of wine, including library bottles."
Chambers attributes much of this rapid transformation to her staff. After working together for eight years at Domaine Serene, Leah McGlade and Tom Bassford joined the team last May, both as directors of sales, hospitality and marketing. Through their leadership, Elizabeth Chambers has witnessed great changes over the last seven months with major plans to continue evolving the brand.
Beginning in July, the winery started offering seated tastings with side-by-side selections, along with a cheese and charcuterie plate. They re-imagined the wine club pick-up events into Friday night gourmet pizza parties, suggesting members stop by the winery and pick up their bottles before dinner at one of McMinnville's superb restaurants.
"We wanted to freshen up the events and tasting opportunities for our club members," Bassford explained, "and we felt that they needed a more robust offering of experiences and events."
The new tasting room can also accommodate weddings and other special celebrations. According to McGlade, the Holiday Artisan Market was one of the year's most successful events.
"We were looking for a way to support local artisans and give people a chance to start holiday gift shopping locally while enjoying a glass of our wine," she said. "The success really showed when four out of 10 vendors sold out."
The winery dedicates itself to enhancing tourism in the community as well.
"Elizabeth Chambers Cellar has doubled down this year, elevating the overall wine experience in McMinnville," said Jeff Knapp, executive director of Visit McMinnville. "They have matched their high-quality wines with big investments in modernizing their historic facilities and in bringing in Oregon Wine Country veterans like Leah and Tom. All of this plus the amazing location makes it a must-visit on McMinnville's Wine Walk."