Flour Power
Grape seed and skin flours make for nutrient-rich recipes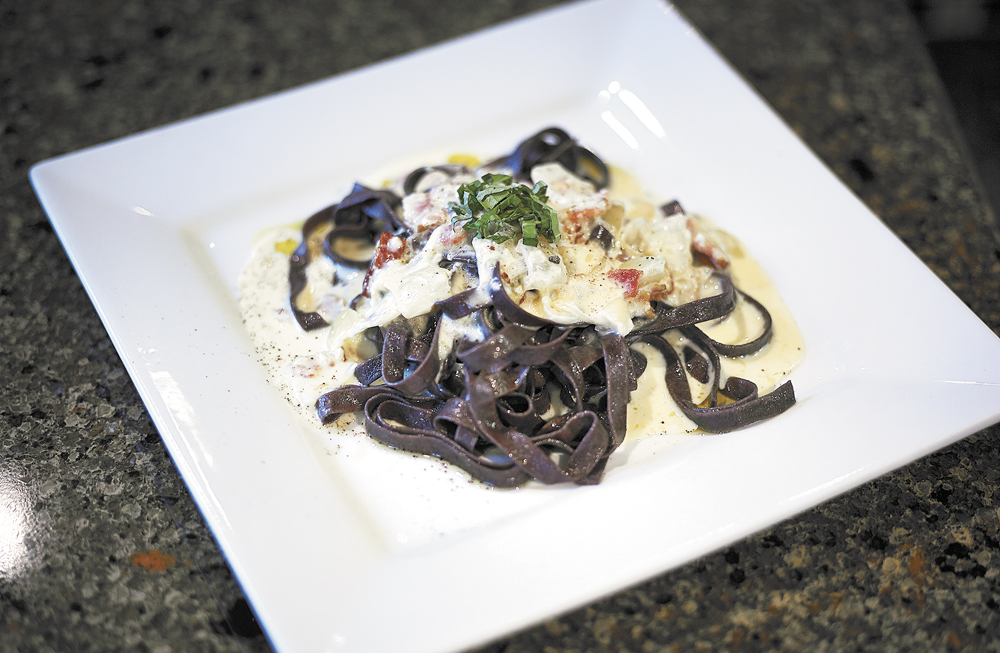 Pinot Noir Pasta with Carbonara Sauce
Pasta Dough

Yield: Approximately ¾ pound
INGREDIENTS
1 cup unbleached all-purpose flour
1 cup semolina flour
2 tablespoons Pinot Noir grape seed flour
3 large eggs
1 pinch salt
1 tablespoon extra-virgin olive oil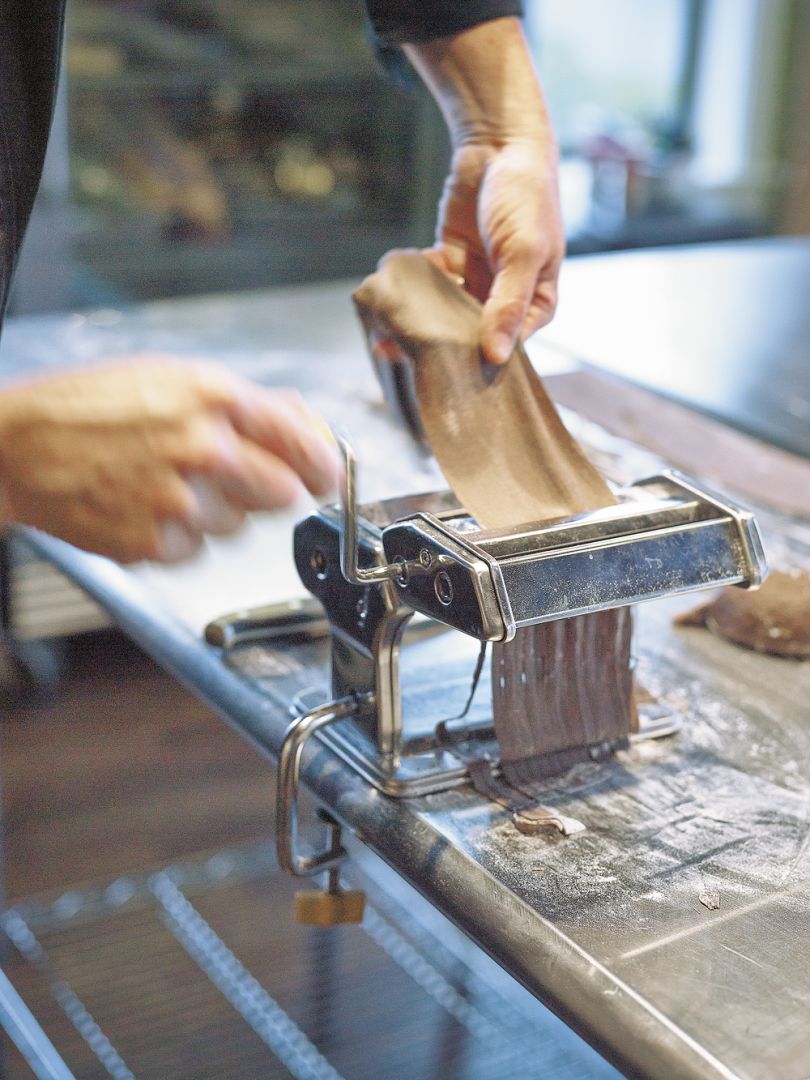 METHOD
Measure and sift flours into a mound in the center of a clean table or cutting board.
Make a well in center of flour; add eggs, salt and oil. Using a fork, beat eggs until well blended; slowly incorporate flour into egg mixture while maintaining walls of the well. Continue mixing until crumbly dough is created. Form dough into a ball with your hands.
Begin kneading dough, folding dough in half and pressing dough — this helps develop structure to the gluten. Add more bench flour if dough is too sticky. Continue kneading 8 to 10 minutes. Dough should be elastic.
Cover dough with plastic wrap; let rest 15 minutes. Uncover dough and continue kneading another 5 minutes, dusting board with flour, if necessary.
Wrap dough in plastic wrap and set aside for another 15 minutes at room temperature.
Divide dough in half and flatten to fit into a pasta roller. Roll on widest setting of pasta roller; continue rolling dough on thinner settings until it is about 1/8-inch thick.
Cut pasta into fettucine and set aside on baking pan coated with cornmeal until ready to boil for serving. If this is longer than 2 hours, cover and refrigerate until needed.
To prepare for serving, boil 4 quarts salted water in a large pot. Add pasta and cook for 2 minutes.
Drain and serve immediately with Carbonara Sauce.
Carbonara Sauce
Yield: 2 servings
INGREDIENTS
2 ounces bacon or pancetta, diced
1 tablespoon garlic, minced
½ pound fresh fettuccine (see recipe above), cooked al dente
2 large eggs, beaten
½ cup Reggiano-Parmigiano, freshly grated
½ tablespoon fresh parsley leaves, finely chopped
* salt and freshly ground black pepper
METHOD
In large sauté pan over medium heat, cook diced bacon until just crisp. Remove bacon or pancetta and drain on paper towels.
Drain bacon or pancetta fat from pan, leaving 2 to 3 tablespoons. Add garlic; season with black pepper. Sauté for 30 seconds.
Add crisp bacon and pasta. Sauté for 1 minute.
Season eggs with salt. Remove pan from heat and add eggs, whisking quickly until eggs thicken — do not scramble.
Add cheese and re-season with salt and pepper.
Mound on heated serving plate or bowl; garnish with parsley.
Chocolate Cabernet Sauvignon Crêpes with Dark Chocolate Mousse
Yield: 20 6-inch crepes
Crêpes
INGREDIENTS
1 1/3 cups flour
2½ tablespoons Cabernet Sauvignon seed flour
½ cup cocoa powder
1/3 cup powdered sugar
2¼ cups whole milk
¼ teaspoon salt
4 large eggs
2 tablespoons butter, melted
½ teaspoon vanilla extract
METHOD
Sift together flours, cocoa powder, powdered sugar and salt into a bowl.
Whisk milk, eggs, butter and vanilla until well blended in a separate bowl.
Slowly add liquid mixture to flour mixture; whisk until smooth. Pour through mesh strainer if lumps are present.
Refrigerate 1 hour before making crêpes.
Melt a little butter in crêpe pan or large skillet over low-medium heat.
Add 3 tablespoons or 1½ ounces of batter to pan; swirl until bottom of pan is covered with thin coating of batter.
Cook crêpe 1 minute, or until it is slightly moist on top and cooked around edges.
Loosen edges of crêpe and slide spatula under; gently flip. Cook for 1 minute and remove from pan to cool.
Repeat with remaining batter.
Crêpes can be stacked between pieces of parchment paper and refrigerated for up to 2 days or frozen for 3 months.
Dark Chocolate Mousse
Yield: 6 servings
INGREDIENTS
4½ ounces bittersweet chocolate, finely chopped
2 tablespoons unsalted butter, diced
1 cup heavy cream
3 large eggs, separated
2 tablespoons granulated sugar
METHOD
Whip cream to soft peaks; refrigerate.
Combine chocolate and butter in top of double boiler over simmering water, stirring frequently until smooth. Remove from heat and let cool until chocolate is just slightly warmer than body temperature. To test, place hand on bottom of bowl; it should feel slightly warm. If it is cold, rewarm slightly and retest.
While chocolate is cooling, whip egg whites until foamy and beginning to hold shape. Sprinkle in sugar and beat until soft peaks form.
When chocolate has reached proper temperature, stir in yolks. Gently stir in about 1/3 of whipped cream. Fold in ½ the whites just until incorporated; then fold in remaining whites. Finally, fold in remaining whipped cream.
Spoon mousse into a piping bag (if appropriate) and refrigerate until ready to serve. Mousse can be refrigerated up to 1 day.
Flourless Chocolate Merlot Cake
Yield: 4 servings
INGREDIENTS
4 ounces butter
4 ounces chocolate chips
2 eggs
2 egg yolks
½ cup sugar
2 tablespoons Merlot grape skin flour
½ teaspoon vanilla
METHOD
Preheat oven to 450°F. Butter 4 ramekins (6 to 8 ounces in size).
In saucepan, melt butter and chocolate over low heat, stirring constantly. Then stir in sugar and Merlot flour; remove pan from heat.
In mixer, beat 2 whole eggs and an additional 2 egg yolks. Add vanilla and continue mixing.
Very gradually add chocolate mixture into eggs, making sure not to cook eggs.
Once everything is incorporated well, pour chocolate mixture into ramekins; place on baking sheet and bake for 10 minutes; place on cooling rack.
Cake continues to cook in ramekins so if you want to be sure to have a liquid center, you will want to remove a minute early. If it cooks a tad too long and you have a set center…they are still very good and are more like a chocolate mousse cake or souffle.
Serve with homemade whipped cream or fresh berries.
Special thanks to WholeVine Products for supplying Chef Wendy Bennett with the flours for these recipes.