Fire Up the Gill
Summer signals seafood hot off the grill
Seafood Paella
Yield: 4–6 servings
Wine Pairing: Tempranillo or Syrah
INGREDIENTS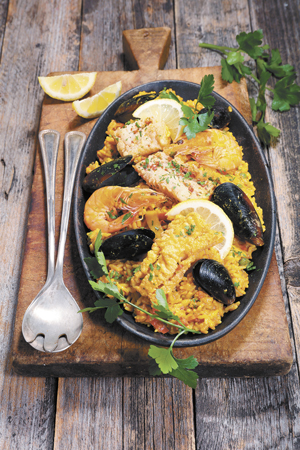 4 cups fish or chicken broth
½ teaspoon saffron threads
¼ cup olive oil
½ cup Spanish chorizo, sliced
½ pound chicken thigh, diced
1 medium onion, diced
4 cloves garlic, diced
1 bell pepper, diced
8 ounces artichoke hearts, quartered
1¾ cup tomatoes, diced
½ teaspoon lemon zest
½ teaspoon smoked paprika
1 pinch red pepper flakes
2 cups paella rice
¼ cup white wine, dry
1 pound mussels and clams
½ pound shrimp, raw
½ pound white fish, cubed
4 stems thyme
4 stems parsley
4 each lemon wedges for garnish
METHOD
Build a high-heat charcoal fire or turn on all gas grill burners to high.
Heat stock and saffron in saucepan over grill or on side burner, if available.
Pre-heat a paella pan or cast iron pan over grill; then add olive oil.
Season chicken with salt and pepper; add it along with chorizo to pre-heated pan; cook until lightly browned (not thoroughly cooked), about 6 to 8 minutes; remove meat from pan and set aside.
Add onion, garlic and bell pepper to pan and cook until aromatic but not brown.
Add artichokes, tomatoes, garlic, lemon zest, smoked paprika and red pepper flakes; cook 3 to 5 minutes.
Add chorizo and chicken, along with any juices, back to pan; stir to combine.
Add rice and stir.
Gently add wine and stock to pan, only move rice until it is evenly distributed in pan. DO NOT STIR. Add thyme and parsley; simmer for 10 minutes.
When rice is just peeking through stock, add shrimp and white fish; cover pan with foil. Allow to cook for 6 minutes; then add shellfish.
Recover with foil and continue cooking until rice is al dente, about 10 minutes. Taste to know if it is "to the tooth."
Remove pan from grill; keep covered with foil. Allow to rest for 10 minutes. Uncover and remove herbs; garnish with lemon wedges and serve.
Grilled Shrimp Satay
Yield: 6 servings
Wine Pairing: Riesling
INGREDIENTS
30 shrimp, large, skewered
1 teaspoon curry powder
1 teaspoon fresh ginger, minced
1 tablespoon fresh garlic, minced
1 teaspoon lemon zest
1 tablespoon soy sauce
1 tablespoon light brown sugar
¼ cup vegetable oil
1/3 cup creamy peanut butter
2 garlic cloves, minced
1 tablespoon grated fresh ginger
2 tablespoons low-sodium soy sauce
1 tablespoon light brown sugar
1 tablespoon toasted sesame oil
1 tablespoon Chinese black vinegar (Worcestershire can be substituted)
1 tablespoon Sriracha sauce
¼ cup vegetable, shrimp or chicken broth
METHOD
Mix curry powder, ginger, garlic, lemon zest, soy sauce, light brown sugar and vegetable oil in a small bowl. Brush marinade on skewered shrimp, cover and refrigerate for 1 hour.
Pre-heat grill to medium-high heat.
Combine peanut butter, garlic cloves, ginger, soy sauce, brown sugar, sesame oil, black vinegar and Sriracha into bowl of mini-food processor. Process until mixture is well-combined and forms paste, about 1 minute. With processor running, slowly add broth; process until sauce is creamy and well-combined.
Transfer mixture to a saucepan and gently heat to combine flavors for 3 to 4 minutes. Do not overheat or the sauce will turn oily. Remove from heat until serving.
Grill the skewered shrimp on both sides until the center is still translucent but the outside is completely cooked.
Serve shrimp immediately with peanut dipping sauce.
Grilled Oysters with Garlic Herb Butter
Yield: 6 servings
Wine Pairing: Chardonnay
INGREDIENTS
3 dozen large oysters
6 ounces garlic herb butter
* lemon wedges
* hot sauce (such as Tabasco)
METHOD
Prepare grill with high-heat fire.
Scrub oysters well under cold running water shortly before cooking. Do not leave oysters submerged in water; store on ice before cooking.
Place oyster cupped side down and flat side up on grill; cook until oyster begins to open, about 3 minutes. Remove oyster from grill onto a platter.
While holding oyster with a clean, dry towel, pry shell apart while keeping oyster as flat as possible to prevent juices from spilling out. Discard flat upper shell.
Insert 1 teaspoon of garlic herb butter onto hot oyster so it melts.
Serve immediately garnished with lemon wedges and hot sauce.
Garlic Herb Butter
Yield: ¾ cup
INGREDIENTS
5 ounces butter, softened
1 tablespoon garlic, chopped
1 tablespoon herbs, chopped, (like parsley, basil, chives and/or tarragon)
METHOD
Combine butter with garlic and herbs until well blended.
Store in a container with a tightly fitted lid. Keeps up to 2 weeks in refrigerator; or up to 3 months in freezer.