Filling Station
Garagiste blends talents for food-focused wine bar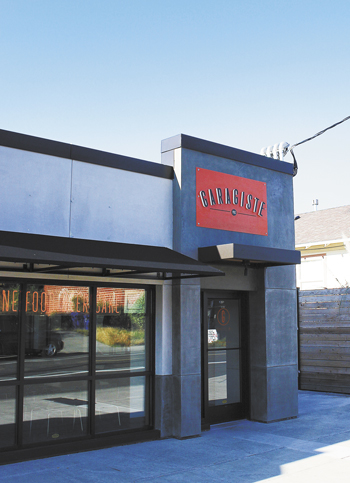 It's a quiet early evening at Garagiste, but already a handful of neighbors have come in. One needed a bottle of wine suitable for patio sipping while his folks visited from out of town. A few others popped in for a casual work meeting over a glass or two. A few others, I was told, would drop in later to refill their trusty reusable bottles.
There are barrels of 2014 wines stacked two-high at either end of the restaurant. The sleek Douglas fir bar and playful chalkboard menus are an invitation to stay awhile. Behind the bar are six 200-liter stainless steel tanks fit with spigots for bottle fills. They contain various wines made just a short walk away.
Such is the scene at Jan-Marc Baker's new north Portland joint, best described as a wine bar and restaurant. He opened Garagiste with his wife, Barbara, in April, a dream for a couple who met in culinary school in San Francisco three decades ago. The hope was to create a convivial, neighborly spot to showcase both their talents: cooking and winemaking.
"The key is to let diners do things at their own pace," Baker says. He shuffles back and forth between the kitchen, where he's preparing salmon, and the bar, fielding questions about his wines, including which one he'd pair with the butter lettuce salad. Returning to the kitchen, he's talking fish now: "I drove back from The Dalles today and thought I'd get some salmon on the way back."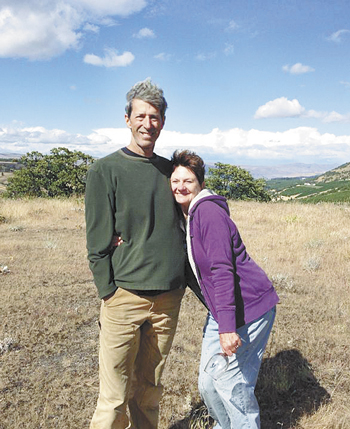 Baker worked the food scene in the Bay Area before heading north. He was always in the proximity of great wine, but most of his energy was tied up in cooking, catering and home-brewing. He moved to Portland in 1995, taking a job at a suburban country club. Here, he inched a little closer to wine, chatting up vintners at winemaker's dinners.
He started hanging out at Rex Hill in 1997, and in 2003, a few barrels became available. "There is serendipity in everything," he says. Baker opted to fill those barrels with wine of his making and a label was launched.
Currently, production is at about 1,000 cases per year and spans the varietal spectrum from Gewürz and Chardonnay to Pinot Noir and Merlot. The fruit is sourced from vineyards in the Gorge as well as Sunnyside Vineyard in Salem. As a PDX Urban Winery member, Jan-Marc's cellar is within city limits, just seven blocks from the restaurant in a converted two-car garage.
The benefits of making wine nearby are many. With a thirsty, captive audience, whether in the restaurant or neighborhood, in general, Baker can essentially hand-deliver his product. He can avoid the often costly and wasteful bottling approach by utilizing the tanks in his eatery. Moreover, the wines he does bottle incorporate the Vino-seal — a reusable glass top system. To perpetuate the plan, the Bakers offer discounts on refills.
Just about everything Baker makes is available by the glass or bottle at Garagiste, including a dry and citrusy Riesling from 2012, as well as a floral, berry-driven 2013 Pinot. Two of his 2013s from the Gorge, the Syrah and Merlot, bear "campfire" in their names as they were made from fruit that "coughed" on a bit of smoke from a nearby wildfire. Interestingly, the smokiness does not overwhelm. Both wines show an intriguing amount of fruit and spice.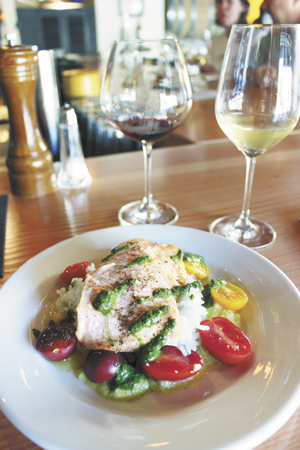 The Pacific Northwest-inspired menu is comforting and changes weekly, give or take a day. The salmon Jan-Marc was working on ended up being the headliner entrée, served on a bed of jasmine rice with fresh tomatoes and yellow corn vinaigrette. Other options included beer-braised bratwurst with potato salad and sauerkraut, and a fried chicken po' boy with couscous and green beans. Sides included a few salad riffs and marinated chèvre crostini, among other items.
Barbara Baker, a trained pastry chef, is in charge of the sweet side. Three impressive-looking cakes were available that day, including a classic chocolate version, carrot and angel food. Pies are typically available, too, the perfect accessory to a balmy night at Garagiste's outdoor patio.
In a city prone to fussy menus, Garagiste offers welcome escape in the form of simplicity. The quality is there, and it's arguably more obvious because it's not lost in convoluted techniques, obscure ingredients or posturing. In many ways, it's a reflection of its people — Jan-Marc, Barbara, and bartender and longtime coworker Dave Hetz — which is to say, laid-back, warm and easy to get along with.
The Rose City is now home to nine PDX Urban Wineries, according to the association, and even more labels given that several house multiple producers. Passports are available to those who wish to hit the urban wine trail and explore a plethora of varietals and styles, all within sight of the city's ever-growing skyline.
Garagiste is not the first to split the focus between food and wine, but it's arguably one of the best at juggling the two. Cyril's, in Southeast Portland, offers a well-curated, veggie and cheese-centric menu to accompany its Clay Pigeon wines. Southeast Wine Collective has expanded its menu from wine-friendly snacks to pastas, salads and roasts.
Back at the bar, Baker plates his catch of the day. Having thought it over, he decides to suggest a sample of both the Gewürztraminer and Chardonnay to accompany the steelhead. They both fare well, but the former expressly boosts the acid of the tomatoes and cuts into the richness of the fish. When I explain my findings, Jan-Marc sponges them up like any good neighborhood barkeep. "Good to know," he says, returning to the kitchen.
At Garagiste, it's pretty easy to become a regular.
Garagiste is located at 1225 N. Killingsworth St., Portland. For more information, including hours, visit, www.janmarcwinecellars.com or call 503-954-3959.
Mark Stock is a freelance writer who lives in Portland and works at Vista Hills Vineyard in Dayton. For more about him, visit www.markastock.com.