Figuring 2015
SOURCE shows Oregon the numbers
By OWP Staff
As winery and vineyard crews continue this year's harvest, the Southern Oregon University Research Center (SOURCE) has been focused on the previous, having recently released its 2015 Oregon Vineyard and Winery Census Report in late August.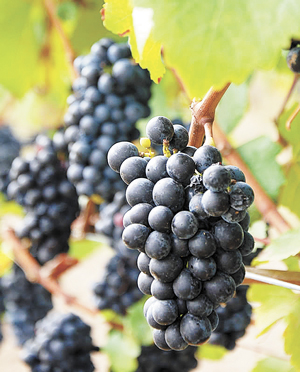 Predictably, Pinot Noir continues to lead all varieties at 62.2 percent of planted acreage (17,146 acres). Other top planted varieties include: Pinot Gris, 3,615 acres (12.8 percent); Chardonnay, 1,564 (5.5 percent); and Riesling, 724 acres (2.5 percent).
The number of vineyards increased by about 2 percent, to 1,052. The North Willamette Valley contains the highest number of vineyards at 606; the second highest is Rogue Valley at 164. In terms of increasing vineyard land, Oregon added approximately 644 acres of vines in 2015, totaling 28,034 acres. From these vines, 84,949 tons of Oregon fruit were picked, marking a healthy increase of 7.8 percent over 2014.
Pinot Noir is still king in both North and South Willamette Valley with a combined total of 41,832 tons (67.7 percent) picked in 2015. In the Umpqua and Rogue valleys, Pinot Noir is also the most prolific with 5,936 and 2,267 tons, respectively, translating to a robust 67 percent for the Umpqua, yet only about 25 percent for the Rogue — an impressive list of other varieties, such as Pinot Gris (1,198 tons), Syrah (741), Riesling (670), Tempranillo (575), Merlot (582), Chardonnay (567), Viognier (503), Cabernet Sauvignon (465) and others make up the majority of Oregon's southernmost AVA's production. In the Columbia Gorge, Pinot Gris — not Noir — is the winner with 1,283 tons (24.7 percent), followed by Cabernet Sauvignon at 938 tons (18.0 percent) and then Pinot Noir with 702 tons (13.5 percent).
On the sales side of the report, SOURCE categorized successes by channel. In 2015, tasting rooms sold 421,178 cases (up 8.3 percent); wine clubs, 232,045 (up 19.6 percent); web and phone orders, 81,568 (up 10.5 percent) and wholesale (Oregon, national, international and private label sales) amounted to 2,358,869 cases (up 7.2 percent). In all, 3,093,660 cases equaling $470,650,919 (up 8.5 percent, or about $40.2 million) were sold. Globally, Canada continues to be Oregon's largest export market with 31,015 cases, accounting for 44.2 percent of international sales.
Winery numbers, including TTB-bonded and OLCC Grower Sales Privilege and Winery license holders, grew from 676 to 702. New wineries in the North Willamette Valley numbered 28 and the Rogue Valley grew by 4; meanwhile, South Willamette Valley, Umpqua Valley and Columbia Gorge collectively lost six wineries.
SOURCE has been generating the annual Oregon Vineyard and Wine Production census since 2011. For all the 2015 stats, visit https://inside.sou.edu/research/winecensus.html.