Festival Fit for a King
Celebrate Walla Walla rolls out the carpet for Cab
Cab is King. At least, that's what some people say. But which king would you want to hang out with?
King Bordeaux is grand, wise and distant — sometimes he smells like an old castle, but in a good way. King Napa is handsome, athletic and a tad predictable — the "Parkerazzi" snap his picture and give him unending praise. Entering Napa's court is easy, provided you are willing to pay the price.
Then there's King Walla Walla.
He'll invite you for a party and generously pour you another glass of his royal cuvée. He is his own man, and a fine leader he's becoming.
Hundreds of people will journey from across the kingdom — O.K., North America — to Celebrate Walla Walla, June 16–18, to honor Cabernet Sauvignon, a local gem fit for a prince yet unlikely to leave you a pauper.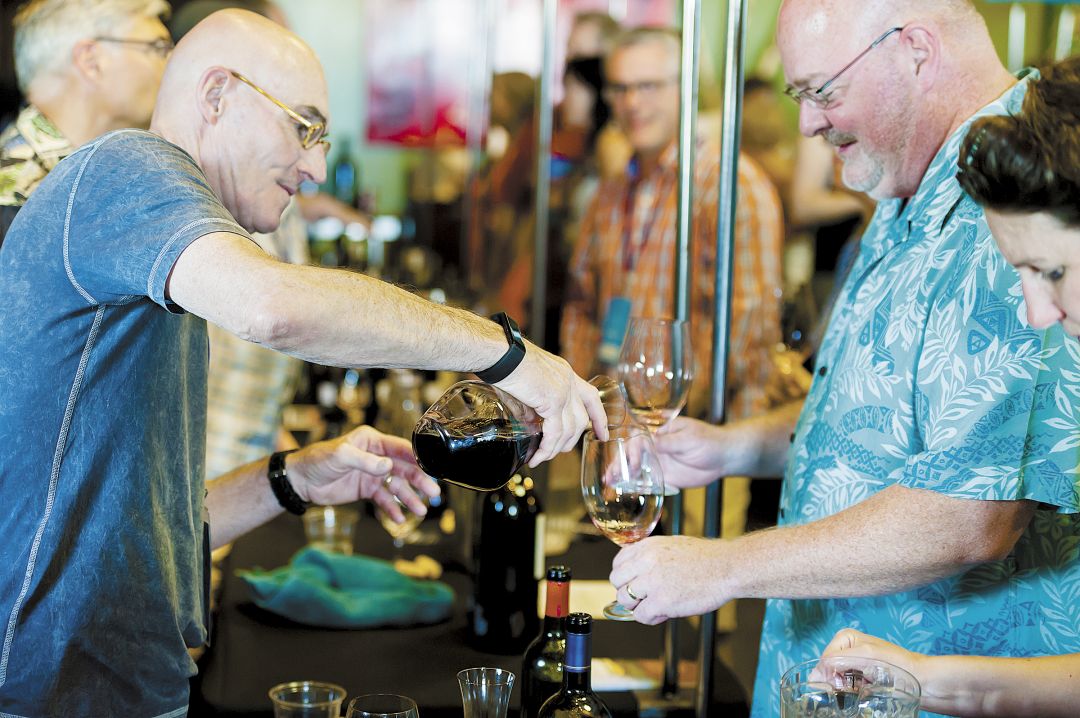 In its fourth year, the annual event aims to entertain and educate guests on a featured varietal. Cab kicked off the inaugural gathering and is back for 2016 with the momentum of a now-established — and still growing — three-day event. Approximately 600 are expected to attend this year's festivities.
How did Cab become king in the Walla Walla Valley?
Gordy Venneri of Walla Walla Vintners explains that young winemakers aspire to emulate the "King of the Hill," Bordeaux Cabernet Sauvignon. "The 100-point Cabernet Sauvignon is the gold ring in Washington."
The grape has historical value in the AVA. Cabernet Sauvignon was already widely planted in other parts of Washington when Gary Figgins researched the soils and climate around Walla Walla. He deemed the area, which would become the Walla Walla Valley AVA, was a good place to plant the varietal.
Figgins founded Leonetti Cellar — the first post-Prohibition winery in Walla Walla — and his first Cabernet Sauvignon, vintage 1978, caused quite a stir. In 1981, Wine & Spirits Magazine sent out a call for samples. "We wondered if we should submit, and then damn if we didn't win the whole thing," Figgins recalls. The 1978 Leonetti Cellar Cabernet Sauvignon was named "Best Cabernet in the Nation."
Whitman College Geology Professor Kevin Pogue, Ph.D., says a great amount of gratitude is owed to those early producers of Walla Walla Cabernet Sauvignon: Leonetti Cellar, Seven Hills Winery, Woodward Canyon, Waterbrook, Pepper Bridge and L'Ecole.
Dr. Pogue also attributes the success of the grape to the area's growing conditions. Cabernet Sauvignon is late to bud and ripen, and usually hangs through late September to early October. "Shorter days and less heat allow the grape to retain varietal characteristics and ripen with balanced sugar and phenolics," he explains.
Wine experts agree there is something distinctive about Walla Walla Cabernet Sauvignon. Most speak about warm, ripe yet balanced fruit flavors, but even so, generalities do not always apply. Venneri offers this comparison, "French Cabernet is more herbaceous and Washington Cabernet has more spice; except from higher elevations, like Walla Walla Vintners, where we can offer more herbal notes."
Doug Frost, Master Sommelier and Master of Wine, offers terms like "tenseness" and "age-worthy." He adds, "I feel Cabernet Sauvignon and Merlot are more fascinating with age. If you look in my cellar you will find a lot of age-worthy Washington wines."
Master Sommelier Thomas Burke of Chateau Margaux points out the price advantage Walla Walla Cabernet has over Napa. Even King Napa agrees about Washington's quality and favorable price point.
Many note Washington's ability to reign in fruit ripeness and strike a balance in structure and flavor. Burke points out, "Washington does a great job offering savory characteristics under the fresh ripe fruit creating intriguing wines. True wine lovers looking for a sense of place in wine can find that in Walla Walla."
The discovery of terroir is a huge part of Celebrate Walla Walla. Frost and Burke will open the weekend at The World of Cabernet Sauvignon Kick-Off with a global perspective of the grape. Dr. Pogue will explain the regional factors that contribute to differences in the wine.
Veterans of Celebrate Walla Walla know that the comparative tasting panel discussion is a major highlight. Attendees hear the perspectives of the winemakers themselves while experiencing the differences in the glass. This year's panel is slated to include Burke and Venneri, as well as: Patrick Valette of VIK in Millahue Valley, Chile; Thomas Rivers Brown of Rivers-Marie in Napa; and Walla Walla winemakers John Freeman of Waterbrook Winery and Chuck Reininger of Reininger Winery.
Vintage Pour, another high point, will offer an historical perspective of Cabernet Sauvignon in Walla Walla as vintners open older bottles — suggestion for those attending: Be sure to visit the tables of the founding wineries mentioned earlier.
The best part of the event may be the spirit of the town itself. Guests inevitably mingle with locals at the end of the day, and are likely to run into the event speakers out on the town for a refreshing beer or two.
Remember, Walla Walla is one great host, eager to share ALL its treasures.
For more information, visit www.celebratewallawalla.com. Tickets can be purchased for individual events or the entire weekend.
Jade Helm is the primary author of Tasting Pour, a blog about wine, cocktails and food. Her expertise is evidenced by credentials from the Society of Wine Educators (Certified Specialist in Wine) and the Wine and Spirits Education Trust (Diploma in Wine and Spirits) and from the Court of Master Sommeliers (Certified Sommelier).