Feathering a New Nest
From Florida to Oregon, BlueBird Hill takes flight
BlueBird Hill B&B and Wine Cellars
Details:
25059 Larson Rd., Monroe 541-424-2478
www.bluebirdhillcellars.wine
Hours: Fri., 3 to 6 p.m.; Sat.–Sun., noon to 5 p.m. (Memorial Weekend–October) or by appointment.

The rich, dusty smell of pine needles warmed by a midday sun filled the air outside the white farmhouse, its high-peaked roof with three trim dormers standing against a massive blue sky. The view extends for miles, with two new vineyards on either side of the house — each only 1.5 acres planted in a tight 5- by 5-feet spacing to maximize yield. Having recently been harvested — a ton and a half of Pommard clone Pinot Noir — these vines have the owners singing at BlueBird Hill Farm B&B and Wine Cellars.
From Florida to Monroe in the Willamette Valley, Neil and Sue Shay moved to this farm, overgrown with Christmas trees and bluebirds, only five years ago. When they first visited the property, rolling up the road, all they could see were trees.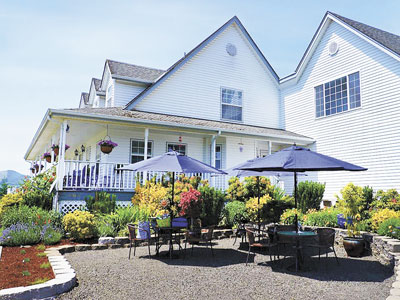 Well, the trees came down, but they let the bluebirds stay. Along the way, the Shays began to hobnob with their valley neighbors, who all seemed involved with the wine business. And because they'd made hobby wines when they lived in Southern Michigan and had some success with local contests, they found themselves, with the encouragement of their new friends at Cardwell Hill, leaping with both feet into the wine business.
Neil, a food science professor, had taken a job teaching and doing research at Oregon State University, while also having served as director of the Oregon Wine Institute. Sue, with a sales and marketing background, spent a couple years working in that capacity for Airlie Winery as well as Heart of Willamette Valley Wineries. But now, with their love of wine and a new house on a hill in the country, they have embarked on what she calls their "active retirement."
"He said to me, 'We've named it BlueBird Hill,'" Sue explained, sharing what her husband told her after they moved in. She described unloading the moving van, while the birds would flit and hop around, seeming to welcome them — if she'd told us they'd also helped them with some of the lighter items, we would have said, "Well, why not?"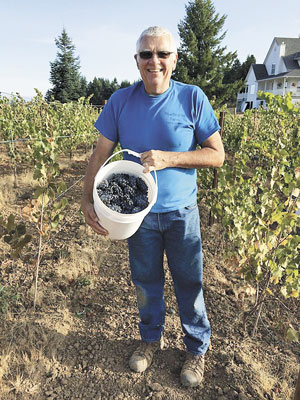 The B&B side of the equation, also something the Shays had not planned, offers guests a relaxing sojourn in the country. As for the wine side, BlueBird Hill Cellars, starting last year, already has 214 cases on the market. They bought fruit from various wineries and enlisted the help of Bobby Moy, a Napa Valley denizen and veteran of wineries such as Coppola, studying enology at OSU. With Moy as consulting winemaker, the Shays have taken their hobby and transformed it into a line of seven wines: three Pinot Noirs, a Gris, a Chardonnay, a white blend and a rosé.
On this day, a group of women from Forks & Corks Catering in Corvallis is visiting with Sue — they help with events at Bluebird, but today they're just out to enjoy the wine. Pouring from each bottle, Sue regales them with stories of making wine in Michigan and traveling to France to tour wineries. She describes a white she had in France, saying, "I took a sip and angels sang." She would later discover she'd had a glass from a barrel that would yield $1,0000 a bottle.
Such a standard clearly had an impact, and Sue says deciding to make wine for real was kind of a major thing.
"There's a lot at stake," she said. "You really want to do it right."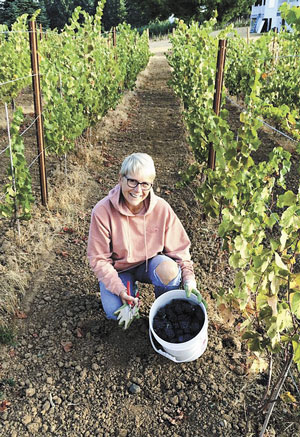 Doing it right, for Sue, meant not producing a "buttery California Chard," as she described it. She worked with Moy to produce one that would complement the valley.
With each pour, the stories flowed as well, with Sue sharing a passion for wines and a specific giddiness for her newfound post as a winemaker and hostess in the country.
Next, she poured a Pinot Noir. It was the 2014 Zenith Vineyard. Only 38 cases were made, aged six months in oak barrels.
This one commanded my attention.
Maybe it's because a good, robust Pinot Noir is important to me, but this particular glass was remarkable. It had a rich and earthy tone, with a lovely background of oak. It was layered. It's the kind of red wine that makes you want to keep company at a yacht club, or have detailed conversations about Formula One racing, whether or not you know the sport at all. That she brought out the chocolate barely mattered.
The other Pinot, the Barrel Select, she explained while pouring, had spent even more time in the barrel. And while it was as rich, it somehow didn't have that same spark of magic the Zenith had. Sue agreed that the particular batch just kind of turned out wonderfully.
"Sometimes there's magic that happens in barrels," she said.
Indeed. And if a bluebird had lighted onto my glass of Zenith, it would have put the zap on my head, and I might have gone native right then and there.
With fruit from their three acres, the Shays plan to do 600 to 800 total case production. Along with the wines and the B&B accommodations, Bluebird Hill offers a selection of picnic items, ranging from summer sausages to fine cheeses and, of course, chocolate. There is also cider and beer from 2Towns and Mazama Brewing in Corvallis. In fact, all the food and drink offered is local, as is the Bluebird label art. Enlisting another neighbor, the Shays asked local artist Sky Evans to paint the bluebird that graces every bottle.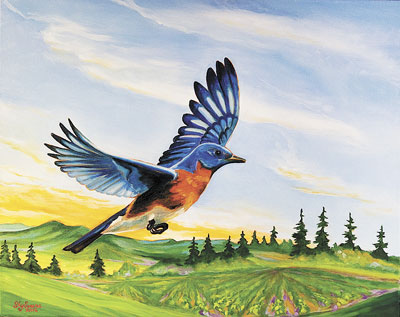 As for the guest breakfasts, Sue is the chef, and in this arena, she says she wings it. Where some B&Bs amplify the show on the breakfast menu, Sue maintains the tradition of the original inns, which served GIs stationed in England during World War II. Surely, the food back then was much less self-important. Accidental or not, Sue reaches that note.
"I just sort of cook what I think they'll like," she said. "Like last week, we had a family with a nine-year-old, so I thought they would like waffles."
Waffles. Of course. And with the 360-degree view afforded through all the windows, the bluebirds no doubt will make an appearance. I'm certain a bottle or two of the 2014 Zenith will make an appearance at my home as well.
In the years before Neil Zawicki landed in the Willamette Valley, he spent his time as a reporter in Alaska, and a sailor with an address in a California marina. In his spare time, he's a student of history, a painter and a guitar player.