Feast on This
Celebration samples hottest food, coolest drinks
From bacon to kale to pumpkin spice, we know when something catches on, we'll see it on every menu, food blog, atop a doughnut or mixed into ice cream — Blue Star, Salt & Straw, I'm looking at you. But if you want to know what's moving and shaking right now in the world of food and drink, look no further than this year's Feast Portland.
Showcasing the energy, creativity and enthusiasm driving the American food revolution, Feast is a multi-day food and drink festival featuring of 40-plus buzzworthy events at various locations throughout the city. Not only does it benefit Partners for a Hunger-Free Oregon, but it represents THE place to discover how Oregon became a mecca for food and drink.
Drink Trends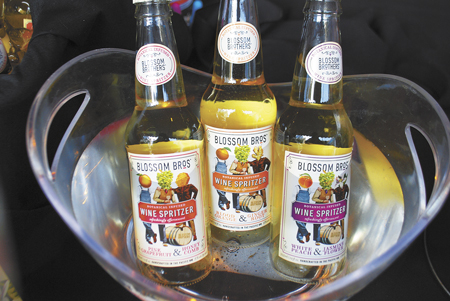 Portland urban winemaker Ryan Sharp has re-invented the age-old Spanish party punch with Portland Sangria, using only local wine and the freshest juice. In 2010, Sharp was nearly finished bottling his rosé when he realized he had 10 cases worth of wine but no more bottles. Since he produces his wines using natural fermentation, he knew processing time was of the essence. He also knew no one ever dumps out good wine, so he put the leftover blush in a keg, blended in fresh berry juice and served it in his tasting lounge in frosty pint glasses over ice and frozen berries. Two months later, his kegs were empty as people asked for more. And so, Portland Sangria was born.
Not too sweet and not too boozy — and never with any additives you can't pronounce — each flavor of Portland Sangria is the perfect blend of premium dry wine and Pacific Northwest juice finished with fresh herbs or whole spices. At 6.5 percent alcohol and available in cans, the sangria is portable and palatable.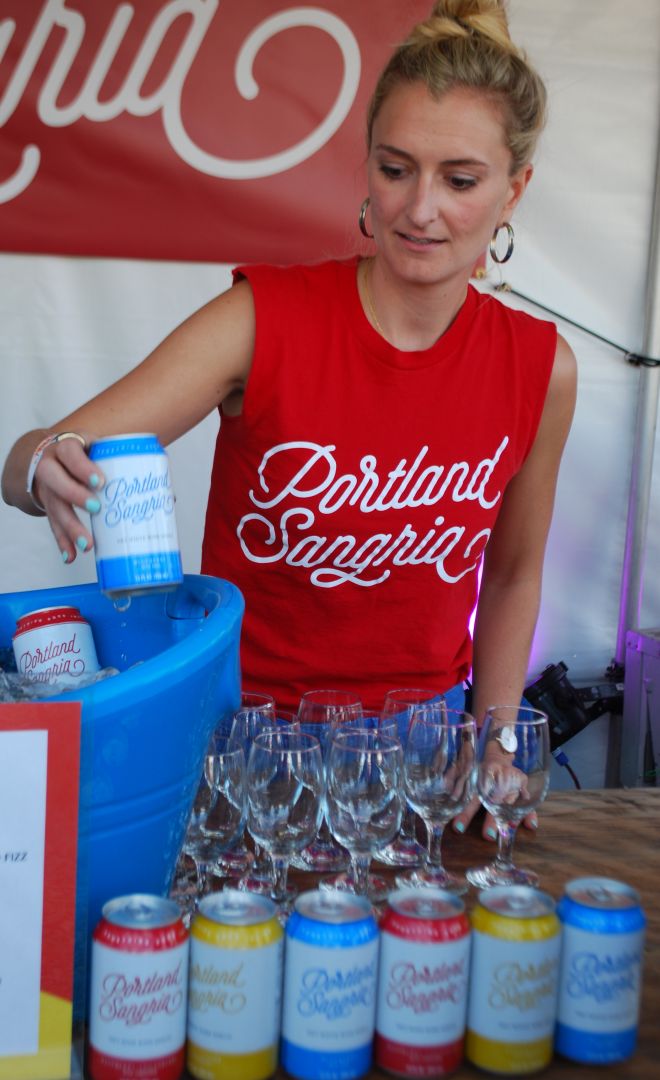 When you think of the '80s, you might recall Bartles & Jaymes wine coolers. Maybe they represented your foray into wine? Maybe I'll admit they were mine. If so, you probably haven't considered them since, glad they slipped away before social media emerged, capturing selfies of you with those distinctive bottles. Not so fast. Enter Blossom Brothers.
The Portland company's new version is not only refreshing but respectable. Blossom Brothers has breathed new life into wine spritzers using grapes from the Pacific Northwest — specifically Washington's Columbia Valley — beautifully infused with roots and flower essences and a lifting fizziness adding a punch of fun.
Three flavor combinations hit the sweet spot: (1) White Peach and Jasmine: Stone-fruit and floral aromas harmonize to create a subtly sweet spritzer for an olfactory blast; pair with Thai, Mexican, pork and all manner of savory cuisine. (2) Blood Orange and Ginger Root: Fruit and root botanicals work harmoniously for a spritzer not overly sweet or too spicy, but loaded with layers of flavor. (3) Pink Grapefruit and Honeycomb: The vibrant, mouthwatering hit of lively citrus pairs perfectly with market fresh salads, shellfish and quiche.
Though not new at all, gin is most definitely "in." When Erik Martin of Portland's own Aria Gin discusses spirit trends, he says, "Vodka is the tofu of alcohol, and whisky is everywhere, but gin is thankfully the next wave." Ryan Csanky, also of Aria Gin, believes gin's diversity drives its popularity, "Gin can be anything you want it to be; it's the ideal cocktail spirit."
Local brands like Aria and Dancing Dog Gin both focus on London Dry style, the traditional gin drinker's gin, ideal for mixing into martinis, Negronis or the trusty gin and tonic. While juniper is the hero of this spirit, the rest is up for grabs, and a variety of styles now play the field, including those infused with flowers, citrus or spice, or those barrel-aged for greater mouthfeel and depth. If you assume you don't like gin, I am willing to wager some of these new versions could guide you back.
Food Trends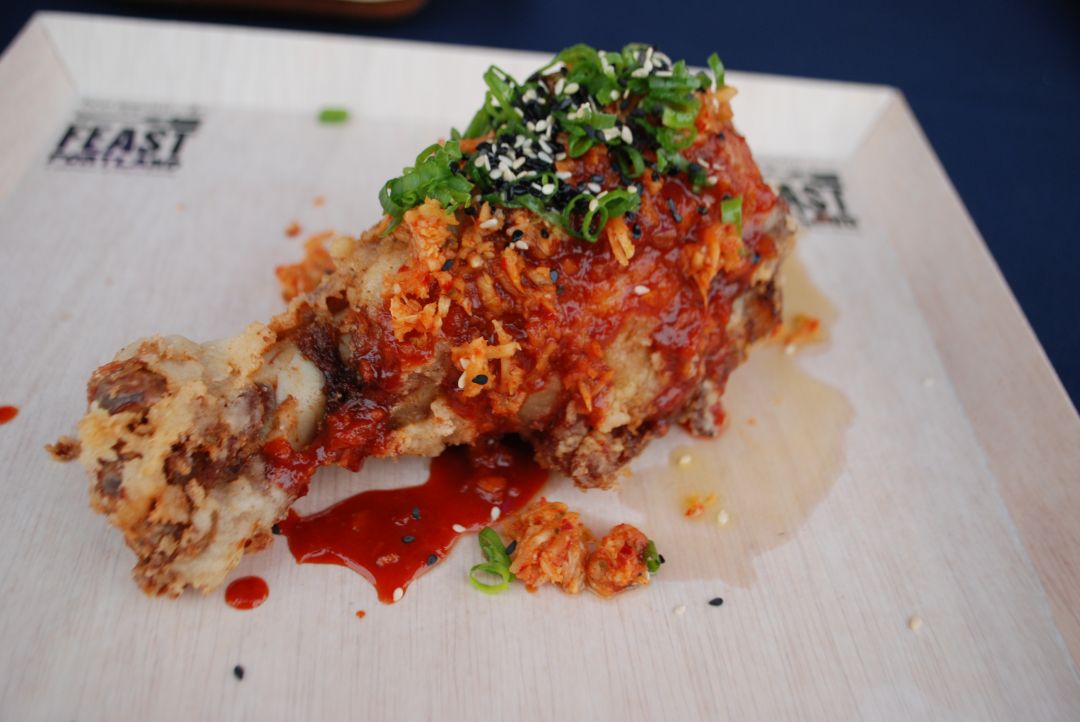 Chefs travel to Feast from near and far to display their genius. There was certainly no shortage of talent this year. Though the event features both unusual (goat and Spam) and traditional ingredients (corn on the cob and ribs), the chef's unique preparation (quicos, puffed rice on ribs or crumbled buckwheat on ice cream) and accessibility to uncommon ingredients (Tomahawk rib eyes) takes the plates to the next level.
I spoke with some top chefs about what they perceived as upcoming food trends.
John Gorham, chef of Toro Bravo, Tasty n Sons and Tasty n Alder, recently returned from a trip to Spain, where he encountered tapas served dim sum style. Excited by this idea, and all things Spain, he hints we may start to see the delicious-sounding bites at one or more of his restaurants.
Chef Gregory Gourdet of Departure says, "Homegrown is the new house-made." Since many local restaurants now feature herbs, vegetables and even honey produced in their own backyard or rooftop gardens (Departure included), this is a trend that never grows stale and has been gaining popularity for years in the Portland food scene.
For James Beard award-winning chef Andy Ricker of Pok Pok, to heck with trends. "It's the same shit over and over. One year it's pizza; the next is sandwiches; I really try not to pay too much attention to that."
Living in a culinary mecca can make us a fickle bunch; we're always searching for the next best thing. Whether it's hot new chefs, chic new restaurants or just delicious trends, we clamor to be the first to taste it — and first to include it in our Instafeeds. While no one ever knows what chefs or beverage producers will concoct next, one thing is for sure, creativity is at an all-time high and Portland is a feast to behold.
Tamara Belgard is a freelance writer who explores the Oregon wine scene from her home in S.W. Portland.