Finest Dining in the Smallest Towns
Farm Food, Adair Village
Farm Food
Details:
ADDRESS
6002 N.E. William R. Carr St., Adair Village, OR 97330
HOURS
Dinner: Wed.–Sat., 5 to 9 p.m.
PHONE
541-979-7108
WEBSITE
www.farmfoodrestaurant.com
Wine country seems almost like a rural ocean to some, with tasting rooms as moorings for wayfarers voyaging in search of enological jewels. As a result, many will miss other draws of this landscape. Beyond the vines, other outposts of culinary magic await. Here, chefs tend their hearths, prepared to lavish travelers with all manner of wonderful food. But many of these gastronomic atolls can prove tricky to discover.
For intrepid explorers, true rewards await when seated in a well-appointed dining room in an otherwise obscure location, discovering a menu created with local wines in mind. In turn, these diners yearn to take home tales of unexpected adventure and authenticity.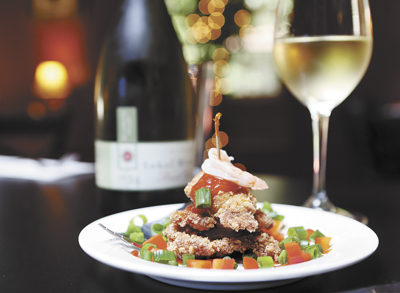 To be sure, there's a certain magic in landing in an oasis of elevated fare not listed on your itinerary. There's something cool about eating like a Roman senator in a two-cop town located on that road you almost didn't take — making the food taste even better. An added bonus, the entrepreneurs who possess the type of questionable sanity required to sling fine dining on a rural route always promise good stories, many of them yarns.
So, on a quest to find the finest dining in the smallest towns, this writer happened upon Adair Village.
Located a bit north of Corvallis, past the Grange Hall on a stretch of Highway 99W, the incorporated city of 850 residents used to be called Camp Adair during World War II, when tens of thousands of GIs, all training to fight in the Pacific and Europe, called it home. Back then, military trucks stuffed with soldiers filled the roads, and tight rows of barracks defined the architecture.
Today, it's a tiny community with some old government buildings, rows of tract homes, an ice cream shop, a convenience store and a location that's cycled through failed cafés and other attempts, until Chef Jim Jones opened Farm Food in 2015.
The sign on the gabled, rectangular building looks as unpretentious as the name with big block letters, practically shouting at the highway, grabbing the attention of unsuspecting travelers. There is nothing fancy about the exterior, or about Jones, for that matter. Inside, the atmosphere exudes a refined yet casual atmosphere that says, "You're going to enjoy it here, and the food's going to be great."
"Glass of wine?" Jones inquires, putting it in my hand as he asks the question, only because he knows the response. In fact, he's that kind of restaurant owner who generally seems to understand his customers, new and old. And while the chef/owner may be spot on, it's a bit too highbrow for him.
Jones grew up in Arlie, attended Central High School in Independence and, since the late 1970s, has played music, sold furniture, sold air time for a radio station, designed and manufactured wood wine packaging, managed chain restaurants, owned a previous restaurant and worked as the research chef at Oregon Freeze Dry. Along the way, he met and worked on projects for Robert Mondavi. A framed photo shows Jones in his earlier days in a vineyard behind Robert Mondavi Winery with the man himself. The picture hangs above a wine rack Jones built himself — from his list of accomplishments, this is no big surprise.
"I just fell into it all," Jones says, describing his life trajectory. Yet, this restaurant, at two years old, has managed to buck the statistical death of most start-ups.
At Farm Food, where he remodeled the dining room himself, Jones offers a three-page wine list with at least 16 Oregon selections and a menu showcasing elevated entrées in large portions. Impressive for dining room that seats 30 and a small kitchen with no walk-in cooler — instead, there's a chest freezer and regular fridge. Even more notable, Jones does all the prep, all the cooking and buys products daily. He makes it work by serving dinner only, Wednesday through Saturday, and taking reservations for just four-tops, plus, no minors after 7 p.m.
The name, Farm Food, which smacks of the farm-to-table movement, is not the image he wishes to project. "When people put us in that category, it's wrong," Jones explains. "We have never claimed that. Even though we buy local products, we want people to count on our menu being the same year round. Some vendors can't do that. I think 'farm to table' has become pretentious and snobby. We are just not that type of restaurant."
Jones clearly has his response in the hopper, as the moniker frequently suggests such sensibilities, but he is outwardly and aggressively unpretentious.
"I'm a simple guy," he says, with a smile that betrays his pride.
In front of me, he sets a plate of deep fried oysters, breaded and lovely with a juicy shrimp on top, plus a lemon wedge and house-made cocktail sauce with a kick. It's a huge plate of food, and only the appetizer. Next, a sirloin steak with par-cooked potatoes rolled in butter and heavy cream with sauced veggies and a chunk of corn on the cob. Jones then presents a lamb chop, which he says came all the way from Australia. The fourth dish is duck drizzled in hoisin sauce on a bed of jasmine rice. Finally, lemon, asparagus and walnut risotto.
All huge servings — no complaints here. In fact, the generous helpings are what invoke the word "farm," in that they're hearty, the way a farmer might need to eat.
"I love basic food," he says. ""I do not do sauces that hide the product, and I like to serve a portion that you feel like you got your money's worth."
Neil Zawicki is a writer who, in his spare time, loves to study history, paint and play his guitar. He lives in Independence with his equally creative wife and four children.