Failla Oregon
Sparks fly for Ehren Jordan's northern brand
As Oregon's wine reputation grows, land and wineries have become hot commodities, and yet acreage is still affordable, especially compared with California and Europe. As conglomerates and hedge funders take over Napa, it's easy to understand why smaller, focused producers like Ehren Jordan of Failla Wines are moving from Cali to its northern neighbor.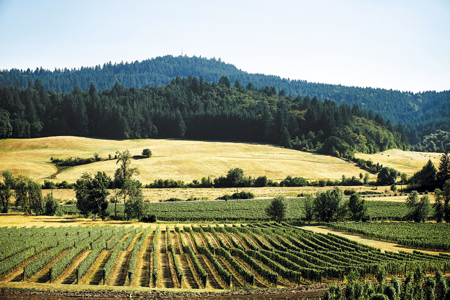 Yet his exodus north was about more than just price per acre. "California is becoming homogenized — the wines all taste the same, appealing to scores and a specific segment of consumer market," Jordan says. "There's an attractive tension in Oregon wines. The grapes have thicker skins with more tannins that affect the way a wine moves across the palate. The climate here creates wines with more structure and more oomph."
Simply speaking about making wine in the Willamette, Jordan's excitement is contagious. "There's an exciting air of experimentalism in Oregon that is palpable," another reason for the move.
Failla (fay-lah) is a Sicilian word with roots tracing to the Latin "favilla," meaning "spark." The brand here, Failla Oregon, will invariably focus on Pinot Noir and Chardonnay, but Jordan is also experimenting with other varieties, including: Gamay Noir, Grüner Veltliner, Riesling, Savagnin and Poulsard. He hopes to plant Trousseau Noir and Chenin Blanc, and is intrigued about playing with grape varieties he can't explore in California. He intends to create a separate brand for the other varieties.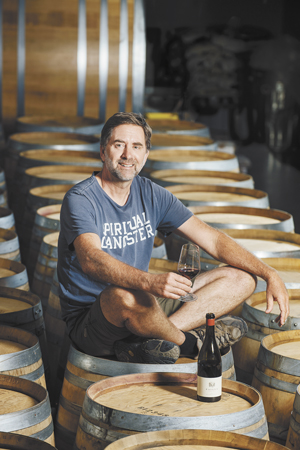 Jordan views Oregon's culture much differently than that of Napa and Sonoma. Here, it is down to earth with people who understand that wine is still just agriculture. For Jordan, who likes to drag hoses and drive tractors — instead of wearing collared shirts and driving sales — it's even more appealing. He practices a sort of Zen winemaking, taking a relatively hands-off approach. He says, "[About] 85 percent of a wine's quality is determined before the grapes are even picked."
With a background of 20-plus years in the business, Jordan has worn the hats of winemaker, general manager, sales director and vineyard manager for the famous Turley Wine Cellars in California, among other wine jobs. He even earned his pilot's license to ease the burden of his commute between the vineyard sites. Inevitably though, he would land farther north, in Oregon.
When Jordan first started making Oregon wine in 2001, he purchased fruit and trucked it down to his original Failla winery in Napa — founded in 1998 in St. Helena and still in operation. He describes those early days, "I dipped my toes into Oregon for many years, but kept running back to California, and then I'd come back and dip my toes in again."
Opportunity presented itself when Evening Land shifted ownership and Jordan started buying Pinot Noir from Seven Springs Vineyard. Challenged with the same hurdles trucking fruit to his California winery, he decided it was time to move to Oregon. As his wine production grew here, it no longer made sense selling Oregon wines in California — people come to California to taste California wines.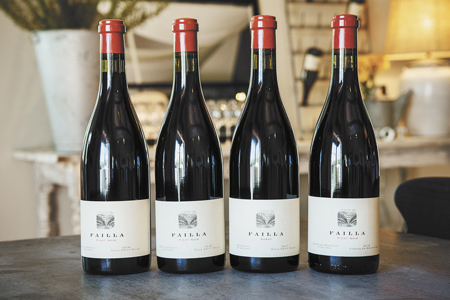 Both 2016 and 2017 vintages were produced at the Carlton Winemaker's Studio; the latter numbered 6,000 cases. Jordan realized he'd already outgrown the space. Through friend and grower Mark Björnson, Jordan met Zenith Vineyard owner Tim Ramey, who was looking for a new winemaker. Mark Vlossak of St. Innocent was leaving the facility — Vlossak moved St. Innocent to develop his own property — and so, yet another opportunity was at hand.
Jordan says the winery is a bigger space than he really needs — and flashy compared to his California location — but having room to grow can't be a bad thing.
Failla Oregon's calling card wine is a Willamette Valley blend that's price reasonable for everyday enjoyment. Jordan also offers a single-vineyard portfolio showcasing wine made with fruit from Eola Springs, Björnson and Seven Springs vineyards. With the exception of the Chehalem Vineyard — originally planted by Dick Erath in 1968 — the grapes all come from within a four-mile radius of the new winery.
Jordan has purchased an 80-acre property near Dallas. He's watching the land to see where the sun rises and sets, and making his plan for where he'll build and where he hopes to plant. Located in the Van Duzer Corridor on a former cattle ranch, the site features a wide bowl rimmed with oak trees. But with three kids and as many dogs, it'll take some time, he's focusing on building out the Failla Oregon brand first.
The comfortable farmhouse décor in the Failla Oregon tasting room — opened May 3 — features antiques, including pulley wheels from France, farm tables, cowhide rugs, old farm windmills and cozy seating areas creating a homey ambiance.
The winery's on-site culinary director developed a scrumptious $10 panini menu that's offered on weekends, utilizing ingredients from nearby farms as well as his own, where he raises prized Mangalitsa pigs. Failla Oregon offers a full lunch of three courses and six wines available by reservation for $85, Thursday–Monday. This unique "Farm to Failla" experience includes a side-by-side comparative tasting of Failla Oregon and Failla California wines — both brands focus on Pinot Noir and Chardonnay. The tasting room, 5657 Zena Rd. N.W., Salem, is open daily, 11 a.m. to 5 p.m. Learn more at faillawinesoregon.com.