Experience Wanted
Crowd thirsty for statewide, versatile event
Oregon Wine Experience represents everything we love about Oregon: fine wines, fresh food and welcoming folks in a place of stunning beauty, Southern Oregon.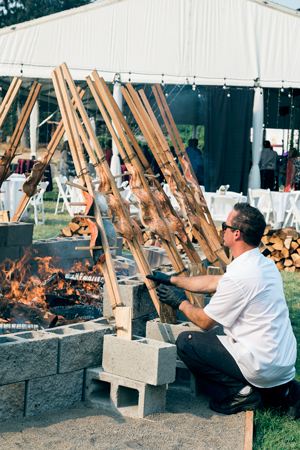 Not merely one event or even a single weekend, OWE lasts throughout August with "Oregon Wine University" classes on winemaking, glassware, tastings and more; plus vintner dinners featuring local chefs and spectacular vineyard settings, from Roseburg to Ashland. And those include only a few of OWE's offerings.
"It's a phenomenal experience!" said attendee Peter Adesman. "It celebrates what's great about the Oregon wine industry."
The 2017 OWE Medal Celebration marked the final week, when competition results were released. More than 500 guests, including a number of winemakers, waited for the announcement of winners under the spacious tents staged at Bigham Knoll in Jacksonville. Excitement was evident and all eyes were on stage as master of ceremonies Trish Glose, a local CBS broadcast celebrity, and competition chair Bruce Nicholson counted down the silvers, golds, double-golds.
Open to all wineries in the state, this year's contest included 103, representing all of Oregon's major appellations. In early August, wine judges Eric Degerman; DC Flynt, MW; Bree Boskov, MW; Tim McNally; Tim Hanni, MW; and Barbara Philip, MW, put their palates and noses to work. Wines were evaluated using the University of California Scoring System, a 20-point scale considering appearance, aroma, taste, finish and overall impression. A live video feed broadcasted the judges' forum to winemakers unable to attend.
When they announced the winners of "Best of Show," the crowd cheered as among the 351 wines tasted, wineries from Southern Oregon claimed all the top prizes. Cliff Creek Cellars 2016 MRV, made by the Barrel 42 team led by Herb Quady and Brian Gruber, won for whites, while Weisinger Family Winery 2014 Tempranillo, crafted by Eric Weisinger and Ian Colbert, won red. Cuckoo's Nest Cellars 2016 Fizze, made by Brian Wilson, earned the top award in the "other" category.
"It was a big honor for us, and we are humbled by the recognition," said Weisinger, second-generation winemaker of the Ashland winery. "I'm pleased the wine came from our estate fruit, and I think it's a win for Southern Oregon, for our Bear Creek growing area and a win for Tempranillo."
Joe Ginet, winemaker/owner of Plaisance Ranch in Williams, has entered his wines in the competition since it first began in 2002 as World of Wine. This year, his 2014 Syrah earned a double-gold.
"More wineries mean stronger competition and that validates the event and the judging," Ginet said. "The medals are among the hardest on the West Coast, so when you get a medal here, it really means something."
OWE's signature events to taste wines and talk with winemakers abounded. The Founders' Barrel Auction, new to OWE in 2016, had attendees acting anything but shy as they tasted wines from barrels and bid on futures donated by 14 wineries. Cuckoo's Nest accumulated bids over $400 a case as did Irvine & Roberts and others — bells rang with each higher bid and confetti filled the air.
Saturday evening's gala, an open-fire salmon bake — traditionally prepared by the Coquille Indian tribe — alongside thoughtfully
prepared dishes by celebrated local chefs, offered other exceptional wines and the Miracle Auction, in which the live and silent bidding benefited OWE's charity partner, Asante Foundation's Children's Miracle Network.
During OWE's finale, the Grand Tasting, ticketholders checked off their tastings of competition winners. And many, like Sue Maymik, compiled lists of wines she'll seek over the following months, including wineries not in the immediate area, such as Schone Tal Cellars. Winemaker David Ulbricht remarked as he poured his wares, "Because I'm up in the Willamette, getting the exposure down here is a great opportunity."
Even more than wine and food, OWE represents hope and generosity. Many of the 300 volunteers and winery staff who donate both time and wine realize how serious childhood illness impacts a family.
"I'd estimate that a third, if not more, of our volunteers have had or know a child who has been in the NICU or pediatric department," noted Sue Mendenhall with Asante Foundation.
For Glose, everyone wins.
"Not only do we get to indulge in these beautiful wines, but 100 percent of the proceeds go back to Asante's Children's Miracle Network," she said.
Glose has spent hundreds of hours supporting OWE but never counts the time; she says she thinks about the children.
"For kids like Chloe and Sequoia —two of the many children who have been helped by the local Children's Miracle Network — it's sad and scary, but to know that the families have the safety net of Oregon Wine Experience and the Asante Foundation, well, it's awesome."
"This community coming together, these wineries coming together to show hospitality [and] generosity, and the scenic beauty is what the Oregon Wine Experience is all about," said Floyd Harmon, Asante Foundation executive director. "It's everything Oregon, everything we love and cherish."
This year, 3,670 people attended OWE, raising $1,024,525 for children's services, a record and the first time the auction has pass the million-dollar mark.
The 2018 Oregon Wine Competition opens for entries March 1 and closes June 8, with judging Aug. 4–5. The weeklong OWE event at Bigham Knoll is set for Aug. 20–26. For more information, including results of the 2017 Oregon Wine Competition, visit www.theoregonwineexperience.com.
Maureen Flanagan Battistella is affiliate faculty at Southern Oregon University in Ashland. She can be reached at battistem@sou.edu.