Winery Opens Eno-Pub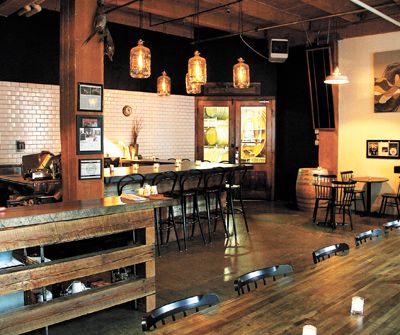 By Wine Press Staff
What do you get when you combine a winery and eatery? An enopub, of course. The culinary combo, Sauvage at Fausse Piste, is the latest development in Portland's growing wine scene and now open on the Southeast side.
Under the guidance of executive chef and winemaker Jesse Skiles, Sauvage offers "fresh and innovative modern farmhouse cuisine and an adventurous selection of 50 wines by the glass or bottle," including current Rhone varietals from the Fausse Piste label.
A Portland native, Skiles is a graduate of the Culinary Institute of America. He worked in the kitchen at farm-based restaurants — Meriwether's in Portland, The Herbfarm in Woodinville, Wash. — until 2008, when he became a chef and cellar rat at Owen Roe Winery in St. Paul. There, he developed Fausse Piste at age 24.
Skiles' concept in wine and food is "to create a culinary synthesis" — producing wines that complement food, while preparing food that showcases wine. Fausse Piste wines are crafted with minimal intervention, reflecting terroir and varietal, in a style that pairs easily with food. Inspired daily by local produce, meats, fish and cheese, Sauvage's menu includes the team's own creations, as well as "culinary standards with a distinctive Sauvage twist," Skiles noted.
Many dishes focus on a local meat or fish, such as beef tartare wrapped in cured nasturtium leaves or fresh Oregon sardines draped over shaved radicchio di Treviso and baby artichokes. Other items exclusively use locally farmed and foraged produce, illustrated by a ragout of yellow crookneck squash with fresh beans and early season button Chanterelles. Prices typically range from $4 to $18.
A selection of four "Sweets and Cheeses" is also on the menu, including an always-changing "Fromage du Jour" and a seasonal strudel, currently filled with peak-of-the-season peaches.
Sauvage's interior features natural and sustainable décor, with an emphasis on reclaimed local woods — table and bar tops made from salvaged Canby Bowling Alley lanes — and has an inviting but understated elegance. The dining area accommodates 32, offering private tables, a 20-seat common table, a small intimate bar and an expansive L-shaped chef's counter. All seats have views into Fausse Piste's facility, which produces about 3,000 cases a year.
SAUVAGE
ADDRESS: 537 S.E. Ash St., Ste. 102, Portland (East Bank Lofts; enter on Sixth)
HOURS: Tues.–Sat., 4 to 11 p.m.
PHONE: 971-258-5829
WEBSITE: www.sauvagepdx.com
Fausse Piste open by appointment only