Enjoying the Ride
Olson delights with new identity, dedicated winemaker
Airlie Winery
Details: Address: 15305 Dunn Forest Road, Monmouth Phone: 503-838-6013 Website: www.airliewinery.com Hours: Dec.–Feb.: By appointment or by chance. March–Nov.: Thurs.–Mon., noon to 5 p.m.


Two Irish Setters will greet you on the long driveway up to Airlie Winery in Monmouth. Riley and Rocky are as enthusiastic as Zeus and Apollo from Magnum P.I. fame, but not at all aggressive; they're only excited to be saying, "Hello!"

After all, they live on a winery in the Willamette Valley, and their person, Mary Olson, loves her job. In fact, she lives it. It has been her reality since 1997, when the former phone company executive bought the winery and settled into what she calls her "dream world."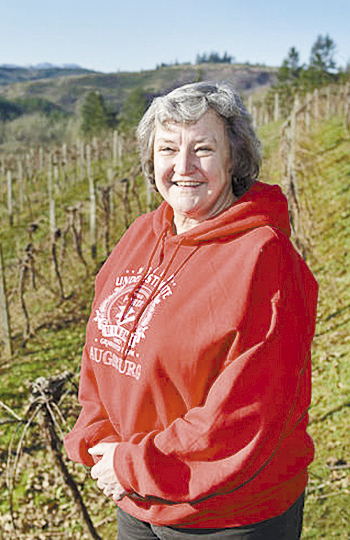 During an early January visit, we caught her just as her tasting room became slammed with a rush of visitors. Ten people packed the room as Olson held court, opening bottles and joking with the group, laughter resonating off the walls.
"I rarely have any bottles open because I get invited to a lot of parties," she joked. "People always ask me, 'how long should you keep an opened bottle?' And I say, 15 minutes? Get some friends!"
Airlie sells a collection of 10 wines, from the ubiquitous Pinots to Riesling, Chardonnay, and Gewürztraminer, a wine touted as a multi-edged, bringing ginger, honey, pineapple and allspice to the palate — the word itself means "spice grapes."
There's a sparkling wine as well, crafted by the hands of winemaker Elizabeth Clark, who, since 2005, has called Airlie home. Clark moved to winemaking after a 1999 post-college road trip brought her to Oregon, sight unseen, from a California wedding. Her main college study of mathematics and Russian had little bearing on her new direction, but like vineyard earth, it no doubt added to the terroir of her skill.
"I was not particularly interested in wine," she said of her life before Oregon. "I basically drank cocktails."
During her time with McMinnville caterer Sir Hinkelman she discovered the world of vineyards and winemaking and, before long, she found herself as a part-time cellar rat at Ankeny Vineyards in Salem.
"Once they learned I could fix computers, I got to be full time," she said; eventually, she learned the craft, spending five years there. She says the analytical aspect of her mathematics background is useful in winemaking.
"I really like the mixture of art and science," Clark explained. "And the variation from year to year can be challenging."
Clark describes the element of fear at the beginning of any vintage, but that an trepidation s born mostly from the excitement, as well as the narrow margin for error.
"I think people forget that we're farmers first," she said.
Clark says she does not necessarily have visions of glory in her winemaking, although perfection is most certainly an objective.
"I have a total of 40 chances to make a really great bottle of wine," she said, referring to the number of vintages she'll produce in the span of her career. Her favorite part of the job, she says, is trying her wine several years after she makes it.
"For me, ageability is huge," she said. "It's great to find a bottle I made maybe five years ago, and when I taste it, I think, wow, I made this, and it's really good."
Reflecting more on the fear element in making wine, Clark recalls her first season at Airlie.
"After I got the job, I was driving home, thinking, 'Oh my God, what have I done?'" she said. "Because before that, I had all these people to support me and to answer my questions, and now, it was all going to be on me."
Clark said she used several "phone-a-friends" that first season.
"But I was really lucky because that year, the fruit was pristine," she said. "So all I really had to do was make the wine."
Back to the impromptu party in the Airlie tasting room, where guests are enjoying Clark's work, Olson clearly has fun. And the spontaneity is fitting: She advertises her tastings as "By appointment or by chance."
The fun she's having in the tasting room is really an extension of her decision to jump into the wine world with both feet back in '97. She did it, she says, because she loved visiting the vineyards so much and kept threatening to hang it all up and buy one.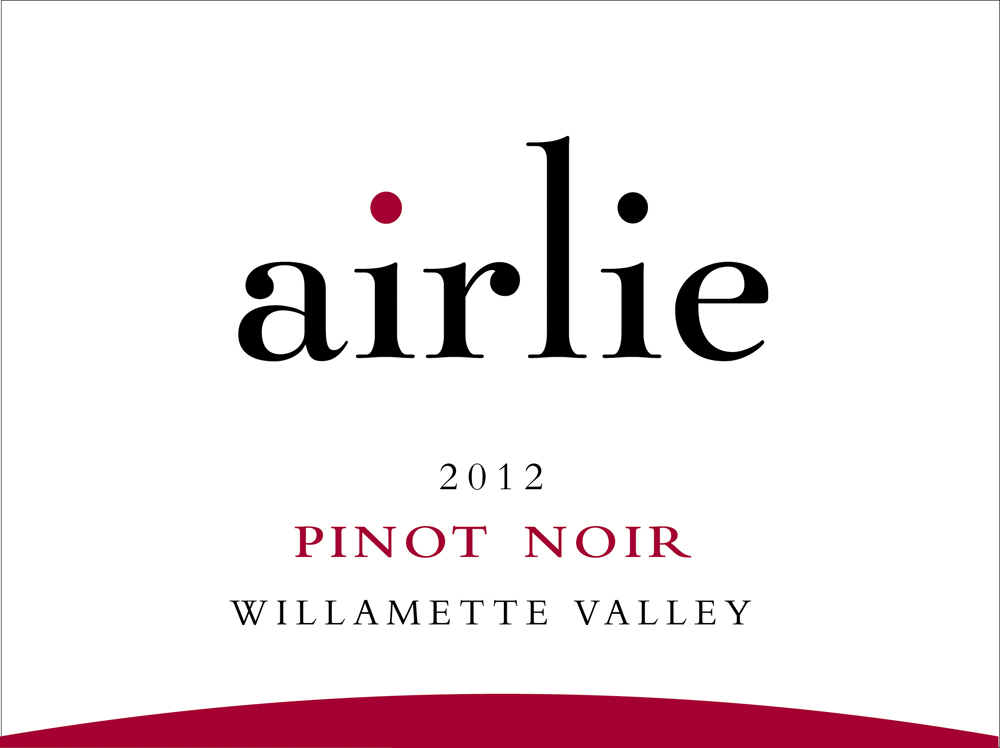 When she purchased Airlie, the previous owners passed on the logo, as well, featuring the winery's iconic hot air balloon. Over the years, the artwork has served Olson well, until recently, when she decided to update the identity by removing the balloon. The change was the result of some responses from peers and customers alike.
"I've heard that the logo didn't do justice to the wine," she said. "Basically, we needed to simplify it and give it a little bit more class."
Changing a known image, of course, can elicit some sentimentality.
"Basically, you have a lot of loyal customers that miss the balloon," she said. "But I'm getting a lot of great feedback from them, because they like the simple, clean new logo. It was just hard to make a balloon look classy."
The new brand, created by Portland designer Bill Owen, garnered "Best of Class," Jan. 9 at the San Francisco Chronicle Wine Competition.
Watching her work the crowd in the tasting room, it's clear she's been having a blast ever since she started her wine adventure, and maybe her excitement let her learn the business as quickly as she did.
"I was too busy to be scared," she said about her first year as a winery owner. "But now that I know what I've done, I guess it kind of freaks me out."
Looking back, Olson did manage to pull it off, and to keep the fun going. When she bought the winery, Airlie wines were sold in three states. Now she distributes in 10. Her success, she says, stems from her attitude.
"Life is not that serious," she said. "We just need to lighten up a little."
In the years before Neil Zawicki landed in the Willamette Valley, he spent his time as a reporter in Alaska, and a sailor with an address in a California marina. In his spare time, he's a student of history, a painter and a guitar player.