Dulce y Delicioso
A surprising pairing of Mexican candy and wine
1 - Rollos de Koko
Shaped like cigars, Dulces Kokito's Rollos de Koko are rolls of coconut bursting with texture and creamy flavor. The toasted top adds to its overall flavor and visual effects. Think Mounds without the chocolate. Pairing: Pinot Gris. Gris adds a burst of citrus while cutting the richness of the coconut.
2 - Kranky K
Ricolino's Kranky K is sort of addictive. The cornflakes dipped in "chocolate coating" begin sweet with a hint of cocoa and transition into a mouthwatering malt flavor from the cereal, lending this snack its superb crunch. Pairing: Chardonnay. The wine tempers the sweetness of the chocolate coating, allowing more of the corn's natural sweetness to shine.
3 - De la Rosa Mazapán
De la Rosa's marzipan-style peanut candy is a sweet treat with an aroma of peanut butter cookie dough, yet has a crumbly, powdery texture that melts on the tongue and coats the mouth with an explosion of sweet peanut flavor. Warning: Do not open over keyboard. Pairing: Port-style Pinot Noir. The nuttiness, amplified in the candy and revealed in the wine, also smooths out the richness of the confection.
4 - Aldama Obleas
Intrigued by the round, flat appearance of Aldama's Obleas, tasters also marveled at the wax paper-thin wafers sandwiching the super-rich goat's milk caramel. The verdict? Decadent, delicious and down the hatch. Pairing: Chardonnay (lightly oaked). The wine's vanillin cuts through the sharpness of the goat's milk.
5 - Palanqueta Brittle
More of a nut-tricious snack than candy, Del Rio's Palanqueta Brittle is made of all familiar ingredients: peanuts, sesame seeds, pumpkin seeds, almonds, amaranth, raisins, sugar and corn syrup. Enjoyable, yes, but the fresher, the better — for the sake of any brittle teeth. Pairing: Müller-Thurgau. The acid of the wine breaks down the nuttiness and adds a hint of apricot, while the candy brings out the tang in the wine.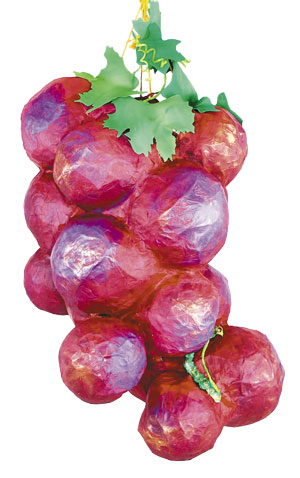 Smash & Pull Piñata
Designer/owner Catalina Calderon prides herself on clean and modern aesthetics. Her creative piñatas serve as amazing party decorations and even lovely home décor. The grape cluster piñata is a traditional whack piñata — meaning you need to give it a whack to open it up and reveal all the goodies inside. Calerdon also offers a fresh fruit pull string piñata if preferred. $85; www.etsy.com/shop/smashandpullpinata