Wine Country Unplugged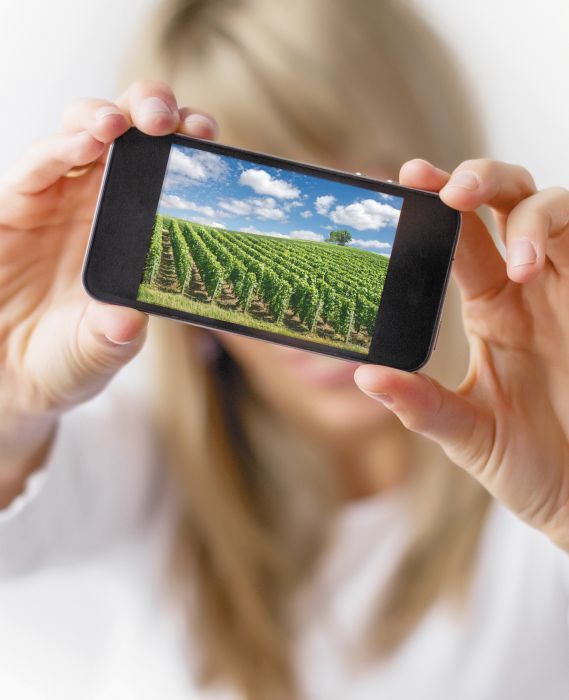 By Hilary Berg
OWP Editor
During a recent wedding, I became entranced with a selfie in action. As my friend and I were chatting at our assigned table — stuffing our faces with cake — I noticed her out of the corner of my eye.
She was a pretty person and in her hand was an espresso cup. She must have thought the porcelain prop made her look more hip, especially with her pinky out and curled ever so slightly.
She must have been a lousy photographer, too. With one hand grasping the phone — her index finger searching for the shutter button — and the other posed with the tiny white vessel, she attempted the photo several times. She even left and returned, hoping to improve on her previous efforts.
Seeing the selfie unfold was as entertaining as watching friends and strangers on the dance floor — the best people-watching happens at weddings, not airports.
I admit, I am guilty of taking selfies. Who hasn't? On occasion, when the light is good, and my hair and skin are behaving, I can waste plenty of time finding the perfect pose for my next profile pic.
While it is good to feel positive about ourselves, the whole selfie phenomenon is out of hand. Seeing primetime stories centered on celebrity and politician selfies affirms this truth — surely there are more important events to report than President Obama and Vice President Biden taking a photo of themselves in the back of a limo.
Besides the real news, what is our society neglecting when our cameras are pointed in and not out? What are we missing right in front of us?
Raising a small child, I think about this a lot. While trying to take a photo of myself — or checking Facebook, or reading a text, or checking Facebook, again — what did I miss? The answer is "too much."
Our world is a beautiful place, demanding our attention. So many unexpected, glorious nuances are lost when our eyes are glued to our screens — ultimately, ourselves.
As you journey through wine country this coming Memorial Weekend, I challenge you to unplug while you taste the wines and talk with those who made them.
Of course, I am not discouraging you from taking photos of your wine adventures, but I am suggesting to limit the photos to what's happening around you.
If you do feel the need — I know it can be strong — to take a photo of yourself holding a wine glass — or espresso cup — may I suggest asking someone to take it for you? Not only will your arm thank you, but it will give you more time to spend enjoying what's right in front of you: magnificent Oregon wine country.